Salespage Snapshot: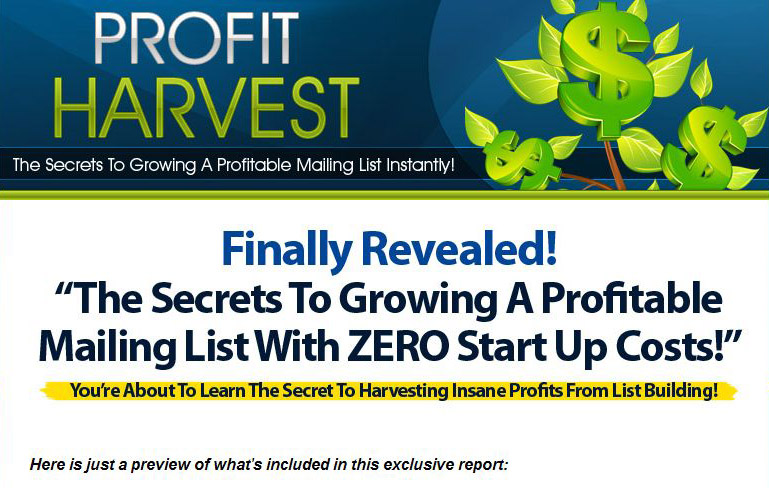 >>> Click Here To View Full Sales Page…
Table of Contents
INTRODUCTION …….. 3
QUICK SET UP . 5
HIGH POWERED TRAFFIC STRATEGIES … 8
LAST MINUTE TIPS . 15
Sample Content Preview
It's called "Automated List Profits" and it's ultimately one of the most valuable resources available to email marketers because not only does it eliminate the workload involved in creating profitable email sequences and autoresponder campaigns, but it includes every marketing and research tool you'll ever need to dominate some of the most profitable niche markets online!
Take a look for yourself >> Automated List Profits.com
Once you're signed up for Automated List Profits, you'll be able to skip over the time consuming work and simply plug in a full suite of high quality content packages that include pre-designed squeeze pages, high quality reports that will drive in subscribers and you'll even be able to download fully researched keyword files that provide you with all of the high traffic keywords that you can use within your marketing campaigns.
In other words, Automated List Profits does all of the work for you, by giving you everything you need from the incentive offer, to high response squeeze pages.
All you'll need to do is drive in high targeted traffic to your squeeze pages and set everything else on complete autopilot!
You can also download a full suite of professional squeeze page templates from Squeeze Ninja.com to save even more time and money. In the next segment of this special report, we reveal some of the easiest Profit Harvest: Quick Start Strategies To Building A Profitable Mailing List! ways to quickly generate a flood of traffic to your squeeze pages, so you can turn those visitors into loyal – repeat CUSTOMERS.
High Powered Traffic Strategies
Once you've set up your squeeze page, created your autoresponder account and you have a combination of high quality content as well as an incentive offer available to new subscribers, it's time to start funnelling in traffic to your squeeze pages, so you can begin capturing leads!
To begin, you should recognize that there are 3 traffic "tiers", that include:
· Partnering Traffic
· Customer Traffic
· Search Engine Traffic
With Partnering Traffic, the majority of your traffic will come from networking within your niche market. Now, this doesn't mean that you need to form joint ventures or alliances with anyone in your market, but it does mean that you can siphon traffic from competing websites, blogs, forums and even social media sites that focus on your chosen niche. Customer traffic is where you market directly to an existing customer base. If you've already managed to generate customers from other websites, or you've been involved in affiliate marketing or product development, the best way to start building a list is by targeting active buyers.
Profit Harvest: Quick Start Strategies To Building A Profitable Mailing List!
Search engine traffic consist of leads that come directly from the major search engines. This is organic, free traffic that lands on your squeeze pages because they've either been directed there after typing in relevant keywords, or they've followed incoming links from other websites that lead to your squeeze page.
It's important that you focus on driving traffic to your squeeze pages from as many of these tiers as possible, so that you're able to maximize your opt-in rates.
If you don't have an existing customer base, focus instead on traffic tier 1 and 3, piggybacking off of existing competitor blogs and forums, and in positioning your squeeze page so that it ranks within the search engines. Here are a few quick and easy ways to do this:
Forum & Community Traffic
If you want to exploit the success of other websites in your market so that you're able to siphon traffic to your own squeeze page, one of the easiest ways to do this is via forum and community marketing.
Think about it. What better way to get in direct contact with your customer base than with active community forums that focus specifically on your niche? It's like fishing in a bathtub!
The first step is to create a resource list of relevant forums in your market, Profit Harvest: Quick Start Strategies To Building A Profitable Mailing List! focusing only on active forums that carry a medium to high level of subscribers. Start-up forums are good for generating backlinks to your squeeze page, but if you want to really drive in subscribers, you'll want to spend your time being visible in high active community sites.
Forum marketing is one of the best ways of quickly jump-starting activity to your squeeze page, but forums are incredibly useful in many other ways as well, including:
· Quick & Easy Market Research
· Valuable FREE Feedback for your products
· Establishing a recognized brand as an authority in your market
· Generating quality backlinks to your squeeze page
· Get your website indexed faster than ever before
When it comes to finding forums in your market, you can browse through Google by entering in relevant keyword strings such as "yourniche+ forums" or "community forums+keyword", or you can take a look through forum directory sites like http://www.big-boards.com The key is to set up a complete profile so that your website URL is located both in your forum signature, AND in your profile.
Search Engine Marketing
Gone are the days where you could throw up a pay per click marketing campaign and instantly funnel in thousands of qualified leads. These days, Profit Harvest: Quick Start Strategies To Building A Profitable Mailing List!
it's all about "content marketing". You need to provide exceptional content to your market, and do your job at warming up potential subscribers so that they're motivated into joining your list.
Thankfully, if you do your job at providing real value to potential subscribers, it's actually quite easy to generate insane traffic from search engines like Google.com, Yahoo.com or Bing.
One way of maximizing traffic through the search engines is by exploiting the power of "authority websites" like Squidoo, Blogger, WordPress and HubPages.
All of these websites are considered authority sites in the major search engines and so by having a webpage hosted with these networks, you'll be able to siphon 'link juice' to your squeeze pages, while giving your website an instant boost in the search engines.
You can piggyback off of these authority websites by setting up a simple website with each service.
Here's a quick way to do it:
1: Set up a keyword-based domain with www.Blogger.com and www.Wordpress.com
You want to make sure that your URL contains your most relevant keywords, so that you're able to generate immediate traffic to your site. Profit Harvest: Quick Start Strategies To Building A Profitable Mailing List!
2: Set up a Squidoo lens, integrating various modules and content. You'll need 2-3 short articles in order to build a quality lens. Make sure that your content is unique and offers real value. Consider creating a tutorial style Squidoo lens, as they tend to rank even higher.
3: Set up a HubPages account and repeat the same steps that you took to create your Squidoo account. You can use the same content across both networks.
4: Now it's time to add in your opt-in box. With Blogger.com and WordPress.com, you can copy and paste your squeeze page HTML directly into your new blog page. Test out your opt-in form making sure it works properly, and save your progress. You can also add modules to the sidebar of your Blogger and WordPress theme that house your opt-in code so that it's visible on every page of your site.
5: Add your opt-in code into your Squidoo lens, HubPages and both profile pages. You want to make sure to copy and paste your squeeze page optin box code only – not the entire squeeze page HTML as it won't display correctly. You can do this easily by adding in a "text module" to both your Squidoo lens and your Hubs.
Once you've set up this list building system, just rinse and repeat for every niche market that you are targeting.
Blogger.com, Squidoo.com, HubPages.com and WordPress.com are all Profit Harvest: Quick Start Strategies To Building A Profitable Mailing List! great ways of developing a presence online, while using their authority to quickly rank in the search engines.
In fact, we've experienced a tremendous influx of subscribers just by creating simple websites with all of these authority sites, and best of all, once you've set them up, you never have to touch them again!
Keep in mind that you want to incorporate relevant keywords into the content you use on authority websites, so that you are able to generate traffic from the major search engines.
Keywords form the connection between your marketing message and your target audience. The problem is, the majority of online marketers either don't know how to find quality keywords, or they go about it all the wrong way.
You want to focus on BUYER keywords, because not only will it be easier to build a customer list of loyal buyers, but also it will be incredibly easy to maximize your income, because these people are ready to buy!
The easiest way to choose the perfect keywords is to focus on specific keyword phrases. The more targeted the keyword is, the more targeted your traffic, it's as simple as that.
Google's free keyword tool that was released in 2007 takes the guesswork out of researching targeted keywords and instantly reveals the best keywords for virtually any market imaginable.
Other Details
- 1 Ebook (PDF, DOC), 19 Pages
- 7 Part Autoresponder Email Messages (TXT)
- 1 Squeeze Page (HTML, PSD)
- File Size: 7,666 KB