Salespage Snapshot: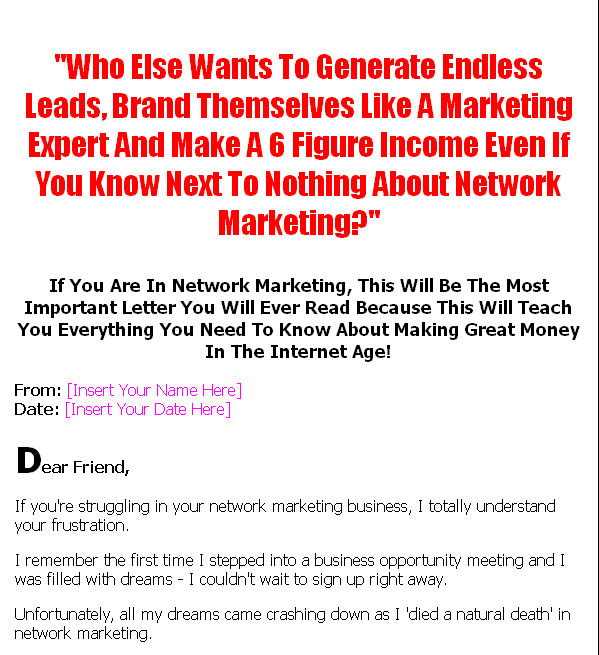 >>> Click Here To View Full Sales Page…
Table Of Contents
Forward
Chapter 1: Getting Automated: A Dream Come True
Chapter 2: About Cold Calling
Chapter 3: Good Marketing
Chapter 4: Additional Tools
Chapter 5: Site Name And Instructing The Team
Chapter 6: Viral Marketing
Chapter 7: SEO Basics
Chapter 8: Using E-mail
Wrapping Up
Sample Content Preview
Chapter 6:
Viral Marketing
Synopsis
Viral marketing is no more a fresh concept. This means of advertising has produced valuable effects even for big, well established companies, who have discovered it exceedingly advantageous as a factor of their marketing campaigns.
Hotmail led off from nowhere and advanced to 1000000s of users in just under two years with the force of viral marketing.
If you would like to learn how to rule the force of this excellent marketing tool, than you truly need to continue reading! The viral marketing tips that you require to develop your campaigns and make them a success are defined here and moreover, with viral marketing you've nothing to lose but only to gain. If you don't utilize viral marketing, you're only injuring yourself. You are able to bet that the guys vying with you for the same internet traffic are utilizing it! Don't get lost in the bunch!
Learn these useful keys to success. It's not as difficult as you believe to get your viral marketing crusade off the ground.
Buzz
Today individuals are sharing info, collaborating on issues of interest, and networking on the Net in ways not previously imaginable. In Viral, most common ways are video, photos, music, games and likewise even presentations. These tools deviate depending on the idea in the campaign. For example, if you wish to spread a video, it's ideal for video-sharing sites like YouTube. But if we're talking about a multi-platform campaign, the utilization of social media especially social networks (Facebook, Twitter …etc.) and blogs is the better.
The most useful element of any successful viral marketing is to first be as well-educated about your product as you are about yourself. Each product/service has a little story to tell, utilize this for your own benefit. If it doesn't have one you may make one up, but be sure it has a little likable or exciting event that will interest individuals in your viral campaign.
Promoting is all about snatching their attention, yet upholding the 'mystery' element. While your story has to have the features of something both interesting and exciting, it too has to stay a story with viral potential. To accomplish this, you have to keep your product/service a secret and let individuals get involved. You're not simply making an obscure sales talk – you're forging an entire campaign around the principle of your product. Because of this, your story can't resonate as being too promotional. Hard sell content will turn individuals off.
When you've a viral campaign that has been successful, you should not let this opportunity go. As a matter of fact, it's always a great idea to use the success you experienced with a viral marketing campaign. What is the most beneficial way to achieve continuing a viral campaign?
Shortly following the success of the first one, you ought to have a follow-up effort and target the same individuals who helped you circulate the first one. Individuals like seeing "behind the scenes" video recording; if you've such video available, utilize it to build expectations of approaching campaigns or products. This sort of thing may be a vital element in establishing your campaigns in the future, so attempt to recapture the interest that you'd initially aroused. And it's simply another great way to keep inhabit wanting for more after your initial success.
The greatest tip is to tell you that you have to make certain your campaign is unequalled. Most individuals react to being surprised, shocked or exhilarated. If you give the audience something that delights them, they'll of course spread your content around. Don't resort to predictable techniques and content; an unforeseen approach interests individuals.
It's a fact that individuals don't like to be sold, and thus they've become really immune to any sort of advertising. Advertising is commonly deemed self-centered: a way to get your cash into my pocket. You'll have to present yourself in an unequalled way, so make certain that your viral marketing campaign is something altogether innovative and unique. Most of all, you must never ever come across as being ho-hum. Reach inside of you and take out all the stops, every possible piece of creativity you have, and wow them!
Other Details
- Ebook (PDF, DOC), 36 Pages
- Ecover (PSD, JPG)
- File Size: 40,659 KB