Salespage Snapshot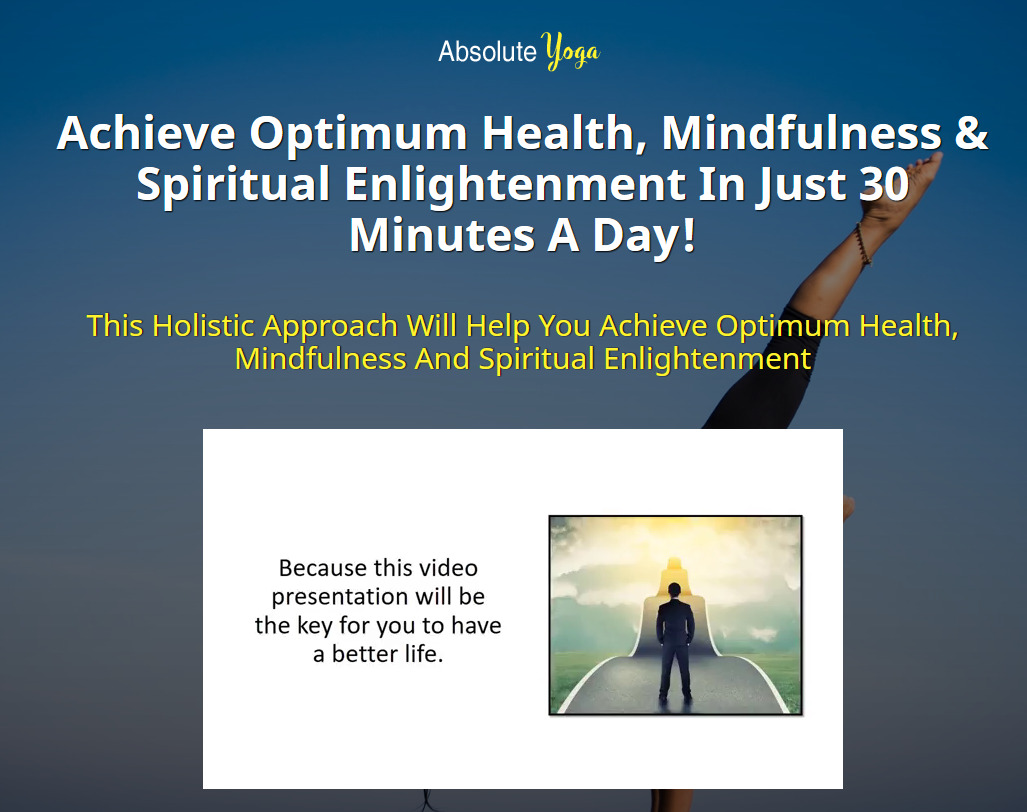 >> Click Here To View Sales Page...
Table of Contents
Chapter 1 – The Science of Yoga and its Health Benefits … 9
Relief from Stress . 12
Yoga and Pain Relief ……. 12
Yoga and Breathing ……… 13
Yoga and Flexibility …….. 13
Yoga and Weight Management …. 13
Yoga and Circulation ……. 14
Yoga and Cardio Health … 14
There's No Hurry – Take Your Time……. 15
Chapter 2 – Yoga History ……… 17
Modern Yoga ……. 20
Chapter 3 – Emotions and the Mind/Body Connection …. 24
Chapter 4 – Yoga, Strength, and Flexibility . 30
Chapter 5 – Yoga and Cardio and Weight Loss ……. 36
Yoga and Weight Management …. 40
Chapter 6 – Types of Yoga ……. 42
Hatha Yoga ….. 43
Vinyasa Yoga .. 44
Iyengar Yoga … 45
Ashtanga Yoga 46
Bikram Yoga … 47
Hot Yoga ……… 47
Kundalini Yoga ……… 47
Yin Yoga 48
Restorative Yoga ……. 49
Chapter 7 – Yoga Poses & Better Immunity .. 51
Chapter 8 – How to Get Started Doing Yoga . 64
Rid Yourself of Expectations …….. 65
Find the Right Teacher ……. 66
It's the Yoga, Not the Outfit 67
Yoga Classes … 68
The Best Time to Practice Yoga …. 69
Yoga Intentions …….. 70
Before You Begin, Talk to Your Doctor … 71
Slow and Easy Does It …….. 72
Begin at Your Own Starting Point 72
Chapter 9 – Preventing Injuries ……… 75
Chapter 10 – Yoga and Meditation …. 79
Benefits of Meditation …….. 80
How Does Meditation Work? ……. 80
How to Start Meditating ….. 82
Finding Time to Meditate … 83
Mindful Meditation .. 83
How to Meditate Mindfully 84
Conclusion 87
Sample Content Preview
Yoga and Circulation
If your blood isn't supplying your body and brain properly with oxygen, your health will suffer. You need proper circulation for the brain to function, energy, and the growth of cells. Sluggish circulation can cause nerve and tissue damage, blood clots, dizziness, among other problems.
The thorough stretching in most yoga poses will improve circulation. The Camel Pose described in this book is an excellent way to improve circulation.
Yoga and Cardio Health
For patients who have experienced heart surgery, depression and anxiety can be a natural result. Yoga can be helpful in managing this type of post-operative stress. It can also lower blood pressure, serving as a preventive heart-healthy measure. The specific heart benefits will be discussed in a separate chapter.
There's No Hurry – Take Your Time
These benefits will take time to achieve. Yoga is not a two-week miracle program. So, as you begin with your yoga sessions, allow sufficient time for the results to manifest themselves. You should see a huge difference in approximately two months. Whatever your reason for practicing yoga, you should notice an improvement in all aspects of your being.
Chapter 2 – Yoga History
Yoga has become quite trendy these days as practitioners in their yoga pants and mat head toward the popular yoga studios to attend their weekly yoga session. What many these fashionable yogis probably are unaware of is the long history of yoga dating back to ancient times in India's and its spiritual roots.
Most of what we think of as yoga only dates back 150 years. While people today practice yoga for their health, its roots are entwined in rich spiritualism that took a lifetime to master. For ancient yogis, yoga was a way of life.
Mention of yoga first appeared around 1500 BC in Hindu literature. The first writings, in traditional Sanskrit, the term yoga, which means yoke, frequently refers to a dying warrior rising to heaven and reaching a higher power. The original concept of yoga was clearly to elevate those who deserved it to a higher level, to connect the individual to the universe as a whole.
For ancient Buddhists, yoga wasn't even a specific discipline. It grew out of the desire to attain spiritual goals and controlling both the mind and the body to achieve this.
These spiritual leaders recognized that man is fallible, but always capable of improvement by changing dysfunctional thinking. They recognized the power of the mind to bring about inner peace and alleviate suffering by broadening individual consciousness and becoming open to new ideas. They already understood the basics of the mind/body connection.
Yoga, including meditation, was and still is a quest for knowledge. Ancient practitioners thought, correctly, as it turns out, that knowledge would lead to a higher level of consciousness and existence.
Old writings describe several levels of being, with increasing knowledge bringing the practitioner to the next, higher, level. It was viewed as a process which for many encompassed a lifetime of learning. Yoga, the physical part of gaining enlightenment, was to prepare the way to meditation, which was spiritual in nature. The physical side of yoga began to emerge around 500 A.D.
By the third century, yoga was an accepted Buddhist practice involving a spiritual quest through meditation. This is the classical period, where the writings Vyasa introduced the all-important Yoga Sutras, which lists yoga as a precondition for a higher existence. For several centuries, the practice of yoga became an accepted practice to attain important personal values, although it was still far from today's set of poses.
More meditative, it was intended to help "transcend" human suffering and rise above it. It was also used to broaden, or deepen, consciousness as a path to personal enlightenment. Yoga was seen as a means to overcome destiny and regain control of the self. The beginning of training and controlling the mind is clearly emerging. Up to the 15th century, while the West was in a state of constant strife and war, Eastern Buddhism focused on peace of mind. The difference between a Western and Eastern mindset is becoming more noticeable. By this time, the emphasis of yoga shifts from transcending pain to reaching a higher plane of existence. Man himself is to become a deity.
By the eighth century, hatha yoga, a mix of poses and meditation, came into practice. It is the beginning of "modern" yoga as we know today.
Modern Yoga
Yoga, the old spiritual quest of Buddhism, didn't reach the West until the last 19th century. This coincided with an interest in Indian culture as a whole due to the burgeoning spice trade.
Western culture became intrigued by the writings of Swami Vivekananda, a monk who traveled to Europe and introduced the intelligentsia to Buddhist spiritual writings, especially the 4th century Yoga Sutras, which involve clearing the mind of unwanted thoughts and learning to focus on one thing.
Yoga, as we know it today, became popular in the U.S. in the 1940s, when young Americans began to take yoga classes. By the 1980s, the known health benefits of yoga increased its popularity, although the practice was seen as more physical than spiritual by the majority of practitioners.
By the 21st century, the devotees of American yoga have increased from 4 million at the turn of the century to 20 million by 2011. This increase in popularity is mainly due to the increased scientific studies of the numerous benefits of yoga, especially the alleviation of stress. Whether spiritual or not, people want to increase their health. Many people, however, still seek both mental and physical elevation. Yoga offers both.
Other Details
- 1 Ebook (PDF), 92 Pages
- 2 Graphics (PSD, PNG)
- 1 Salespage (HTML)
- Promotional Ad Material (Emails)
- Checklist, Mind Map, Landing Page, Lead Magnet, VSL
- Year Released/Circulated: 2018
- File Size: 42,917 KB
License Details:
[YES] Can be sold
[YES] Can be used for personal use
[YES] Can be packaged with other products
[YES] Can modify/change the sales letter
[YES] Can be added into paid membership websites
[YES] Can put your name on the sales letter
[YES] Can be offered as a bonus
[YES] Can be used to build a list
[YES] Can print/publish offline
[YES] Can convey and sell Personal Use Rights
[YES] Can convey and sell Resale Rights
[YES] Can convey and sell Master Resale Rights
[NO] Can modify/change the main product
[NO] Can modify/change the graphics and ecover
[NO] Can be given away for free
[NO] Can be added to free membership websites
[NO] Can convey and sell Private Label Rights