Salespage Snapshot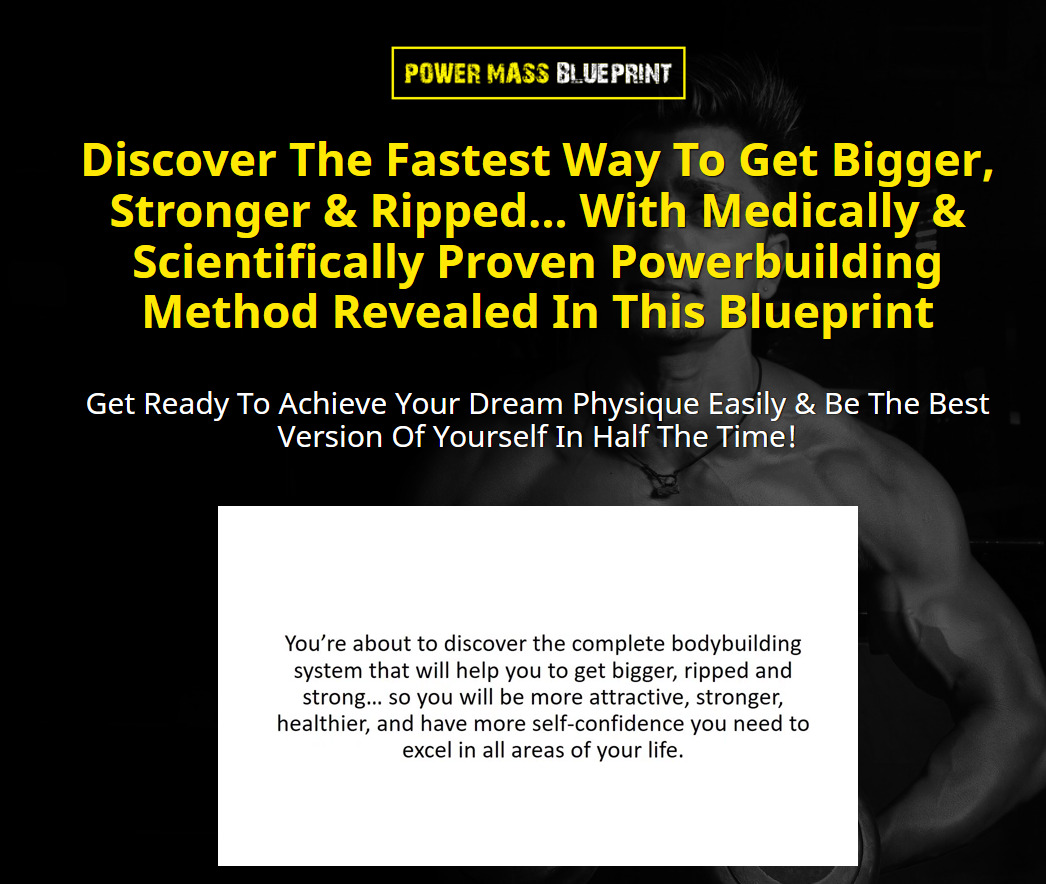 >> Click Here To View Sales Page...
Table of Contents
Introduction ……. 5
Chapter 1 .. 7
The Mindset of a Champion . 7
Unwavering Dedication . 9
Fight Distraction ……… 10
Finish What You Started ……… 11
Build Positive Mental Habits .. 12
Push Yourself beyond Normal Limits ………. 14
Chapter 2 ………. 16
Workout Routines for Increasing Muscle Mass …….. 16
Choice of Exercises ……. 17
Number of Sets . 18
Resistance ……… 20
Rest between Sets …….. 22
Chapter 3 ………. 26
Power Building Lifestyle ….. 26
Mix Your Workouts ….. 26
Adequate Sleep . 28
Schedule Regular Recovery Time …… 30
Hydration ……… 31
Chapter 4 ………. 35
Diet for Increasing Muscle Mass .. 35
Eat at Home …… 35
Plenty of Protein ………. 36
Snack Often …… 37
Best Foods to Bulk Up . 39
Chapter 5 46
Supplementation for Muscle Mass ……… 46
Importance of Supplements for Body Building ……. 46
Creatine . 48
Beta Alanine ….. 50
BCCAs …. 52
HMB …… 53
Chapter 6 ………. 56
Cardio for Muscle Building 56
Importance of Cardio in Muscle Building …. 57
Dos of Cardio …. 58
Don'ts of Cardio 61
Chapter 7 65
Tracking Progress…… 65
Keep a Journal .. 66
Weighing Scale . 68
Body Fat Composition . 69
Measurements .. 70
Take Pictures ….. 71
Chapter 8 ………. 74
Best Fitness Apps to Measure Progress 74
Nike Training Club …… 74
Garmin Fit …….. 76
JEFIT Workout Tracker ……… 77
Fitness Pal …….. 78
IMuscle .. 79
Workout Trainer ………. 80
Conclusion …….. 82
Sample Content Preview
Chapter 6
Cardio for Muscle Building
Many bodybuilders flinch at the mention of the word "cardio" as they know that cardio burns fats. If the whole point of your tough exercise and diet regime is to gain muscle, why would you want to do something that burns fats? It just defeats the whole purpose, doesn't it?
There is scientific evidence to back up this fact. A study was published in the Journal of Applied Physiology which touched on this topic. The study included a group performing 10 weeks of intense training along with cardio.
It was found that cardio burnt more fat as compared to only weightlifting. The downside was that cardio also reduced the strength gains. There are also other studies to prove that cardio does cut down the muscle gain when integrated with resistance training.
Importance of Cardio in Muscle Building
So cardio becomes a controversial topic when trying to bulk up. The question remains does cardio counter muscle gain? Well, it certainly can if you do it wrong. But it's not all that bad if you know how to do it properly.
When you work out to gain muscle, think of cardio as conditioning. It's the means through which you can improve your heart health. A healthy heart means better blood flow to the muscles which further means a sufficient supply of oxygen and nutrients to the musculature. But it's important that you do cardio without losing any muscle.
According to Joe Holder, a Nike coach, you need to train both your aerobic and anaerobic systems if you want your cardio to complement your muscle building routine. Your anaerobic system provides energy for a short span of time, ranging from a few seconds to a minute. In this time, no oxygen is involved. The anaerobic phase is further divided into the alactic and lactic phase. Lactic acid is produced in the lactic phase while it is absent in the alactic phase.
On the other hand, the aerobic system involves oxygen and provides energy for long-term use by breaking down essential nutrients in the body.
Dos of Cardio
If you plan on integrating cardio into your existing exercise routine, you need to do it properly and with extreme thought.
First of all, you need to consider the number of days you'll be doing cardio for. Experts suggest that you should do cardio only for two days a week if you don't want to lose muscle. The maximum number of days could be three but if you exceed that, you'll end up losing muscle.
Sprint exercises are the best kind of cardio that you can do to preserve your muscle mass.
You may have seen professional runners being so buff despite running all the time? Well, it's because sprints work your anaerobic systems which means the energy comes from short spurts rather than burning of any major nutrient in the body.
Also, sprints help improve recovery. They give your body time to build itself and repair any torn muscle. It will also help you in the gym because sprinting exercises increase your work capacity and give you massive energy.
Do 10 rounds of sprints on a treadmill at a speed of 10mph. Make each round 10 seconds and take a 10 second rest between each round. To skip the part where the treadmill is accelerating, it's good to jump on the treadmill when your desired speed has been achieved by it. It might seem very easy when you read it here but this routine really pumps you up. Try to take shorter breaks.
Limit your cardio to less than 20 minutes. It's been seen in different studies that cardio done longer than that actually burns muscle mass. Low intensity cardio is much better if you want to preserve muscle mass.
During low intensity cardio, your body burns less fat as compared to high intensity cardio. Also, it builds endurance so you have a better performance during your gym routine.
At the same time, low intensity cardio is easier on the joints. This is also a considering factor for bodybuilders as they don't want to get injured doing cardio. This can easily render them unfit for their actual muscle building exercises.
Another smart way to incorporate cardio into your routine is to use it as a warm up for your strength training. Limit the cardio time to 10 minutes so that it doesn't interfere with your workouts later.
Performing a longer low intensity cardio session before intense training not only burns more fat but also interferes with increasing gains.
Don'ts of Cardio
High intensity cardio is good for a lot of things, but not necessarily for bulking up. In fact, it's one of the don'ts when you want to build or maintain muscle mass. It's been seen in studies that high intensity cardio is better at burning fat than low intensity. It gives your body the ability to burn fat even hours after the workout is done. Also, it increases the aerobic capacity of the body. This means the body goes in an aerobic phase where it burns nutrients for energy in the presence of oxygen.
Other Details
- 1 Ebook (PDF), 84 Pages
- 2 Graphics (PNG)
- 1 Salespage (HTML)
- Promotional Ad Material (Emails)
- Checklist, Mind Map, Landing Page, Lead Magnet, VSL
- Year Released/Circulated: 2018
- File Size: 67,065 KB
License Details:
[YES] Can be sold
[YES] Can be used for personal use
[YES] Can be packaged with other products
[YES] Can modify/change the sales letter
[YES] Can be added into paid membership websites
[YES] Can put your name on the sales letter
[YES] Can be offered as a bonus
[YES] Can be used to build a list
[YES] Can print/publish offline
[YES] Can convey and sell Personal Use Rights
[YES] Can convey and sell Resale Rights
[YES] Can convey and sell Master Resale Rights
[NO] Can modify/change the main product
[NO] Can modify/change the graphics and ecover
[NO] Can be given away for free
[NO] Can be added to free membership websites
[NO] Can convey and sell Private Label Rights