Salespage Snapshot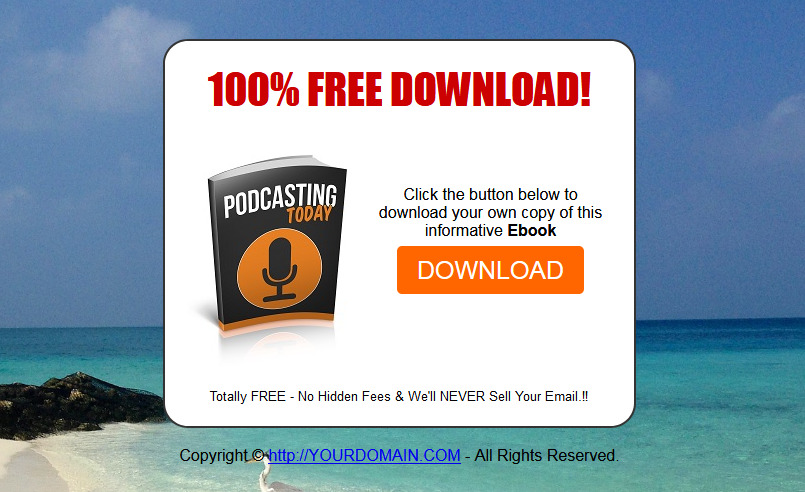 >> Click Here To View Sales Page...
Table of Contents
The Essential Planning Stage … 4
Podcast Preparations: . 4
How To Become A Podcaster … 6
Podcaster Essentials: . 8
How To Be A Professional 9
The Development Of Your Podcast ….. 12
Keep It Going ….. 14
Grow, Grow, Grow ….. 15
Your Own Studio ….. 19
Setup Sites: ….. 20
Sites For Serving Your Audio . 22
Getting People To Listen .. 27
Your Sig File (Forums) … 27
Locate Social Groups ….. 28
Your Sig File (eMail) 30
Backlinks …. 31
Article Marketing ….. 31
Submitting Press Releases …. 33
Submitting To Blog Directories …. 33
Visiting Other Blogs And Commenting … 34
Find Other Bloggers With Similar Interests ….. 34
Forums on Podcasting …. 37
Using RSS For Wider Distribution . 44
Other Blogging Options .. 45
Sample Content Preview
The length-to-width ratio
It is quite easy to podcast; I'm sure you're surprised at how easy it is. It's quite another thing though, to maintain a podcast on an ongoing basis. A lot has been discussed about the regularity of podcasts and exactly how frequent a podcast needs to be. While it is true that the frequency of a podcast does depend largely on the
material that is covered, it is also true that subscribers may not be able to listen as frequently as you want to podcast.
If you have a lot of material and are looking to make a daily podcast you might want to consider a very short podcast of two to five minutes. Like e-mail that gets stacked up in your inbox, podcasts that don't get listen to compile a very quickly if a subscriber doesn't get a chance to hear a few of them in a row. Often what happens after that is a delete the whole batch, figure they've missed too much vital information, and un-subscribe.
On the other hand, too infrequent of a podcast will mean that people do not feel the same "ownership" in listening as they would from something a little more regular. When it's all said and done, you need to know what material you need to cover and how much time you have to spend on podcasts in order to determine how frequently you are going to podcast. This is the length-to-width ratio: the length of your podcast in relation to the width of the material.
Look at other podcasts to see what kind of material may cover and the relationship that has to the frequency they produce these podcasts. CNN, for example, can produce a daily podcast that is very short because of the nature of its "headline-style" material. Their podcasts are very short.
A podcast covering the world of baseball, might be better off podcasting every week since they will be able to talk about a couple of the games is well is some news. They're podcast can be 15 minutes to half an hour, which seems appropriate.
Lastly, a financial specialty podcast might only come out once a quarter and can be an hour long as they discuss business news and economic developments in the past three months. The length of their podcasts, based on the weighty material they are covering, seems appropriate.
In each of the cases above, it is possible to imagine a subscriber spending the time listening to each podcast because their length is appropriate for the material.
How much time should I put into my podcast?
Being aware of the length-to-width ratio of your podcast will help you determine how appropriate a frequency you need. But there's another factor to consider as well. It is the "how-much-work-is-it-going-to-be-for-me?" factor. If you are running a business or are busy at your day job you will not have the time to put in the effort to create a quality podcast on a frequent basis.
It doesn't take much for CNN to create a five-minute podcast about news headlines because they are in the business anyway. And it doesn't take a lot for the financial analyst to create a one-hour podcast every three months because they spent the past three months gaining the material.
Your challenge as a podcaster is to create a regular podcast that does not take so much of your time that it loses its enjoyment. That's why we recommend podcasting on an area of interest or a hobby, if you are a personal podcaster, or podcasting on your business or industry if you are a business podcaster.
And if you are a business owner, you know how little time you have already, so you may not want to spend an hour or two a week to create a 15 minutes to half an hour podcast with such regularity.
There has been a lot of discussion about the ideal frequency of podcasts. It usually boils down to the length-to-width ratio that you need to consider whether you can maintain the momentum. Here is a step-by-step process to determine whether you'll be able to keep up with the demands of a regular podcast.
The Development Of Your Podcast
1. Across the top of a blank piece of paper write down five ideas you have that you might like to podcast about. (In another chapter will show you how to improve your content to gain subscribers, but for now this is a good place to start).
2. Record how frequently you want to do each podcast. (Daily, Weekly, Monthly, etc.)
3. Under each idea list all the sub-topics you would like to cover in your podcast. (For example, if you want to cover major league baseball, you might write down such items as recent player trades, highlights of recent games, things to watch out for in upcoming games, an analysis of player stats, a review of an event in the history of baseball, and a review of a baseball movie or book).
4. In brackets, beside each sub-topic, write down the number of minutes it would take you to cover that in a podcast, and the number of minutes it would take you to prepare and research that information.
5. Add up all the minutes it would take for you to cover those topics in a podcast. This will be the length of your podcast.
6. Write that total above your idea.
7. Now add the second number, the length of time really take you to prepare and research the information
8. Add that number to your podcast length.
9. Write that number above your idea as well.
With this new information you are able to determine how long you want your podcast to be, how frequent you want it to be, and how much time you'll have to put in to it in order to reach your goal. Often, people's initial goals in their podcast are too lofty and required to much time for them to do a good job on a consistent basis. In upcoming chapters will show you how you can improve that by narrowing down the focus of your audience.
Other Details
- 25 Articles (TXT)
- 1 Ebook (PDF), 45 Pages
- 1 Squeeze Page (HTML)
- 2 Ecovers (PNG)
- Year Released/Circulated: 2018
- File Size: 2,375 KB
License Details:
[YES] Can sell and keep 100% of the sales.
[YES] Can edit the squeeze page.
[YES] Can be bundled into another paid package and sell at a higher price.
[YES] Can be used as a bonus to another product you are selling.
[YES] Can be sold in a Dime sale event.
[YES] Can be added into a paid membership site.
[YES] Can pass on the Master Resell Rights privilege to your customers.
[YES] Can be given away for free AGAINST an email address (lead generation)
[NO] Contents of the product can be edited, modified or altered.