Salespage Snapshot: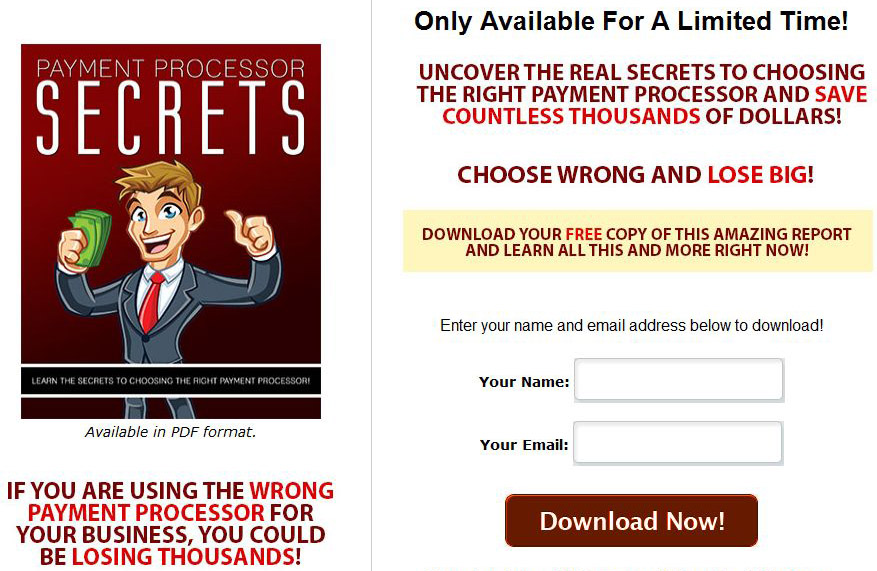 >>> Click Here To View Full Sales Page…
Table of Contents
Introduction to Payment Processor Secrets .. 2
Why Do You Need a Payment Processor? … 5
Traditional vs. Mobile . 6
Merchant Accounts …. 7
Reputation … 8
Terms & Conditions . 10
Fees …. 11
Payment Terms. 13
Regional Availability . 16
Backup Processors .. 17
Final Words 18
Recommended Resources …. 19
Sample Content Preview
In this report, you'll learn how to choose the payment processor that is right for you, and how to know which features you're likely to need the most.
Why Do You Need a Payment Processor?
The very first thing to ask before you even start looking for payment processor is: "What am I selling?" Don't just say "an eBook" or "clothes", for example. Be specific, because it really matters.
Some payment processors don't allow the sale of digital goods, while others actually don't allow physical goods, or at least aren't set up to do it reliably. Some don't allow products that relate to certain fields. Some pay too slowly to make a drop shipping business workable.
Here are some questions you need to ask yourself:
1. Is your product physical or digital?
2. Will you be doing any drop shipping?
3. How quickly/often do you need to get paid in order to stay in business?
4. Is your product or business considered "high risk"?
These questions will help you determine exactly what you're looking for in a payment processor, and which features you can live without if necessary.
Once you have a list of features you can't live without, choosing a payment processor will be much easier, because you can eliminate those that don't have those features right away.
Traditional vs. Mobile
There are three major types of payment processors to look at:
1. Traditional
2. Mobile
3. Merchant account
You'll learn more about merchant accounts in the next section, but for now we'll discuss traditional payment processors vs. mobile payment processors, and how to know which one you need for your business.
Traditional payment processors are designed for taking payments online. Generally, they allow the customer to input their credit card number, expiration date, CVV number and address in order to verify their identity and process payment.
This would be clunky for someone who is not selling online. They would have to get the customer to visit a website and type in their information, making the sales process slow and frustrating. Online, this is no problem, because it's what people are used to. Offline… not so much.
Mobile payment processors are designed mostly for offline merchants. You get a card reader that attaches to the headphone jack of your mobile phone or tablet, and you simply swipe the card to take payment. It's must faster and more secure, making the payment process easier for you and your customers!
Many mobile devices also allow you to input information manually when necessary, as well.
Merchant Accounts
You may want to secure your own merchant account and use a payment gateway. Fees may be a bit lower if you do this, however there are some pitfalls to choosing a merchant account over a payment processor.
For one thing, you may need to have good credit to secure a merchant account. Most merchant accounts do check your personal or business credit report before they extend an account to you.
Another factor to consider is the fact that many merchant accounts charge a monthly fee. This gives you access to lower percentages in fees than other payment processors, however if you don't do a lot of volume this may not be profitable for you.
Additionally, you may have to pay an extra fee to a payment gateway if your website isn't set up with its own or if your merchant account doesn't provide one. The payment gateway is a program that interfaces with your merchant account to process the credit card transaction, make sure it is valid, check for fraud, etc. Without a payment gateway, a merchant account is useless.
Merchant accounts are best for high-volume merchants who need lower percentages taken out in fees and can afford a monthly fee in order to access it. If you're just starting out, a merchant account probably isn't the right choice for you, and you should consider one of the other options.
Reputation
A processor's reputation is probably the single most important factor to look at before you even consider using them. Too many processors have gone out of business and left their customers unpaid, or at the very least scrambling for a new processor at the last minute, or they've taken so long to pay that people have gone out of business while waiting on their payments, unable to pay their bills in the meantime.
There are many ways to find out what people think of certain payment processors. For one thing, you can search for their name online along with words such as:
• Complaint
• Scam
• Sucks
• "I hate"
• Problems
Another way is to search for their name on forums where business owners and marketers gather, such as:
>> http://www.warriorforum.com
>> http://forums.digitalpoint.com
Just remember to take everything you read online with a grain of salt, because you'll never know both sides of the story. For example, people have berated PayPal for closing their accounts and freezing their funds for months, only to reveal later they had done something against PayPal's terms.
Payment Processor Secrets
If you see a large number of complaints and very little praise, it's a good indication that you should probably stay away from that payment processor. If the reverse is true, you can add them to your list of processors to research.
What are some potential pitfalls to choosing a processor with a bad reputation?
• You could be paid late, or not at all.
• You could have your money tied up for no reason in the event of an account cancellation.
• If they aren't reputable, customers may not want to purchase through them.
• If their servers go down, you could lose money.
• If they go out of business, you could lose even more money.
These are just a few potential scenarios that could happen if you aren't careful with the payment processor you select, so thorough research is key.
Other Details
- 1 Ebook (PDF, DOC), 20 Pages
- 7 Part Autoresponder Email Messages (TXT)
- 1 Squeeze Page (HTML, PSD)
- File Size: 12,018 KB