Salespage Snapshot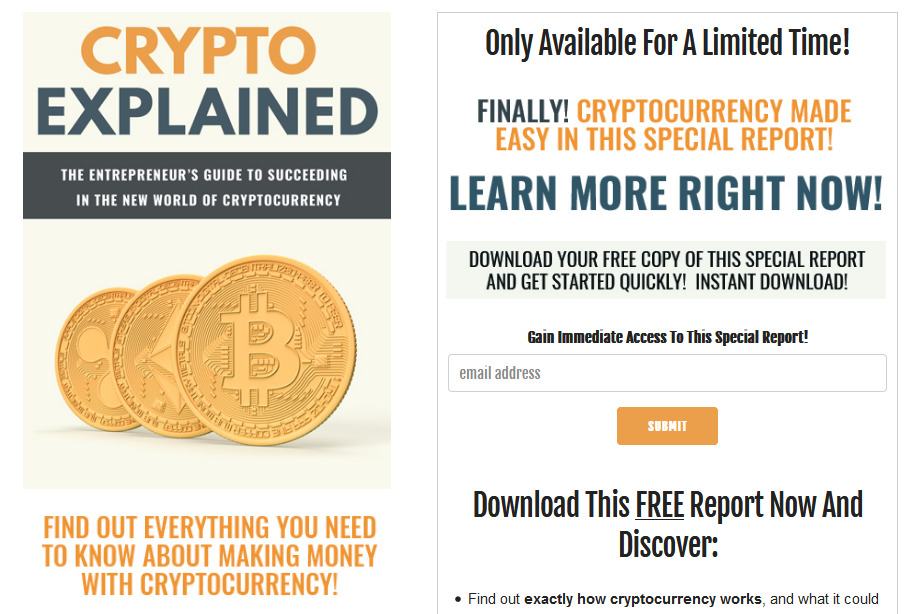 >> Click Here To View Sales Page...
Are You looking for a Cryptocurrency PLR Product?
If you're like most people, you're probably wondering how to get involved in the cryptocurrency craze without putting your hard-earned money at risk. Fortunately, there's a way to profit from the rise of digital currencies without buying any Bitcoin, Ethereum, or Litecoin.
With this cryptocurrency PLR package, you can get your hands on high-quality content that will help you position yourself as an expert in this booming industry.
Get Paid to Be a Crypto Expert
Start earning money by sharing your cryptocurrency knowledge with the world. With this high-quality PLR Cryptocurrency course, you can become a respected authority in the space.
Introducing,
Crypto Explained: The Entrepreneur's Guide To Succeeding In The New World Of Cryptocurrency
Find out everything you need to know about making money with cryptocurrency, how it works and what it could mean for your business! This PLR report covers topics about different types of digital currency, uncovers the easy way to grow a business using cryptocurrency, top tips, and strategies for skyrocketing your income with cryptocurrency, etc.
Table of Contents
Introduction 5
How Cryptocurrency Works 7
What You Need to Know: The Risks 12
Cryptocurrency for Entrepreneurs 16
How Cryptocurrency Can Help Entrepreneurs 22
Grow Your Business with Cryptocurrency 27
Resources 35
Sample Content Preview
Bitcoin mining is the process by which bitcoins are released into circulation. Investopedia explains that this mining "requires the solving of computationally difficult puzzles to discover a new block, which is added to the blockchain."
When a new block is added, miners are rewarded with a few Bitcoins. This reward is halved after every 210,000 blocks, so the 50 Bitcoin reward in 2009 is now down to 6.25 Bitcoins.
You can use a variety of different hardware to mine Bitcoins. Some will get you better results, of course, and these are called "mining rigs."
For example, certain computer chips (Application-Specific Integrated Circuits, or ASIC) and more advanced processing units (like Graphic Processing Units or GPU) will yield higher rewards than other systems.
One Bitcoin can be divided into eight decimal places. The smallest unit is called a Satoshi (0.00000001 of a Bitcoin) because the mysterious entity who created the Bitcoin used the pseudonym Satoshi Nakamoto. If participating miners agree, Bitcoin may be divided even further in the future.
Bitcoin can be used as a means of payment for products or services. Physical stores can accept Bitcoin in lieu of fiat money—transactions would be handled with a special terminal or with QR codes and touchscreen apps.
An online business can easily accept Bitcoins along with its other online payment options like credit cards or PayPal. There are also job-site websites that will hook up prospective employees with employers who pay in Bitcoin, like Cryptogrind, Coinality, or Bitwage.
Many Bitcoin supporters feel that digital currency will become the norm in the future. In 2014, the IRS proclaimed that all virtual currencies, including Bitcoins, would be taxed as property instead of currency. This means that gains or losses from Bitcoins held as capital will be realized as capital gains or losses, while those held as inventory will incur ordinary gains or losses.
To purchase cryptocurrency like Bitcoins, you will need an online "wallet," an app that can hold your investments. Usually, you create an account with an exchange, and then you can transfer fiat money into cryptocurrencies.
One popular trading exchange is Coinbase, which allows you to create a wallet and buy and sell cryptocurrencies.
What You Need to Know: The Risks
While cryptocurrency opens the doors to countless investment and financial instruments, because of the lack of guaranteed value, as well as its digital nature, there are risks involved that you should know about before you get started.
Barry Sibert, CEO of Digital Currency Group (which builds and invests in Bitcoins and blockchain companies) says "It is pretty much the highest-risk, highest-return investment that you can possibly make."
Here are some of the risks you can incur:
Regulatory Risks: Bitcoins are a digital rival to government currency and, thus, may be used for illegal activities, black market transactions, money laundering, or tax evasion.
Governments, therefore, might seek to regulate, restrict, or ban the use of such currency (some already have). Other governments are coming up with various rules concerning cryptocurrency.
Security Risks: Most people who own and use Bitcoins have obtained their currency through any of many popular online markets, called Bitcoin exchanges. These are entirely digital, so as with any other virtual system, are at risk from hackers, malware, and even operational glitches.
Hackers may target these exchanges and gain access to thousands of accounts and digital "wallets" where Bitcoins are stored.
Users can only prevent these risks by storing their currency on a computer not connected to the internet or by choosing to use a "paper wallet" where they print out the Bitcoin private keys and addresses without keeping them in a computer at all.
Insurance Risk: Currently, cryptocurrency exchanges and accounts are not insured by any federal or government program.
In 2019, one dealer and trading platform (SFOX) did announce they'd provide Bitcoin investors with FDIC insurance, but only for those transactions involving cash.
Fraud Risk: Bitcoin does use private-key encryption to verify owners and register transactions, but scammers might try to sell fake Bitcoins. There have also been documented cases of price manipulation, which is another common form of fraud.
Market Risk: As with any other investment, Bitcoin prices can fluctuate. In fact, Bitcoin's value has seen wild swings since 2009.
There is also plenty of competition for Bitcoin, and a technical breakthrough in the form of a better virtual coin is always a threat.
Make Money on the Bitcoin Boom: Cryptocurrency PLR
If you're looking to cash in on the cryptocurrency craze, this PLR ebook is perfect for you. With a wide range of topics covered, from beginner's guides to more advanced tips and tricks, you'll be able to start making money in no time. Download your copy today!
About Cryptocurrency
Cryptocurrency is a digital asset designed to work as a medium of exchange that uses strong cryptography to secure financial transactions, control the creation of additional units, and verify the transfer of assets. Cryptocurrencies are classified as a subset of digital currencies and are also classified as a subset of alternative currencies and virtual currencies.
Cryptocurrency offers many benefits including privacy, security, and decentralization. With cryptocurrency, transactions are completed between two parties without the need for a third party. This means that there is no central authority that can be corrupted or that can take away your funds.
Cryptocurrency also offers greater security than traditional methods because it uses cryptography to protect your information. Finally, cryptocurrency is decentralized, meaning it is not controlled by any government or financial institution.
Other Cryptocurrency PLR Products You Might Like
Other Details
- 1 Ebook (PDF, DOCX), 36 Pages
- 7 Part Autoresponder Email Messages (TXT)
- 1 Squeeze Page (HTML)
- File Size: 8,219 KB
License Details:
[YES] Can be sold
[YES] Can be used for personal use
[YES] Can be packaged with other products
[YES] Can modify/change the sales letter
[YES] Can modify/change the main product
[YES] Can modify/change the graphics and ecover
[YES] Can be added into paid membership websites
[YES] Can put your name on the sales letter
[YES] Can be offered as a bonus
[YES] Can be used to build a list
[YES] Can print/publish offline
[YES] Can convey and sell Personal Use Rights
[YES] Can convey and sell Resale Rights
[YES] Can convey and sell Master Resale Rights
[NO] Can be given away for free
[NO] Can be added to free membership websites
[NO] Can convey and sell Private Label Rights