Salespage Snapshot: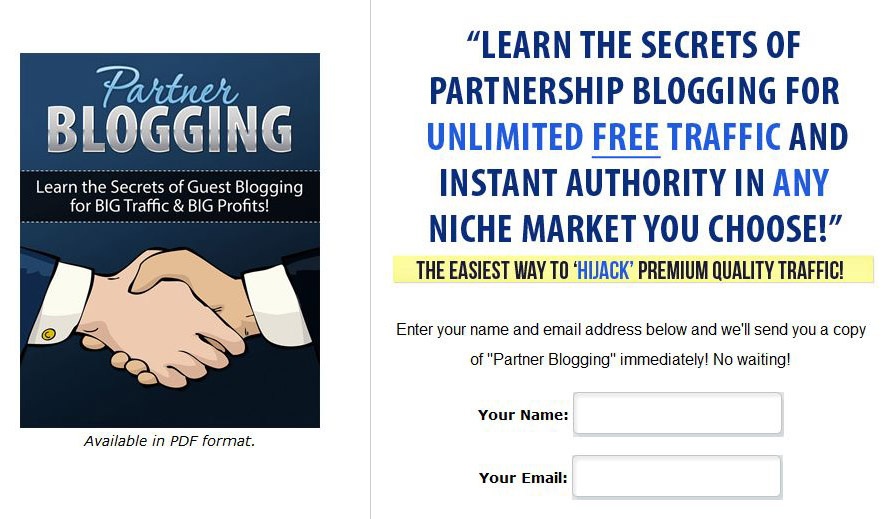 >>> Click Here To View Full Sales Page…
Table of Contents
INTRODUCTION TO PARTNER BLOGGING 3
LOCATING THE BEST BLOGS IN YOUR NICHE 4
CONTACTING BLOGGERS WITH YOUR CONTENT 10
CHOOSING A TOPIC FOR YOUR ARTICLE 13
WRITING A QUALITY ARTICLE 16
GETTING THE MOST FROM THE ARTICLE 19
FINAL WORDS 21
RECOMMENDED RESOURCES 23
Sample Content Preview
Syndication Networks
Syndication networks are communities focused around reproducing and distributing content in exchange for backlinks and exposure. It's important to choose networks that are specific to your market, reaching your target audience easier and ensuring that your content is well received and relevant to those visiting the website.
If you are involved in the Internet Marketing or online opportunity market, you could submit your content into http://www.SmartBlogs.com.
If you are involved in the technology market, you could submit your content into http://www.dreamincode.net/ or http://www.Blogsolute.com , and if you are involved in the work at home mom industry, you might want to check out http://www.MomsNetwork.com or http://www.SheKnows.com Start by searching for "keyword+guest bloggers", and you'll be able to find countless syndication networks that focus on your market or niche.
Syndication Services
If you are short on time you could outsource all of your content submission and distribution to syndication service professionals who will seek out the top networks and community sites in your niche and submit your content on your behalf.
In addition, many of these services provide tracking features so that you can see where your content has been submitted and where it is currently being displayed.
Here a few worth exploring:
PRPR: http://www.prpr.net/ The Content Facilitator: http://www.contentfacilitator.com/
Gigya: http://www.GigYa.com
You won't always be able to determine how much traffic a blog has, so it's a good idea to keep in mind a few guidelines. These aren't foolproof, but they will definitely help.
1. The blog should be at least a few months old. Very new blogs aren't likely to have much traffic or many followers and they won't be established in the search engines meaning that they will not be considered an 'authority website'.
2. The blog should be updated regularly. If there are months with only a couple of posts or a period of time with no posts at all, the blog probably isn't getting much traffic as they aren't working to keep an open line of communication with visitor's.
3. If there are hardly any comments, there probably isn't much traffic to the blog. If there is significant traffic, a lack of comments usually signifies a lack of interest or low quality content.
Contacting Blog Owners
There is one potential problem you may run into that could hamper your efforts to find blogs to write for, and that is the fact that many bloggers do not include any contact information on their blogs.
Fortunately, there are several ways to potentially get in touch with a blog owner.
1. Look for a contact form. Many blogs have one in order to deter spam instead of placing their email address visibly on the blog.
2. Look up their WHOIS information and find an email address. If they have WHOIS protection, you can still contact the protection email and it will forward it to them.
However, it may go to their webmaster or administrator, or it might go to an email address that is rarely (or never) checked.
3. As a last result, you can leave a comment on their blog. They may never see it, but at least you've got a shot.
Be sure to leave them a way to reach you easily.
Sometimes bloggers will actually advertise in search of guest bloggers and many websites have a submission page or form set up on their website that will allow you to send in a direct inquiry.
This will make your job easier, especially if they give you clear guidelines about what they are looking for from potential guest bloggers.
Simply follow their instructions to apply and be patient!
Sometimes it will take awhile to hear back from the blogger but that's a good thing – it means they are busy taking care of their website visitor's!
Contacting Bloggers With Your Content
When you're preparing to contact a blogger in regards to the possibility of guest blogging for them, you need to remember one very important thing.
This is something salespeople and copywriters live by, and it's something you should always remember, as it will help you in all aspects of your life.
"What's in it for me?"
In order to get what you want in life, you have to remember that anyone you want something from will be asking that very same question. Not all bloggers will understand the benefits of opening their website to guest bloggers, so you need to be prepared to do a little selling.
When you contact a blogger, be sure to concentrate on what you can do for him/her. Let him know why he should have guest bloggers, and why that guest blogger should be you instead of someone else.
Yes, you can mention what you'd like out of it. Obviously, they need to know what you expect in return for your article.
However, you want to focus more on what this means for them and how they will directly benefit.
Here are some benefits of guest blogging you can use to convince a blogger why he should partner with you by allowing you to guest blog for them:
1. They get free content without having to spend time writing it or money outsourcing it.
2. The additional content will bring them more search engine traffic.
3. You can bring a new perspective to their visitors, giving their visitors more reason to come to the blog and stay longer.
Some important tips to remember while crafting your email:
1. Sell Yourself – You are your most important asset. If the blogger likes you, he will be much more likely to agree to your proposal. Not only that, but if you happen to be an expert in the niche, he'll be glad to know this!
2. Fit In – Let him know why you are a good fit for his blog.
3. Prove Yourself – Attach some examples of you work or give him a link to your blog so he can see for himself the quality of your work.
4. Be Polite – You don't have to kiss the blogger's behind, but be polite, even if the blogger doesn't agree to your proposal. You never know whom else they know, or how they may be useful to you in the future.
5. Save Time – Most people are busy people. They don't have time to read a novella written by you. Keep your email short and to-the-point. Include just enough information to help them make their decision.
6. Be Respectful – Let them know how much you value their time, and thank them for taking the time to read your email. You might even want to prove you read their blog by referring to a favorite post.
7. Go the Extra Mile – Let him know you're willing to go the extra mile by promoting the post, and exactly how you will do it. How can he turn down free content AND free traffic?
8. WIIFM – Most importantly, don't forget to let the blogger know what's in it for him! (Follow the other steps and you'll be doing fine to let him know "What's in it for me?")
Choosing a Topic For Your Article
What you write about is as important as what you write. You can't rehash the same topic over and over for multiple blogs. Since the point of guest blogging is to gain immediate credibility and traffic, the better and more relevant your article, the greater your chances of it being picked up and noticed.
To begin, it's important to read through existing articles on the blog before you choose a topic to find out:
1. Which topics have already been covered
2. Which types of posts are popular
3. Which posts have the most comments
You want to make sure your article fits in well with the blog's overall theme or content so that you are able to connect with visitors and give them information that they are really interested in.
Even if a specific topic has already been covered you could provide them with a fresh perspective, or give them additional information that offers full comprehensive coverage.
Keyword Research
When looking for great topics for guest blogging articles, it's important to begin with keyword research.
Just because the blog isn't yours doesn't mean you shouldn't do keyword research and find a great keyword phrase.
Remember, the more traffic this article gets, the more people will read it and potentially visit your link. Don't think of this as competing with your own site, because this is your article and all of the exposure that it will receive will be yours for the taking.
Unique Article Titles
A good keyword phrase that receives a strong level of traffic is a great starting point for a quality article. Keywords can give you ideas, but you must craft those ideas into a unique article idea. There are many ways to turn a keyword phrase into an article title.
Other Details
- 1 Ebook (PDF, DOC), 22 Pages
- 7 Part Autoresponder Email Messages (TXT)
- 1 Squeeze Page (HTML, PSD)
- File Size: 7,558 KB