Salespage Snapshot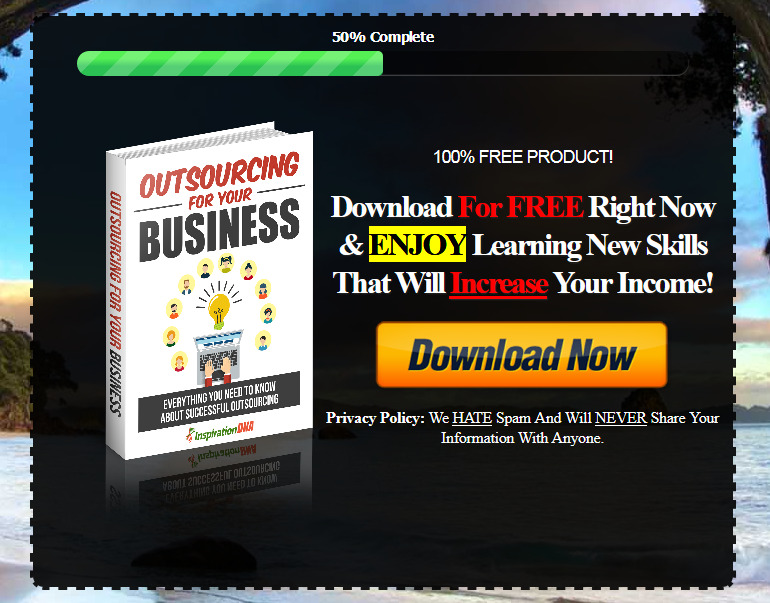 >> Click Here To View Sales Page...
Table of Contents
Foreword
Chapter 1:
Outsourcing Basics
Chapter 2:
Determine What People Are Best For Your Work
Chapter 3:
Decide What Should Be Outsourced
Chapter 4:
Use Project Tracking
Chapter 5:
Build Strong Relationships With Workers
Chapter 6:
Provide Good Feedback
Chapter 7:
How Outsourcing Can Help Your Business
Chapter8:
What You Have To Be Careful With While Outsourcing
Wrapping Up
Sample Content Preview
Chapter 2:
Determine What People Are Best For Your Work
Most companies' face the challenge of keeping escalating costs down, while still maintaining the highest of standards in order to stay competitive. In doing so these companies would have to look into areas that can benefit and one option to consider and is currently being widely used is the outsourcing tool.
Make Some Choices
Without the possibility of using the assistance of an outsourcing company the principal company would have to consider elements such as hiring, training, administration, benefits, absenteeism, workspace and equipment.
In some cases such expansions would seem more burdensome than welcomed therefore the nest best option would be to consider outsourcing.
The following are some points to consider when determining what's best:
Expertise – identifying the relevant providers in a particular field and then ensuring the best possible price is agreed upon for the services rendered would be the first step to take. The outsourcing company chosen should ideally be an authority in its particular field.
Management – not having to micro manage a particular segment of the overall project simply because it has been taken care of through the outsourcing platform can be quite a relief both mentally and physically for all involved in the project as a whole.
Personnel flexibility – being able to hire an outsourcing company that works on a project to project basis would be better than having to hire someone only to have to let them go when the project is over.
This cost incurred for hiring personnel on short term contracts can be significantly higher, as for the worker there is no job security thus the demand for higher wages is common and expected.
There are also services provided by companies that can link the various wants to the needs of other companies. Hiring such companies to find a suitable partner in the outsourcing exercise would definitely benefit as the service provided would be tailor made to the requirements of both parties.
Chapter 3:
Decide What Should Be Outsourced
Making the decision to outsource is usually not one to be taken lightly. One should be aware that anything done on behalf of the business entity will reflect directly on it in terms of quality of the end product being made.
What Will Be Sent Out
Although in almost all cases, especially if it has been well thought out the money saved can be very significant indeed when the services of an outsourcing company is used.
This is mainly because the chosen outsourcing company is ideally supposed to be able to provide the expertise and technologies that would not be available within the principal company itself.
However both parties should be committed and the monitoring process will take time and energy but once the standards and expectations are well established and understood, the outcome can be very workable indeed.
The more popular areas that are normally sought for outsourcing purposes are as follows:
– IT functions – when businesses expand there may be the need to stay current especially within the IT world. If the business entity did not initially require any IT intensive contributions then the initial setup of the business entity would not have configured this element into the general makeup of the company thus the need to outsource.
– Business processes and HR – here again as the business expands or even if there is no real need to have the actual full time employment of such expertise in place, the out sourcing services can be sought. Such activities can be outsourced when and if needed and it also provides for expertise and specialized skills
– Finance – outsourcing auditing functions is common and this can be further extended to outsourcing the entire accounting functions of a company. Elements such as bookkeeping, tax management and invoicing could easily be done through the outsourcing platform.
Other Details
- 1 Ebook (PDF), 29 Pages
- 2 Graphics (PNG)
- 1 Squeeze Page (HTML)
- Year Released/Circulated: 2017
- File Size: 2,520 KB
License Details:
[YES] Ebook Can be given away against an email address
[YES] Can sell the WHOLE product and keep 100% of the sales
[YES] Can sell the WHOLE product with Resale Rights
[YES] Can sell the WHOLE product with Master Resale Rights
[YES] Can edit the Squeeze & TY + MRR Upsell Pages
[YES] The WHOLE product can be packaged with other products you sell
[YES] The WHOLE product can be offered as a bonus with other products you sell
[YES] The WHOLE product can be added to paid membership sites
[YES] The WHOLE product can be offered through auction sites
[NO] WHOLE Product can be given away
[NO] WHOLE Product can be added to free membership sites
[NO] Ebook can be modified in any way
[NO] Can sell with Private Label Rights