Squeeze Page Preview: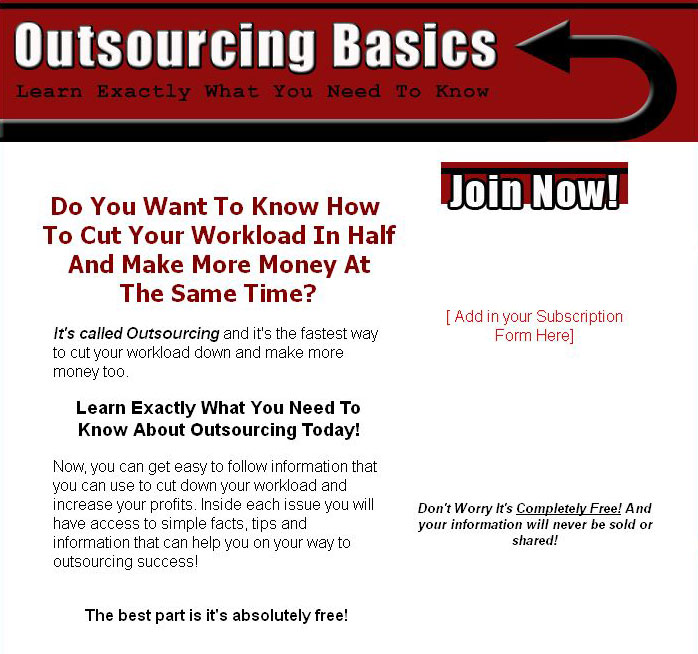 >>> Click Here To View Full Squeeze Page… Features:
* 12 Issues Full Of Great Content
– Just add in your contact info and plug it in to your favorite auto responder. Each issue contains 500 words or more!
* One Ready To Go Squeeze Page
– Just add in your opt in form, upload to your server and your done!
* One Ready To Go Thank You Page
All ready to remind your subscribers to check their email and confirm their subscription. It even has built in revenue!
* 4 Researched Click Bank Products
These are top selling products on Click Bank that I've personally researched and chosen for each series.
* Extra Copy And Paste Article Content
You will get:
– Extra titles
– Extra opening paragraphs
– Extra closing paragraphs
– Extra fill in paragraphs
(these would make great tips that you add in to your follow ups system for more frequent contact with your readers)
Sample Content Preview
Message # 1
Subject line: Your First Outsourcing Basics Issue
Hello "autoresponder code here",
Welcome to the first Outsourcing Basics issue.
In each issue of Outsourcing Basics you will learn valuable
information on how you can successfully outsource and reduce
your workload.
Understanding Outsourcing
is a term which has received a great deal of
attention lately. Despite the increasing trend in companies
relying on outsourcing there are still some who do not clearly
understand what is meant by the term outsourcing.
As an entrepreneur, it is important to have continuous growth
in your business in order to be successful. One of the ways that
can help your business grow is outsourcing.
In this first issue we will examine some of the key elements
of outsourcing to help you develop a better understanding of
the concept.
What is outsourcing?
This is the most basic question most people have about
outsourcing.
Outsourcing is when you choose certain business activities that
you currently handle ( like writing or web design) and then use
an outside source to handle the task instead. This outside source
may be an independent contractor or an employee of another
company who is subcontracted to complete work that you would
normally do yourself. In exchange for the individual's services, he
or his company receives compensation.
Now that you have a clearer understanding of the concept of
outsourcing, you might wonder how it can benefit you and your
business.
When trying to determine whether outsourcing will benefit your
business, you need to determine how much money your time is
worth. A simple way to figure this out is to estimate how much
money you would like to make in a year, and divide that into
productive work hours. Most of us are only productive about 2-3
hours a day. For example, if you'd like to make $200,000 this
year, and you work 3 productive hours each day, 5 days a week,
then your time is worth roughly $260 an hour. With this scenario,
you could benefit from outsourcing any function that you can pay
someone to do for less than $260 an hour.
Once you have determined that you outsourcing will benefit your
business it will be time to look for a company or individual to
complete the work that you need done.
Make sure when you choose an outsourcing business partner
that you keep the following things in mind:
1. Choose someone that you can trust not to steal your
clients away.
2. Choose someone who has the same business ethics as you.
3. Make sure that this person has the skills to complete specific
tasks before outsourcing to them.
4. Ask for client samples and references so that you can get
feedback from their clients regarding their work habits.
There are many places that you can look for qualified
people to hire, like elance.com, guru.com or freelance.com
and that is just a few. To find more just do a quick search for
the word "freelance" and you will have several to explore.
Make sure you look for your next issue soon. We will be
talking about the main reasons you should outsource your
own ebook.
Thank you again for joining,
"your name here"
"your email address"
"your URL here"
Other Details
- 12 Part Autoresponder Email Messages (TXT)
- Squeeze Page (HTML, PSD)
- Ecover (PSD, JPG)
- Affiliate Programs List
- File Size: 286 KB