Salespage Snapshot: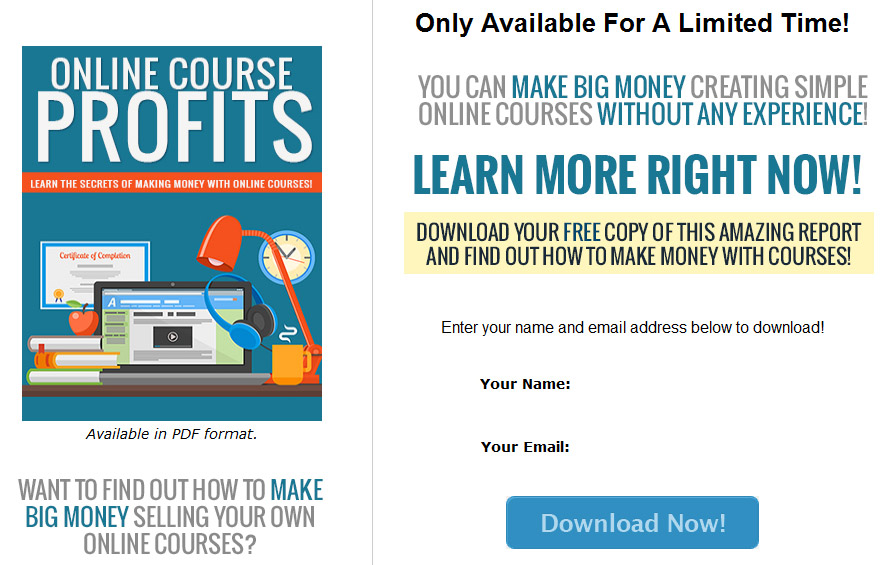 >>> Click Here To View Full Sales Page…
Table of Contents
Table of Contents 3
Introduction 5
Choosing a Topic 6
Naming Your Course 8
Course Format 9
Video Creation 11
Live Video 11
Screen Recording 12
Slide Presentations 13
Number of Lessons/Modules 14
Getting Sales 15
Pricing 15
Standing Out 16
Coupons 16
Conclusion 18
Resources 19
Sample Content Preview
There will be a lot of competition in most of these areas, so it's important to do something to differentiate yourself. You can set yourself apart from the competition by offering a different viewpoint, or some special angle on the topic that most people aren't doing. For example, instead of showing Excel for account purposes, you might show how to use it to keep track of data such as Blu-Ray movies you own, or collectible items. Or you could specialize in vegan cooking videos rather than just standard cooking.
It's also a good idea to choose a topic you're at least interested in, because I will be a lot more fun to create your course if you enjoy researching and developing it!
Naming Your Course
Once you choose your general topic, it's important to think of a good name for your course. This should be an interesting name, but should also contain the major keywords one might use when searching for a course like yours.
For example, if you want to teach a course on the basics of vegan cooking, you could name it something like:
• An Introduction to Vegan Cooking
If you wanted to create a course on current SEO, you might name it:
• SEO Basics for 2017 and Beyond
Course Format
The most popular course format these days is video, and that is what I suggest you use. The main reason for this is that the biggest online course websites, where you can sell your courses, all use the video format. You can often create supplementary materials such as PDFs to go along with your video content, but video should be the main format for your course.
Don't panic!
If you feel self-conscious appearing on camera, you don't have to show yourself or even use your voice! Even if you hate your voice or have a thick accent, you can still create your videos in a number of different ways.
Here are some different types of videos you can create:
• Top down instructional videos like Buzzfeed's Tasty videos
• Screen recordings
• Videos with a paid voiceover actor
• Videos with a digital voice added
• Videos with subtitles only
• Videos with music
You don't have to create videos that feature a live actor or even voice to be successful, although it can help. Using these types of video formats will let you accomplish the same thing if you don't want to appear on camera.
If you want to get a good idea of the types of videos that are popular, you can always watch samples of some of the more popular courses. You'll notice that most of them do feature live individuals, but this isn't always true. Sometimes they feature voice only, and sometimes they don't include voices at all. Videos with all of the text on the screen can be just as effective, and they have the added bonus of being accessible to those who are hearing impaired.
In the next section, you'll learn about a few tools that will make it easier for you to create your video courses, so let's move on.
Video Creation
Many people get really anxious when they think of creating videos, because they think it's too technical or that they need some special knowledge to do it, but it's actually a lot easier than you might think! In fact, if you can navigate the internet and send email, you can probably learn to create videos.
There are many different ways to create videos. The method you'll use will depend on the type of course you want to create and the method you're most comfortable using.
Let's take a look at a few different video creation methods, and which types of courses each method is best for. If you'd like to learn more about each method, and the details of how to make videos, there are plenty of online courses and YouTube videos you can use to learn! (In fact, watching them may give you ideas for making your own courses!)
Live Video
Your typical course looks a bit like a classroom or news show, or uses standard video to demonstrate things. You'll see the course presenter (usually the creator, but sometimes a paid actor or partner) in front of the camera, and they present the material as though they were teaching a class in a school.
Example uses of this type of video include:
• Cooking demonstrations
• Craft how-to's
• Language lessons
This type of video may be the easiest to create overall, because you simply need to record it. Many people use a quality phone camera, such as an iPhone or Samsung Galaxy camera to record their videos, but sound and video quality may not be as good as it would be if more professional equipment were used. However, it certainly can be done this way.
Many people do not post-process their videos, simply uploading the videos directly from their phone or camera, but it's more professional if you add things like subtitles or enhancements.
If you want to process your videos, you can use tools such as iMovie (Mac), Adobe Premier Pro (PC or Mac), or Final Cut Pro (Mac).
>> http://www.apple.com/mac/imovie/
>> http://www.adobe.com/products/premiere.html
>> http://www.apple.com/final-cut-pro/
Screen Recording
If you're doing courses that are more technical, such as design, programming, or other computer-based skills, you might want to use a screen recorder.
Screen recording software will allow you to record whatever you see on your computer screen—either the entire screen, or just a chosen section of it. You can demonstrate techniques while speaking, or just add text instructions to your video later. (Most people will probably prefer voice, but if you aren't comfortable using your own voice, you can either just use text on the screen, use a voice actor, or add a digital voice.)
Some popular screen recording programs include:
>> http://discover.techsmith.com/camtasia-screen-recording/
>> http://icecreamapps.com/Screen-Recorder/
>> http://camstudio.org/
Screen recording videos are most appropriate for lessons that specifically focus on lessons that involve using computers or mobile devices.
Slide Presentations
If you're doing courses that don't require live video or screen recording, you can use slides. If you've ever taken college classes, or worked in a business-oriented environment, you are probably familiar with PowerPoint presentations. You can turn such presentations into videos and use them for your courses.
You can use a voiceover for these types of videos, or just put all of the information in text format in the slides themselves. If you don't use voice, you could optionally include music, but keep in mind that not everyone has the same taste in music.
Other Details
- 1 Ebook (PDF, DOC), 20 Pages
- 7 Part Autoresponder Email Messages (TXT)
- 1 Squeeze Page (HTML, PSD)
- File Size: 2,856 KB