Salespage Snapshot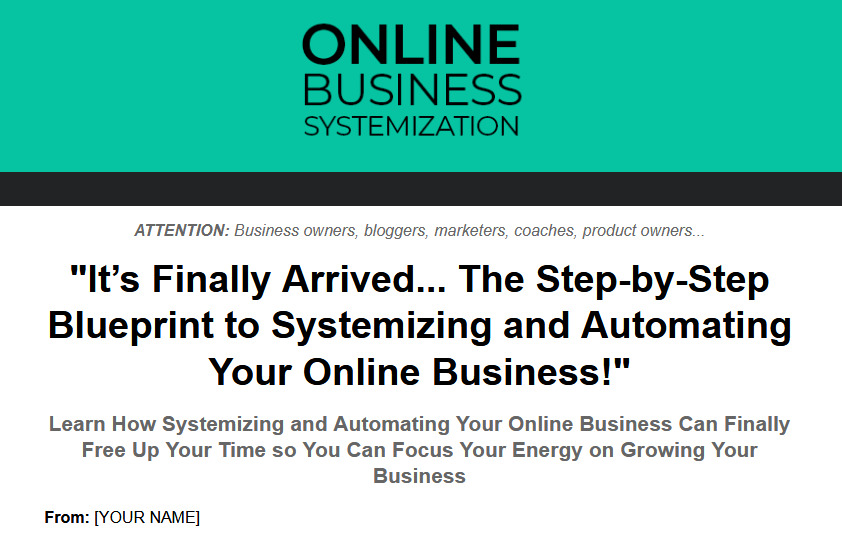 >> Click Here To View Sales Page...
Table of Contents
Chapter 1: Introduction – The Benefits of Systemizing Your Business …..7
What is Systemization….7
Why You Need to Systemize Your Online Business ….9
Chapter 2: Start Here – List Your Most Recurring Tasks ….. 14
Step One: Identifying Recurring Tasks.. 14
Step Two: Organizing and Prioritizing the Functions…… 21
Step 3: Developing Policies and Procedures…… 23
Step Four: Documenting the Processes …… 24
Step Five: Implement the Processes ….. 25
Step Six: Diagram the Flow of Your Business …. 26
Chapter 3: Tools for Systemizing Your Online Business …. 28
Asana 28
Ontraport 29
Slack .. 30
Deadline Funnel…. 30
Lead Pages ….. 31
Calendly … 31
GoToWebinar. 32
DropBox .. 32
Google Docs … 33
Google Calendar… 33
Webinar Jam… 34
Screencast-o-Matic…… 34
HootSuite. 35
Infusionsoft …. 35
MailChimp …… 36
Needls…… 36
Salesforce 37
IFTTT.. 37
Chapter 4: How to Document Your Processes – How to Create Standard Operation
Procedures (SOPs) … 39
How to Document Your Business Systems . 40
Develop Naming Conventions . 40
Writing Your First Procedure … 42
Numbering the Steps in the Procedure 43
Creating the Action Steps for Your Processes … 43
Implementing Your New Standard Operating Procedures… 46
Get Employee Buy-In .. 47
Chapter 5: How to Outsource Tasks Like A Pro….. 48
Step One: Identify Your Outsourcing Task .. 49
Step Two: Write Your Project Description … 50
Step Three: Eliminate Unqualified Bids 54
Step Four: Pick 3 to 5 Qualified Candidates 55
Step Five: Pick the Most Qualified Freelancer…. 57
Chapter 6: Systemization Using Automation Tools ….. 60
Zapier 60
Flow… 61
Pipedrive.. 61
TextExpander. 62
Alfred 62
IFTTT.. 63
Shortcat … 63
Robotask.. 63
Tallyfy 64
Intercom.. 64
Delivra…… 65
Autopilot.. 65
mHelpDesk….. 66
Chapter 7: How to Scale Your Business to the Next Level. 67
Create the Right Strategic Plan 68
Measure Effectiveness with Accounting…… 69
Focus on Sales and Marketing. 70
Five Steps to Build a Baseline Lead-Generation System 72
Implementing Marketing Controls . 74
Hire the Right People.. 76
Conclusion…… 77
Sample Content Preview
Why You Need to Systemize Your Online Business
There are many benefits that you can gain by systemizing your online business. With a sound system, people in your organization have a clear understanding of the work they need to perform and what is expected of them. Without policies, there are many unanswered questions, and quality and service can't be guaranteed. Now that you understand why it's good to have a systemized business let's explore the benefits that you can gain.
Reduce Costs
Managing your email inbox or reading through piles of mail isn't the most efficient use of your time. As the business owner, your time would be better spent analyzing new business opportunities or developing new product lines. Delegating many of the days to day tasks that are required to run a business, can free up your time so you can focus your energy on the activities that will allow you to grow your business and increase revenues.
Without clearly documented business procedures, you can't delegate those daily tasks that eat up most of your time. By recording your processes, you can easily delegate tasks knowing that they will be done correctly, allowing you to free up your time to oversee more projects, which brings in more revenue for your growing business.
Increase Efficiency
Documenting procedures allows you to discover any unnecessary steps that you may be taking. When you record your systems, you provide yourself with the opportunity to improve the process, which can result in cutting costs and freeing up your valuable time to grow your business. It can also help you complete tasks with fewer mistakes. Taking the time to document new procedures and re-document existing procedures can provide you with opportunities to make the daily tasks more efficient and freeing up your time to focus on growing business revenue.
Improve Performance
Businesses that lack procedures often have employees that have their own way of handling tasks. While this can make your employees happy, it can also lead to inefficiencies. Not having documented procedures can lead your team to complete the same function in different ways. Recording the best way to perform the task will allow everyone to become more efficient in his or her jobs and improve their performance.
Improve Communication
One of the biggest killers of time and profit in a business is miscommunication. When there are no documented procedures in place, internal and external communication becomes a huge issue. When you have clearly written procedures, there are fewer arguments over how things should be done.
Scale Your Business
Having procedures in place for training new staff will reduce the stress your current staff endures when training new team members. Following documented hiring procedures will allow you to hire the right people for each job and they'll be able to follow procedures without requiring additional assistance.
When your new hires receive better training, they can become more productive at their jobs. They can be trained in a way that reduces the number of mistakes being made and improve their overall performance. When your employees perform better, you can gain more sales and have fewer errors to deal with, ultimately cutting costs.
Measure Your Progress
While the money coming into your business is one way to measure your progress, being able to measure your marketing efforts or the development process of new products will provide you with a better picture of the health of your company. If your business is organized and has clear documentation of your procedures in place, you will be able to quickly check on these things, as well as other areas of concern and obtain real-time data on how they are doing.
Meet Deadlines
Without having a basic plan in place for each day, the daily activities that are needed to keep your business operating can begin to build up, eventually creating a bottleneck and bringing other essential tasks to a halt. For example, if you aren't posting your Accounts Receivables and Payables on a regular schedule, you can find yourself with a lot of work when it comes time to pay your employees or calculate taxes for the current quarter. Having an organized, well-documented system in place, ensures that you won't run into situations where you have to drop other tasks to play catch-up.
Free up More Time
When your business is systematic in its functions and operation, it frees up your time, so you can focus on the activities that will help your business grow. Instead of spending the afternoon responding to emails, you can work on your marketing efforts or promote your business at local business events. Business systemization provides you with the opportunity to spend your time on those endeavors without having to worry that your company operations have halted because you're away from the office.
Take Time Off
Being able to take time off from the business is one of the main benefits of a systemized business. When your business is systematically organized, you can take a vacation knowing that your company will still be able to run, even in your absence.
Now that you've been shown the many benefits of having a systemized online business, it's time to take a moment to evaluate your circumstance and make a list of what you want to accomplish with your online business. Write everything down, no matter how small, vague, or inconsequential it may seem.
One of the easiest ways to become burned out before your business even has a chance to succeed is trying to master everything yourself and doing it all. No matter how good you are, this line of thinking is just not realistic. Developing a logical and workable business system will allow you to build and run a successful online business.
Chapter 2: Start Here – List Your Most Recurring Tasks
Whether you already own an online business and find yourself constantly exhausted from the daily work, or you are planning on opening an online business in the future, there is still plenty of time for you to get into the swing of systemizing your business. Once you start working on the steps outlined in this guide, you may begin to realize that many of them are simply common sense.
Step One: Identifying Recurring Tasks
To start systemizing your business, you need to begin by listing all the general functions that you do both daily and through the course of the week. It doesn't matter if you are a brick and mortar business, an online business, or a hybrid business that involves an Internet presence as well as a physical site. Here are some of the more common tasks that will apply to every business.
Accounting
When it comes to your business's income and expenses, you have to create some sort of process for keeping track of what comes in and what goes out. Having business systems in place for your accounting tasks will allow you to ensure that you are profitable, as well as making sure you have the appropriate records to back up your tax filings, that you have paid your vendors, and that your customers are paying you within your set terms. It is also essential to make sure that your paying your employees on time and have the right amount of taxes being deducted from their pay.
This is one of the systems in your business that you have to keep a close eye on. However, this doesn't mean that you have to do the work yourself. Financial management systems will allow you to keep track of everything from tracking credit card purchases to invoicing clients, to following up on past-due accounts. Here are some of the other accounting systems that can be systemized.
Other Details
- 20 Articles (TXT, DOC)
- 1 Ebook (PDF), 78 Pages
- 2 Graphics (JPG, GIF, PNG)
- 1 Salespage (HTML)
- 4 Promotional Ad Materials (Emails)
- Checklist, Resource Cheat Sheet, Mindmap, Optin Page, Social Media Images
- Year Released/Circulated: 2018
- File Size: 37,464 KB
License Details:
[YES] Can be sold
[YES] Can be used for personal use
[YES] Can be packaged with other products
[YES] Can modify/change the sales letter
[YES] Can be added into paid membership websites
[YES] Can put your name on the sales letter
[YES] Can be offered as a bonus
[YES] Can be used to build a list
[YES] Can print/publish offline
[YES] Can convey and sell Personal Use Rights
[YES] Can convey and sell Resale Rights
[YES] Can convey and sell Master Resale Rights
[NO] Can modify/change the main product
[NO] Can modify/change the graphics and ecover
[NO] Can be given away for free
[NO] Can be added to free membership websites
[NO] Can convey and sell Private Label Rights