Salespage Snapshot: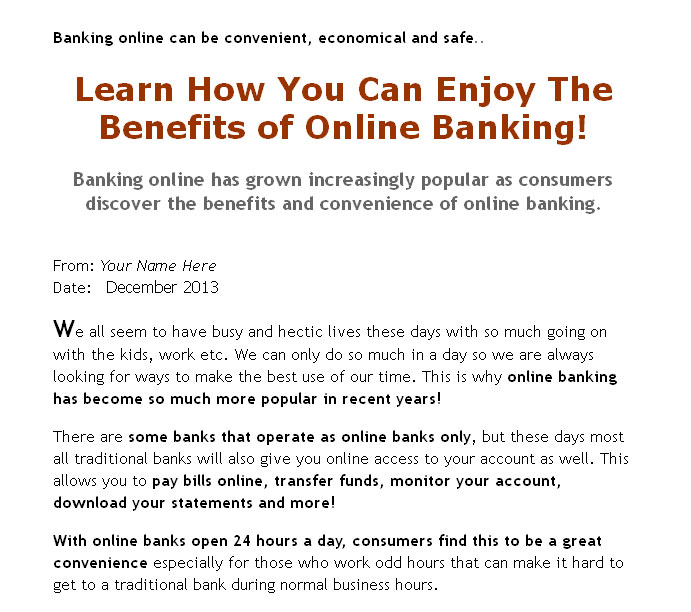 >>> Click Here To View Full Sales Page…
Table Of Contents
How Online Banks are Set Up . . . . . . . . . . . . . . . . . . . . . . . . . . . . . . . . 3
First Steps . . . . . . . . . . . . . . . . . . . . . . . . . . . . . . . . 3
Website and hosting . . . . . . . . . . . . . . . . . . . . . . . . . . . . . . . . 3
Why People Like Online Banking . . . . . . . . . . . . . . . . . . . . . . . . . . . . . . . . 5
Easy to open a new online bank account . . . . . . . . . . . . . . . . . . . . . . . . . . . . . . . . 5
Saves money . . . . . . . . . . . . . . . . . . . . . . . . . . . . . . . . 5
Easy Comparison . . . . . . . . . . . . . . . . . . . . . . . . . . . . . 5
Monitor account . . . . . . . . . . . . . . . . . . . . . . . . . . . . . . . . 5
Download Statement . . . . . . . . . . . . . . . . . . . . . . . . . . . . . . 6
Catch Fraud Faster . . . . . . . . . . . . . . . . . . . . . . . . . . . . . . . . 6
Convenience . . . . . . . . . . . . . . . . . . . . . . . . . . . . . . . . 6
Taking Your First Steps With Online Banking . . . . . . . . . . . . . . . . . . . . . . . . . . . 7
Online banking with traditional bank . . . . . . . . . . . . . . . . . . . . . . . . . . . . . . . . 7
Security Process . . . . . . . . . . . . . . . . . . . . . . . . . . . . . . . . 7
Virtual Banking Only . . . . . . . . . . . . . . . . . . . . . . . . . . . . . . . . 7
Paying Your Bills using Online Banking . . . . . . . . . . . . . . . . . . . . . . . . . . . . . . . . 9
Free Bill Paying . . . . . . . . . . . . . . . . . . . . . . . . . . . . . . . . 9
Non-free Bill Paying . . . . . . . . . . . . . . . . . . . . . . . . . . . . . . . . 9
Getting Setup . . . . . . . . . . . . . . . . . . . . . . . . . . . . . . . . 9
Recurring Bill Payments . . . . . . . . . . . . . . . . . . . . . . . . . . . . . . . . 9
Confirming Bills Have Been Paid . . . . . . . . . . . . . . . . . . . . . . . . . . . . . . . . 10
How to Determine if Your Online Bank is Legit . . . . . . . . . . . . . . . . . . . . . . . . . . 11
Check Bank's Credentials . . . . . . . . . . . . . . . . . . . . . . . . . . . . . . . . 11
Verify they are FDIC Insured . . . . . . . . . . . . . . . . . . . . . . . . . . . . . . . . 11
Use Caution When Accessing Online Bank . . . . . . . . . . . . . . . . . . . . . . . . . . 12
Tips to Prevent Online Banking Fraud . . . . . . . . . . . . . . . . . . . . . . . . . 13
Fake websites . . . . . . . . . . . . . . . . . . . . . . . . . . . . . . . . 13
Phishing . . . . . . . . . . . . . . . . . . . . . . . . . . . . . . . . 13
Protecting yourself . . . . . . . . . . . . . . . . . . . . . . . . . . . . . . . . 13
More Online Banking Security Tips . . . . . . . . . . . . . . . . . . . . . . . . 15
Use the Right Browser . . . . . . . . . . . . . . . . . . . . . . . . . . . . . . . . 15
Password tips . . . . . . . . . . . . . . . . . . . . . . . . . . . . . . . . 15
Safety tips . . . . . . . . . . . . . . . . . . . . . . . . . . . . . . . . 16
Transferring funds With Online Banks . . . . . . . . . . . . . . . . . . . . . . . . . 17
Moving Money Between Accounts . . . . . . . . . . . . . . . . . . . . . . . . 17
Online Banking Privacy Policies . . . . . . . . . . . . . . . . . . . . . . . .19
Privacy Policy Law . . . . . . . . . . . . . . . . . . . . . . . . . . . . . . . . 19
Personal Information . . . . . . . . . . . . . . . . . . . . . . . . . . . . . . . . 19
Opting out . . . . . . . . . . . . . . . . . . . . . . . . . . . . . . . . 20
Sample Content Preview
How Online Banks are Set Up
Even though you may not have any plans to set up an online banking operation of your own, you may find it interesting to know how it is done.
First you'll want to get a group of at least 5 people to organize the online banking company. These people will become the board of directors and 1 of them will need to be the bank CEO. This group of people will work together to develop working procedures of the online bank.
First Steps
The first order of business for the group will be to decide on a name for their online bank. This can take a lot of time because it needs to be something catchy, easy to remember and has a nice ring to it. They must also insure it doesn't infringe on any trademarks or be too similar to other banks. If the name is too similar to another bank, they won't be able to get a trademark for it.
Once they've decided on a name they can file for a trademark at the US Patent and Trademark Office. There they will fill out just one form and pay a fee. Then they will have to wait for approval. If all goes well their chosen name will be trademarked without any delays.
Website and hosting
Next they will need to acquire hosting and have a website professionally built for them. The web designer they choose will need to be able to setup the highest level of security as well as an attractive site. The site must also be easy to navigate. They also must insure that no copyrighted material has been used on the site.
Other Details
- 5 Articles (TXT)
- Ebook (PDF), 20 Pages
- Salespage (HTML)
- Ecover (JPG)
- Year Released/Circulated: 2008
- File Size: 359 KB
License Details:
[NO] Can be given away
[YES] Can be packaged with other products
[YES] Can be sold at any price you wish
[YES] Can be offered as a bonus with other products
[YES] Can be used as a bait to build your list
[YES] Can be edited completely and your name put on it
[YES] Can be used as web content
[YES] Can be broken down into smaller articles
[YES] Can be added to an e-course or autoresponder as content
[YES] Can be added to membership sites
[YES] Can be offered through auction sites
[YES] Can sell Resale Rights
[YES] Can sell master Resale Rights
[YES] Can sell Private Label Rights