Salespage Snapshot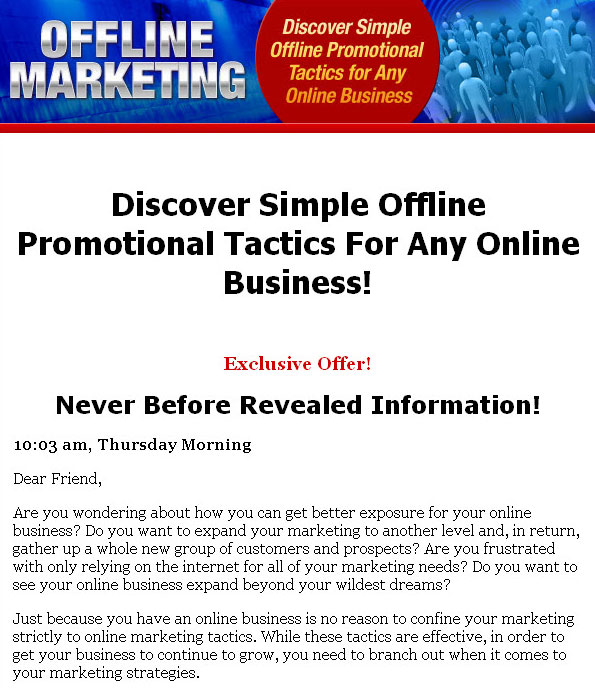 >> Click Here To View Sales Page...
Ebook Table Of Contents
Chapter 1 – Your Online Business    3
Chapter 2 – Business Cards, Flyers And Brochures    6
Chapter 3 – The Power Of Friends And Family    10
Chapter 4 – Spread The Word Through Groups    12
Chapter 5 – Act The Part    14
Chapter 6 – Promotional T-Shirts And Gifts    16
Chapter 7 – Sponsoring Charity Events    18
Chapter 8 – Joining The Chamber Of Commerce    20
Chapter 9 – How To Hold A Seminar    22
Chapter 10 – Getting Publicity Through Newspapers    24
Chapter 11 – Coupons And Mailers    26
Sample Content Preview
Chapter 1 – Your Online Business
If you already have an online business or if you are considering starting an online business, you may be under the impression that your marketing efforts will be based solely online.  After all, you have a business that is online and where is a better way to market it than through the internet?
This is one of the most common mistakes that people make when they have any business.  They choose a marketing plan and stick with it, not thinking about the big picture.  This happens often in the off line business world in which businesses feel that they should not market online because "that is not where there customer base comes from."  This is wrong.  An increasing number of people are using the internet to find out about off line businesses as well.  It is important for any business owner, whether they have an online business or off line business to cross market as much as they can.
You probably already have some ideas about how you plan to market your business online.  But if you just stick to this one way of marketing, you are only reaching a small portion of people.  In order to successfully market your online business, no matter what it is, you need to use off line marketing strategies as well.
Off line marketing strategies can end up costing you a bit more than some of the online methods, but they are proven to work.  There is a billion dollar business in promotional products alone that has worked well through the years to promote various businesses.  The same marketing plans that work for off line businesses can also work for your online business.  You just need to know how to use them and when.
You should follow simple marketing plans when you are marketing any business.  Your advertising efforts should always be vamped up during your busy season so that you can get more customers.  You strike when the iron is hot, so to speak, when it comes to advertising in business.  You should know when your busy season is and when you are the most likely to get clients.  That is when you do your most heavy promotional activities.
That does not mean that you lay low during the off season.  The more people get to see the name of your business, the more you build a brand and the more people start to recognize the name of your business.  You do not always have to go for direct response marketing when you are trying to market your online business.  You should also be concentrating on building trust within the community both off line and online.  This is known as branding and can get your long term customers who will see your name, recognize it and associate it with a name that they can trust.  Even if they have never before used your product or service.
Other Details* Sales Page:
Included, HTML
* File Format:
MS Word Doc, PDF
* Number of Pages:
27
* Included Graphics:
Ecovers
* Download File Size:
398 KB