Salespage Snapshot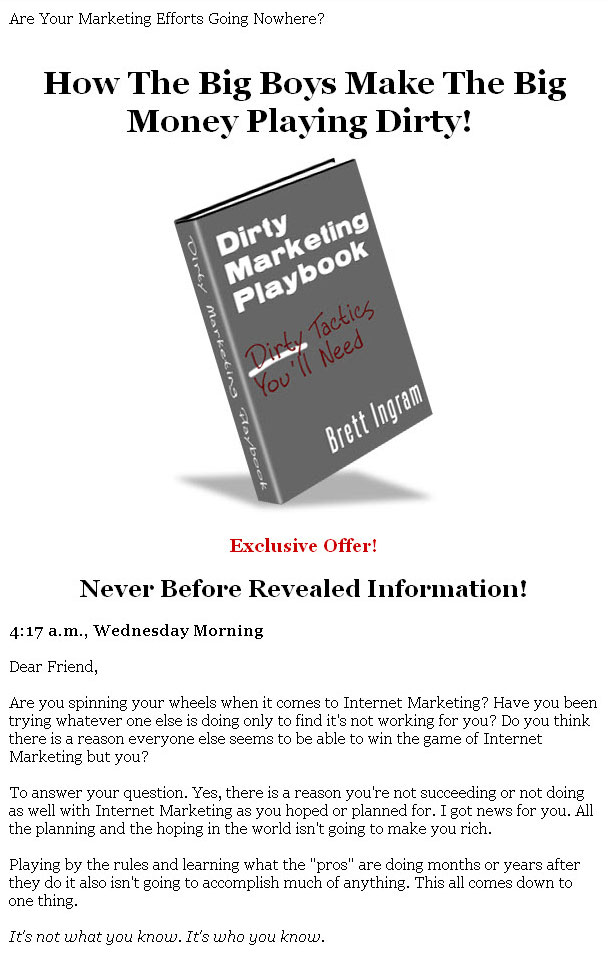 >> Click Here To View Sales Page...
Table Of Contents
INTRODUCTION 4
CREATING CONTROVERSY 5
THE "SHOCK" TACTIC 7
THE "SCARE" TACTIC 8
THE "CCL" TACTIC 9
THE "NO PRICE" TACTIC 10
THE "TESTIMONIAL" TACTIC 11
THE "WIIFM" TACTIC 12
THE "COUNTDOWN" TACTIC 13
THE "REVIEW" TACTIC 14
THE "GET PERSONAL" TACTIC 15
Wait. . .There's More! 16
An Offer You CAN'T Refuse 18
Getting All "Hyped" Up 19
"Trash" Talking 20
Show 'Em What You Got! 21
Go "Pro" 22
Let's Be Partners 23
Shh! This Is Secret 24
Do You "Qualify"? 25
Let's Go Through This One More Time 26
In Closing 26
PLR Ebook Sample Content Preview
Introduction
It's a fact. Internet Marketers use "dirty tricks". Although many of them won't admit to the fact. Still, it's the TRUTH! Some of them may not even realize they're using them. And some of them DO know. The latter half are the folks that are raking in the cash daily.
What IS a "dirty trick"? Well, that's easy. It is a sly method used by people everyday to get a desired reaction out of another person. Or at least that's my take on them. When you think of these words, you may think "rip-off", "unethical", or "illegal".
Let's get one thing straight right off the bat. The tactics discussed in this report are NOT illegal. They are NOT unethical. They are NOT a rip-off.
But they ARE a bit on the "crafty" side. Crafty or not, the point is THEY WORK. And if you're NOT USING THEM, then you're LOSING MONEY.
So, why did I call this collection of tactics "Dirty Marketing Playbook" then? Because they are psychologically "sneaky". They scream out. . .
Other Details* Sales Page:
Included, HTML
* File Format:
MS Word Doc, PDF
* Number of Pages:
26
* Included Graphics:
Ecovers
* Download File Size:
4,336 KB