Salespage Snapshot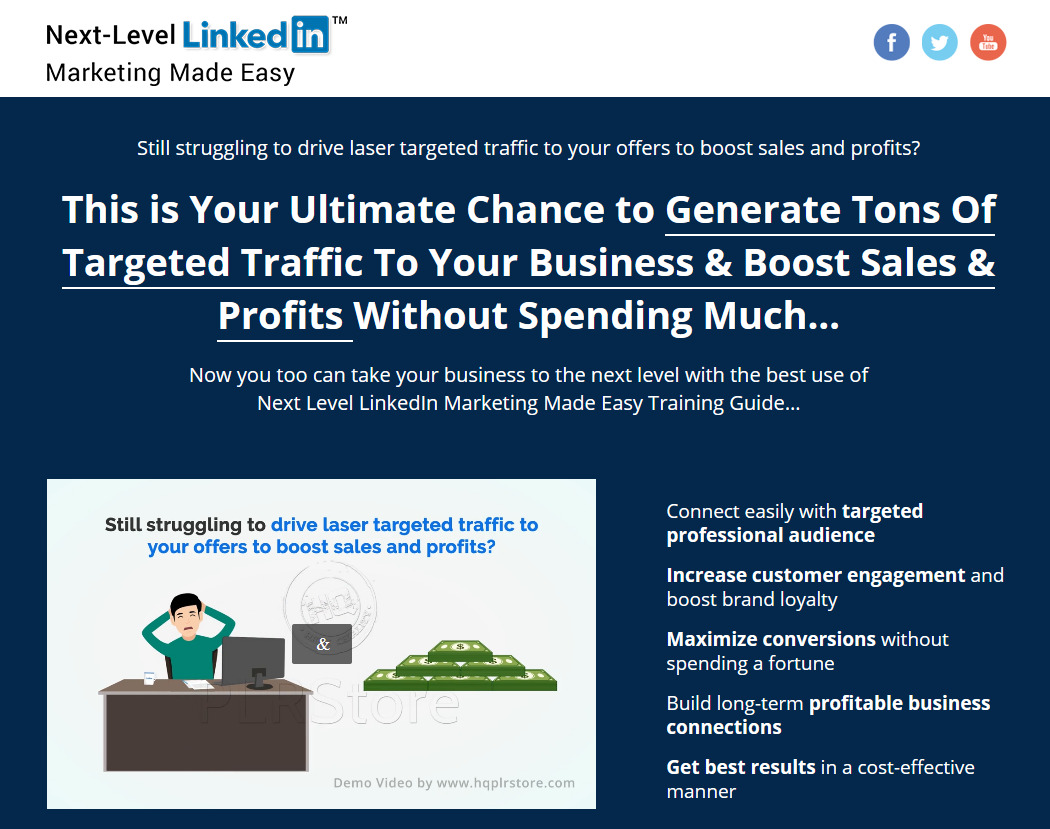 >> Click Here To View Sales Page...
Table of Contents
Introduction 04
Chapter 1: What is Linkedin Marketing all about? 06
Chapter 2: Setting Up A Linkedin Profile That's Optimized For Business 11
Chapter 3: Creating An Engaging Company Page 15
Chapter 4: Using "Content Suggestions" To Find Trending Linkedin Topics 20
Chapter 5: Creating Effective Linkedin Marketing Posts 24
Chapter 6: Sponsoring Linkedin Marketing Posts The Right Way 28
Chapter 7: Creating And Growing A Linkedin Group For Prospects 32
Chapter 8: Using "Search" To Find And Connect With Leads 36
Chapter 9: Creating A Linkedin Traffic Ad 39
Chapter 10: Creating A Linkedin Video Ad 44
Chapter 11: Creating A Linkedin Messaging Ad 48
Chapter 12: The Perfect Step-By-Step Linkedin Marketing Plan For 2020 53
Chapter 13: Simple Linkedin Marketing Hacks To Grow Your B2B Audience 60
Chapter 14: Tips For Creating Awesome Linkedin Native Content In 2020 66
Chapter 15: How To Make The Linkedin Algorithm Work For You In 2020 71
Chapter 16: Powerful InMail Strategies That Work In 2020 76
Chapter 17: Linkedin Marketing Do's And Don'ts 81
Chapter 18: Linkedin Marketing Premium Tools And Services To Consider 86
Chapter 19: Linkedin Marketing Success Stories 91
Chapter 20: Linkedin Marketing Frequently Asked Questions 97
Conclusion 101
Top Resources 102
Special Offer 103
Sample Content Preview
How Does It Work?
Contrary to other social media sites, Linkedin doesn't encourage casual interactions and entertainment.
In fact, Linkedin offers a much more restricted social environment that encourages professional interactions and a heavy focus on business-related content, which works perfect for its intended audience.
When you create a Linkedin profile, you are prompted to include information that would be relevant in a professional setting, such as your work experience, your educational background, the languages you know and speak, and your career highlights.
This information will help you to connect with other users, which create networks based on similar career paths instead of interests.
You can also connect with companies as well as to create company pages. The key difference here is that you can use company pages to do actual business activities, such as contacting leads and finding recruits.
Linkedin also encourages content generation and sharing. The content that you can share on Linkedin has to be content directly related to your industry and that is relevant to your contacts.
Other social media features such as groups are also intended to help users create a network of like-minded professionals working in similar industries and following the same career paths.
In the end, Linkedin is all about creating opportunities for people and companies to do business the easiest way possible.
Why Should You Consider Linkedin for Marketing?
Linkedin is a much more focused platform that makes it easier for people to market a brand or products because that's what the platform is all about.
By creating a profile that highlights your authority and sharing content that is highly relevant to your industry, you'll be able to build a network of real people that will grow interested in your offers.
Another big, great advantage of Linkedin Marketing is that the platform is very good at detecting spammers and fake businesses, which means that you don't risk getting your content made irrelevant by a saturation of poor content, unlike in other platforms.
What Benefits Can Linkedin Bring For Marketing Your Business?
Creating a company profile for your business on Linkedin provides you with credibility that is unparalleled by other platforms, where anyone can create low-quality company profiles to deceive customers. Quality and trust matter on Linkedin, so this is the best place to build an online presence for your business.
Linkedin makes it easy to identify, qualify, contact, and capture leads. This is because everyone specifies their strengths in their profiles, so you'll know in advance what it is they are looking for and what type of products or services matter to them.
Linkedin also streamlines communication with leads because it encourages direct, to-the-point communication about the business at hand.
Linkedin also has an advertising service that is perfect for any business because it is cost effective and lets you hyper-target the audience that you want to reach. What's The Future For Linkedin Marketing?
Almost 80% of marketers agree that Linkedin is the most effective social media platform for marketing, which means that more and more brands, including yours, will be joining the site in the future.
Other Details
- 1 Ebook (PDF), 103 Pages
- Cheat Sheet, Mindmap, Special Report
- Year Released/Circulated: 2020
- File Size: 6,356 KB
License Details:
[YES] Can use
[NO] RESELL OR GIVEAWAY