Salespage Snapshot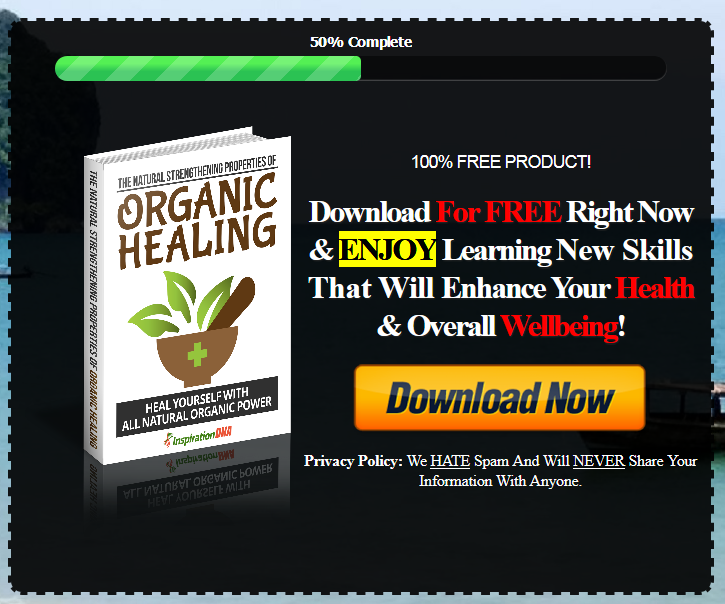 >> Click Here To View Sales Page...
Table of Contents
Foreword
Chapter 1:
What Does Organic Mean
Chapter 2:
The Link Between Additives In Food And Our Environment And Disease
Chapter 3:
Organic Juicing Benefits
Chapter 4:
Benefits Of Organic Detox
Chapter 5:
Healthy Foods For The Liver
Chapter 6:
Healing Foods For Heart Disease
Chapter 7:
Healing Foods For The Brain
Chapter 8:
Benefits Of Going Organic With Cleaning Products
Chapter 9:
The Benefits Of Adequate Water
Chapter 10:
How To Shop Wisely For Organic Foods And Products
Wrapping Up
Sample Content Preview
Chapter 2:
The Link Between Additives In Food And Our Environment And Disease
Unnatural substances found in either the growing process or the preserving process is never good for the delicate human body condition. There are however some natural ways both the growing process and the preserving process can use. Unfortunately due to either the high cost or slow rate, these natural additives are rarely used to their contributing positive elements.
How It Affects Us
A lot of these additives used to ensure the food products stay at its desired levels in order to be fit for consumption, actually end up causing a lot of side effects, ailments, illnesses, and diseases. Some of these negative additives include acids, anti caking agents, antifoaming agents, antioxidants, bulking agents, food coloring, emulsifiers, and flavor enhancers are just the tip of the iceberg, and the list goes on and on.
With the need for speed and quantity to be met in this fast growing hungry world, sometimes unethical practices are abound. Profit comes before health.
This unethical practice does not just encompass food; the environment is also not spared in the chase for profit. Land clearing and encroachment on natural habitats are rampantly going unchecked. The greed or maybe even necessity for human survival has brought about this sad state.
There are many medical reports that have verified the links between the use of all these negative elements to the deteriorating conditions of the environment and thus causing the same effects in the health conditions of people.
Diseases are rife and cures are few and far between. People with cancer are becoming an accepted normal occurrence, that it is really a very distressing situation. Adding to the sad state is the fact that there does not seem to be any real concern to ensure a check and balance state to addressing these downward spiraling conditions.
Chapter 3:
Organic Juicing Benefits
Juices prepared using organic ingredients have several health benefits. There are many types of fruits and vegetables that can be used for the purpose of promoting and enhancing the health of an individual. This then leads to the possibility of a better quality of life due to the better health conditions.
It's In The Juice
Here are just a few recipes that might be beneficial to try:
Organic carrot juice –
The health benefits of this juice include the reduction of cholesterol, the reduction of risk in heart attacks, anti carcinogenic properties and others. The preparation is quite easy and involves just 4 large organic carrots. Wash, cut off the green tops, and cut to sizes that fit the juicer. Enjoy the juiced carrot drink.
Ginger, apple and carrot juice –
The health benefits list as being a remedy for upset stomachs, targeting nausea, combating digestive problems, circulation, and arthritis. 8 carrots, a small chunk of ginger, and 2 large apples are all that is needed. Wash peel and cut to sizes suitable for the juicer. Juice and serve.
Celery and carrot juice –
Perfect for rejuvenating purposes. 5 medium carrots and 1 stalk of celery. Wash and cut to sizes suitable for the juicer. Juice and serve.
Beetroot, cucumber, and pineapple juice –
1 small beetroot, ½ a cucumber, and 1 cup of pineapple chunks. Remove skin from all and cut to juicer size pieces. Juice and serve. The health benefits of this recipe are a lot, some of which are cleans and builds the blood, lowers blood pressure, improves circulation, calms the nerves, fights certain type of cancer and many more.
Pumpkin juice –
The health benefits are for the bladder and kidneys. Wash and cut small as pumpkin is rather hard. Juice and serve
Combination juice –
This is an experimental method of trying different combinations until one is found to suit the individual. However the only point of caution to note here is try to keep the combination from leaning towards any particular base like too many acidic fruits in the concoction. Wash, cut and juice. Serve. The health benefits are gotten from the rich vitamin and minerals these fruits are made of.
Other Details
- 1 Ebook (PDF), 28 Pages
- 2 Graphics (PNG)
- 1 Salespage (HTML)
- Year Released/Circulated: 2018
- File Size: 2,387 KB
License Details:
[YES] Ebook Can be given away against an email address
[YES] Can sell the WHOLE product and keep 100% of the sales
[YES] Can sell the WHOLE product for Resale Rights
[YES] Can sell the WHOLE product with Master Resale Rights
[YES] Can edit the Squeeze & TY + MRR Upsell Pages
[YES] The WHOLE product can be packaged with other products you sell
[YES] The WHOLE product can be offered as a bonus with other products you sell
[YES] The WHOLE product can be added to paid membership sites
[YES] The WHOLE product can be offered through auction sites
[NO] WHOLE Product can be given away
[NO] WHOLE Product can be added to free membership sites
[NO] Ebook can be modified in any way
[NO] Can sell with Private Label Rights