Salespage Snapshot: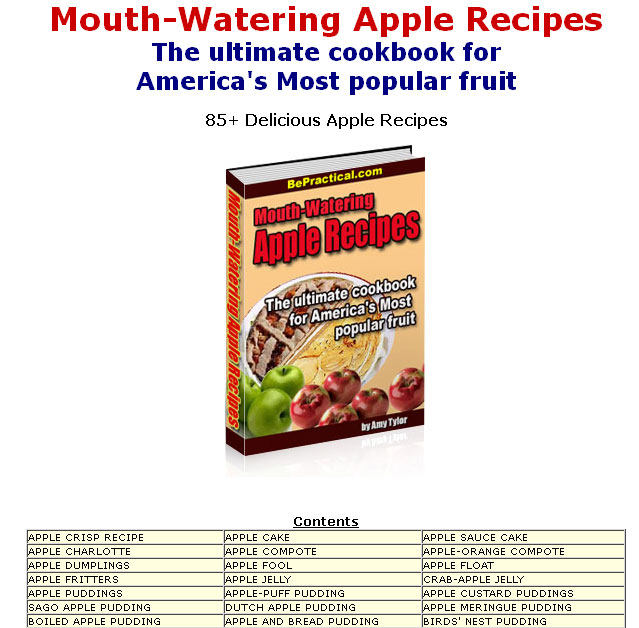 >>> Click Here To View Full Sales Page…
Table Of Contents
APPLE CRISP
SPICY APPLE CRISP
RAISIN APPLE CRISP
CHOCOLATE APPLE CRISP
APPLE CAKE -1
APPLE CAKE -2
DRIED APPLE FRUIT CAKE
APPLE SAUCE CAKE
APPLE CHARLOTTE -1
APPLE CHARLOTTE -2
APPLE COMPOTE
APPLE-ORANGE COMPOTE
APPLE DUMPLINGS -1
APPLE DUMPLINGS -2
APPLE DUMPLINGS -3
APPLE DUMPLINGS -4
APPLE FOOL
APPLE FLOAT
APPLE FRITTERS -1
APPLE FRITTERS -2
APPLE FRITTERS -3
APPLE JELLY -1
APPLE JELLY -2
APPLE JELLY -3
CRAB-APPLE JELLY
APPLE PUDDING -1
APPLE PUDDING -2
APPLE PUDDING -3
APPLE-PUFF PUDDING
APPLE CUSTARD PUDDINGS
SAGO APPLE PUDDING
DUTCH APPLE PUDDING
APPLE MERINGUE PUDDING
BOILED APPLE PUDDING
APPLE AND BROWN-BREAD PUDDING
BIRDS' NEST PUDDING
APPLE MELON PUDDING
APPLE SAGO
APPLE SAUCE -1
APPLE SAUCE -2
APPLE SAUCE -3
APPLE SAUCE (CIDER)
APPLE SAUCE (OLD FASHIONED)
APPLE CREAM
APPLE SOUP -1
APPLE SOUP -2
APPLE SANDWICH
APPLE SNOW
APPLE AND TAPIOCA
APPLE OMELET
APPLE CATSUP (CETCHUP/KETCHUP)
APPLE TOAST
APPLE FILLING -1
APPLE FILLING -2
APPLE CUSTARD
APPLE CUSTARD PIE -1
APPLE CUSTARD PIE -2
APPLE CUSTARD PIE -3
APPLE PIE -1
APPLE PIE -2
IRISH APPLE PIE
MOCK APPLE PIE
APPLE AND PEACH PIE
GREEN APPLE PIE
APPLE AND ONION PIE
APPLE EGG PIE
APPLE CREAM
APPLE TARTS -1
APPLE TARTS -2
APPLE TRIFLE
APPLE ROLL
BOILED APPLE PUFFETS
APPLE BUTTER (with cider)
APPLE BUTTER (without cider)
APPLE SOUFFLE -1
APPLE SOUFFLE -2
APPLE GINGER
APPLE LEATHER
APPLE SHAKE
BUTTERSCOTCH APPLES
BAKED APPLES
SPICED BAKED APPLES
BUTTERED APPLES
APPLE TANSEY
STEWED APPLES
PRESERVED APPLES
APPLE-GRAPE SALAD
FRUIT SALAD
SIMPLE APPLE DESSERT
Sample Content Preview
APPLE CRISP
Ingredients
4 cup of Sliced Apples
1/3 cup All-purpose flour
1/2 cup brown sugar
1 cup oatmeal
1 teaspoon cinnamon
1 Tablespoon lemon juice
1/4 cup butter or melted margarine
Salt as necessary
Put Sliced Apples in a baking pan and Sprinkle with lemon juice. Combine all dry ingredients with butter or melted margarine and mix with a fork until crumbly. Sprinkle all this over apples and bake at 350 degrees for at least 30 minutes.
SPICY APPLE CRISP
6 to 8 cooking apples
1 cup flour
1 1/2 cups brown sugar
3/4 cup butter
1/4 teaspoon ground cinnamon
1/4 teaspoon ground nutmeg
1 peel of one lemon
1 tablespoon fresh lemon juice
Peel, quarter and core cooking apples. Cut apple quarters into thin slices and place it in a bowl. Blend nutmeg and cinnamon then sprinkle over apples. Sprinkle with lemon rind. Add lemon juice and toss to blend. Arrange slices in a large baking dish. Make a mixture of sugar, flour and butter in a mixing bowl then put over apples, smoothing it over. Place the dish in the oven. If dish is very full, put a pan under the dish to catch spills. Bake at 370° for 60 minutes, until browned and apples are tender.
Other Details
- 2 Ebooks (PDF, DOC), 30 Pages
- 1 Salespage (HTML)
- Year Released/Circulated: 2008
- File Size: 990 KB