Salespage Snapshot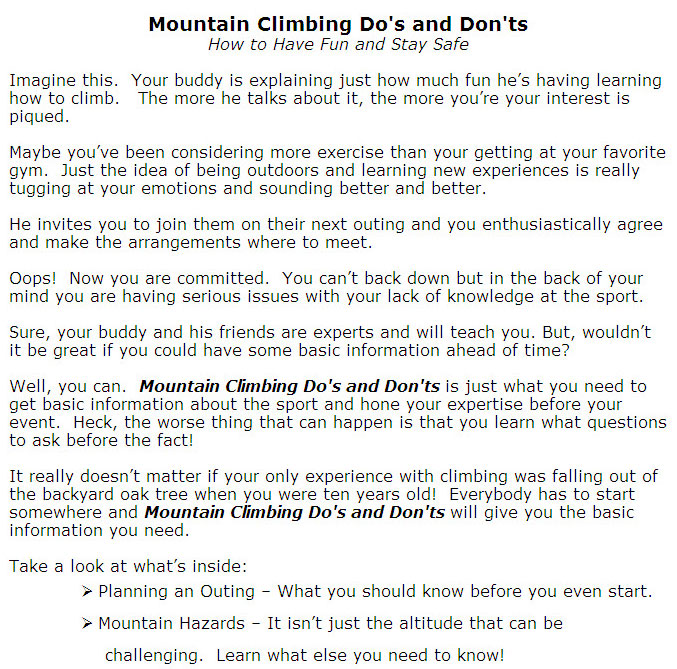 >> Click Here To View Sales Page...
PLR Ebook Table Of Contents
Planning an Outing
Mountain Hazards
Navigating the Wilderness
Weather in the Mountains
Rating Systems for Climbing
Climbing Ropes
Rock Climbing Equipment
Rappelling
Rock Climbing
Climbing on Snow and Ice
Setting Up a Base Camp
Mountaineering Nutrition
Physical Training for Mountaineers
First Aid in the Wilderness
Traveling on a Glacier
PLR Ebook Sample Content Preview
Planning an Outing
Common Sense Tips for Planning a Mountain Outing
Know the area.
Even skilled mountain climbers try to familiarize themselves with their target area before heading off, so make sure you know important information about the mountain of your choice. Contact your local forest service or authorities to find out what you need to know. Get a map, read the guidebooks, ask people who've had experience in the area and scout a route.
Once you know what to expect from the area in and around the mountain, decide on your pacing – how fast or slow you will be traveling, what time you'll start, what kind of terrain will be involved and how far before you stop. Find out if you could use your own car to drive to the area and if there is parking available. If not, ask about shuttle services that may be provided.
Get some mountain outing skills
You don't have to be a certified mountain man to enjoy a mountain outing, but your group should at least have one or two people who know something about living and surviving in the wilderness. At least have one person who has skills such as, how to navigate the mountains, start a fire or put up a tent.
Make sure your fitness level and mountain skills are sufficient for your outing. Don't attempt to go on a mountain outing hoping to get through with luck and a few basic skills. Make sure the technical skills of at least one group member exceed the difficulty level of the hike or outing.
Other Details* Sales Page:
Included, HTML, MS Word Doc
* File Format:
MS Word Doc, PDF
* Number of Pages:
64
* Included Graphics:
Ecovers, PSD
* Download File Size:
1,532 KB