Salespage Snapshot: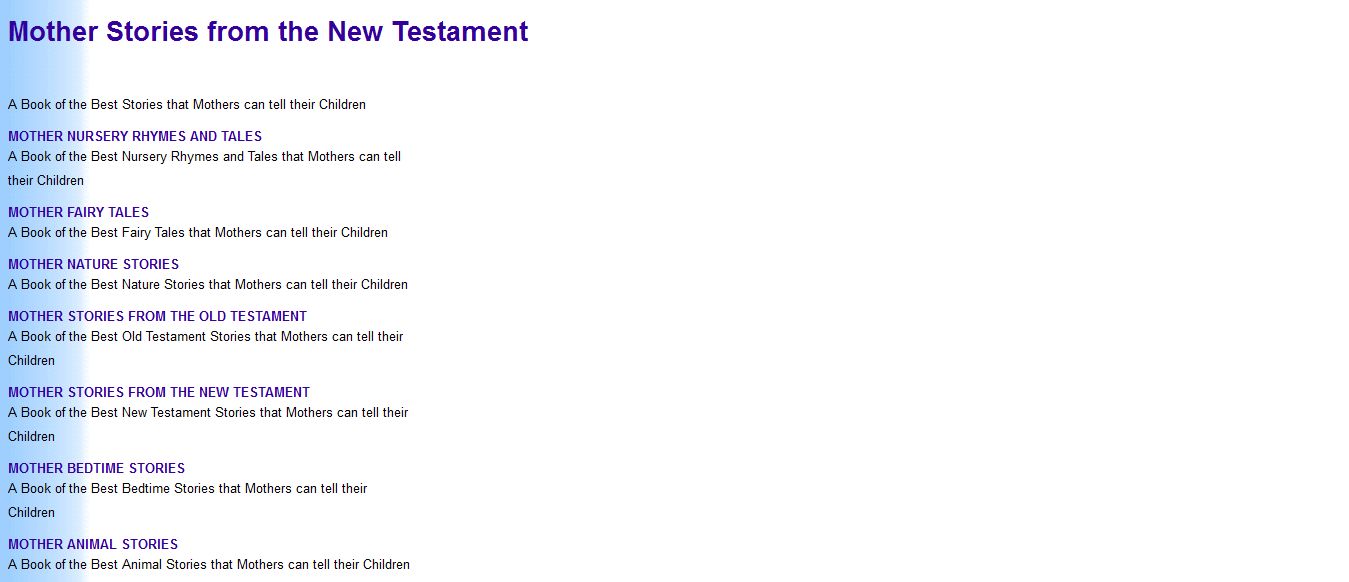 >>> Click Here To View Full Sales Page…
Table Of Contents
THE WISE MEN'S VISIT 7
THE ANGEL'S TIDINGS 10
JESUS IN THE TEMPLE 12
THE WONDERFUL DRAUGHT OF FISHES 14
THE HOUSE BUILT UPON THE SAND 16
HEALING THE CENTURION'S SERVANT 18
ANOINTING THE FEET OF JESUS 20
THE RICH FOOL 22
THE UNFRUITFUL TREE 24
SOWING THE SEED 26
THE ENEMY SOWING TARES 28
THE PARABLE OF THE LEAVEN 30
SEEKING FOR HIDDEN TREASURE 32
THE PEARL OF GREAT PRICE 34
THE PARABLE OF THE NET 36
THE MAN POSSESSED BY DEVILS 38
CURING THE INCURABLE 40
JAIRUS' DAUGHTER 42
THE TWO BLIND MEN 44
FEEDING FIVE THOUSAND 46
CHRIST WALKING ON THE SEA 48
THE WOMAN OF CANAAN 50
PETER AND THE TRIBUTE MONEY 52
THE GOOD SAMARITAN 54
IMPORTUNITY REWARDED 56
THE UNMERCIFUL SERVANT 58
THE GOOD SHEPHERD 60
THE LOST PIECE OF MONEY 62
THE PRODIGAL SON 64
PETER'S WIFE'S MOTHER CURED 66
THE UNJUST STEWARD 68
THE RICH MAN AND THE BEGGAR 70
"AVENGE ME OF MY ADVERSARY" 72
THE PHARISEE AND THE TAX-GATHERER 74
THE LABORERS IN THE VINEYARD 76
THE BARREN FIG TREE 78
THE WICKED HUSBANDMAN 80
WITHOUT THE WEDDING GARMENT 82
THE FOOLISH VIRGINS 84
THE PARABLE OF THE TALENTS 86
MAN WITH THE WITHERED HAND 88
JESUS ASCENDS TO HEAVEN 90
THE PHILIPPIAN JAILER 92
TIMOTHY AND HIS MOTHER EUNICE 94
CHRIST BLESSING THE CHILDREN 96
Sample Content Preview
NEW TESTAMENT STORIES
THE WISE MEN'S VISIT.
The birth of Jesus Christ was announced by two remarkable events: the coming of wise men from the East, and the appearance of angels to some shepherds at Bethlehem.
The wise men were probably astronomers; and in watching the stars they had seen one that had led them to leave their own country, and take a long journey to Jerusalem. Most likely they rode on camels, and their journey was a tedious one. But at last they reached Jerusalem, where they inquired saying, "Where is He that is born King of the Jews? for we have seen His star in the East and are come to worship Him." Tidings of these inquiries were brought to King Herod, and when he heard them he was much troubled. He was a wicked king; and feared that if another king had been born, he would grow up and take the crown away. Herod was also cruel and treacherous, and while pretending to act rightly, often did many evil things. And now he intended to destroy the infant King, who might one day take his sceptre away.
Other Details
- 2 Ebook (PDF, DOC), 42 Pages
- 1 Salespage (DOC)
- 2 Ecovers (JPG)
- Year Released/Circulated: 2008
- File Size: 316 KB