Salespage Snapshot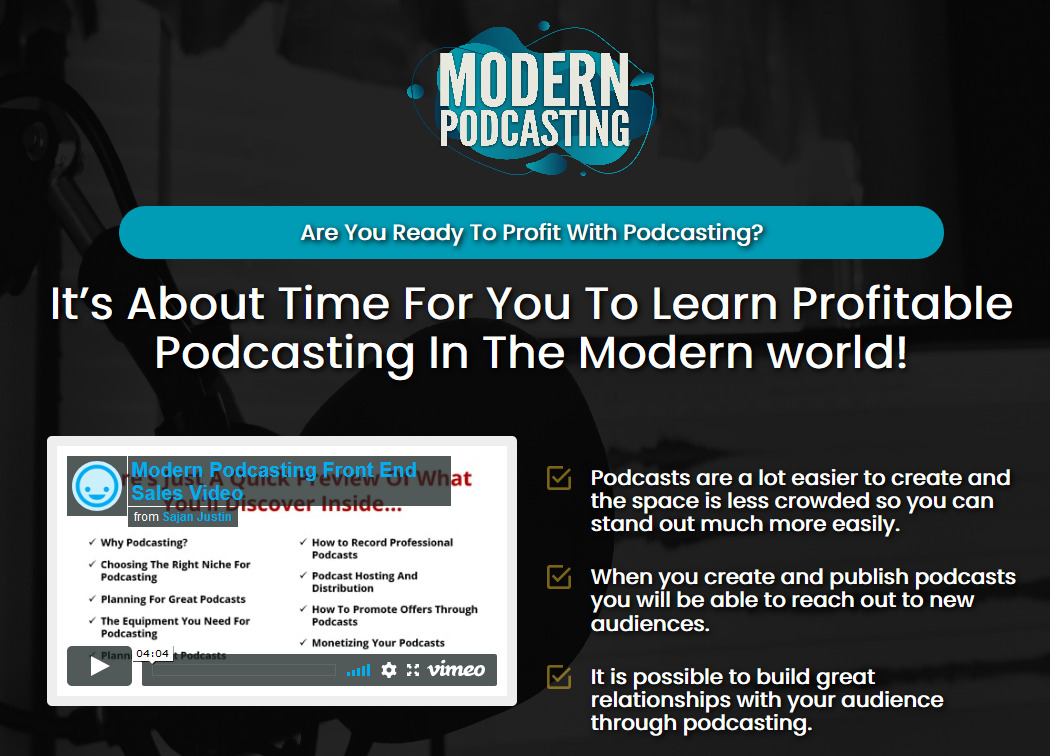 >> Click Here To View Sales Page...
Sample Content Preview
A podcast really is like listening to a show on the radio. They will normally have a specific theme, for example dog training or making money online. Most of the time a podcast will be part of a series where it talks about different aspects of the topic. So one podcast could be about dog obedience training, and another about stopping your dog from barking excessively.
A lot of podcasts feature more than one person. The interview podcast is very popular. Here the presenter will interview an expert on a particular subject. This is great for the listener as they have the opportunity to learn from someone that really knows their stuff.
You will find some podcasts that have intro and outro music and even sound effects in them. This is not difficult to do as you will discover later on in this guide. We would always encourage you to make your podcasts as professional as possible so that your audience will take you more seriously.
What are the benefits of Podcasting?
The growth in the number of MP3 enabled mobile phones has really fuelled interest in podcasts. People now have a very easy and convenient way to listen to what you have to say. There are a number of other benefits to podcasting for the marketer and business owner:
A good alternative to Video
Most online marketers would agree that video marketing is essential these days. The problem with videos is that they take a lot of planning and time to shoot. Also not everyone is comfortable about appearing in videos. If you create poor videos and it is obvious that you don't want to appear in them then this will do your business more harm than good.
There are so many videos available these days that it is a real challenge to make yours stand out from the crowd. You may need to invest in really expensive equipment and software to achieve this. Many things can go wrong when you shoot videos such as the background, sound, lighting etc.
Podcasts are a lot easier to create and the space is less crowded to you can stand out much more easily. All you need to create a good podcast is a high quality microphone and a good audio editing software suite which we will discuss later.
Generate Traffic with your Podcasts
When you create and publish podcasts you will be able to reach out to new audiences. You can use podcasts to build likeability and trust with a wide range of audiences. When a listener subscribes to a podcast series they are very likely to listen to every episode.
If the listeners like your podcast then they are likely to recommend it to other people who share the same interests. When this word of mouth kicks in you can really extend your reach. You can generate a lot of targeted traffic to your website through podcasts.
You can Build a Great Relationship with your Audience
It is possible to build great relationships with your audience through podcasting. The listeners will get the feeling that they really know you after listening to a few of your podcasts. Your listeners will feel that they have something in common with you.
All of this is a great way to build trust. Your listeners will form a strong association with your brand or business and this will definitely help you to sell more of your products or services. Your listeners will consider you a friend and they will be a lot happier to make a purchase from a friend than a stranger.
Podcasts are easy to create
There are not a lot of steps involved in creating a good quality podcast. Nowadays you can purchase the small amount of equipment that you need at a very reasonable price. You need to invest in a good quality microphone for sure, and some good quality headphones will also help.
You will also need an audio editing suite which you can download for free. This will enable you to cut out any errors and also add in any jingles, intro and outro music and so on. After you have completed your edits you can create your podcast in MP3 format very easily so that you can distribute it.
Podcasts have High Engagement levels
The Internet is a great resource for any subject but sometimes there is just too much information. There is always tons of written content and providing a podcast to explain something really breaks up the monotony.
It is a lot easier to get a point across with a podcast than it is with text. There was a survey conducted of 300,000 listeners and this revealed that 63% had purchased what the podcaster had recommended. This supports the fact that podcasts really do engage an audience and will have a strong influence on their buying decisions.
One of the biggest mistakes that people make with podcasting is that they don't choose the right niche. Because it is relatively easy to create a podcast there is a temptation just to jump right in without thinking about the long term possibilities of what you are doing.
But if you are serious about making money through podcasting then you need to choose a niche that you are comfortable with that will also provide you with money making opportunities.
A lot of "experts" will tell you that you should always choose a niche that you are passionate about. This is particularly important with podcasting as the listeners will hear the passion in your voice. But the problem here is that not all "passions" are profitable. While there are a ton of potential money making opportunities with a niche like dog training, there are a lot less with stamp collecting and model railways.
So when you are considering a niche for your podcasts you need to think about two important factors: Is there demand and is there commercial opportunity?
You may be thinking at this stage that if you know nothing about a niche that is in demand and has good commercial opportunity how can you be passionate about it? Well the answer is that you can certainly become really interested in a niche like this and when this happens your passion will rise to the surface.
Listeners Trust Experts
When you choose a niche that is in demand you will get a lot more followers with your podcasts. People who are interested in the niche will automatically believe you to be an authority even if you are not. Now we are not recommending that you try to create podcasts when you know nothing about a niche – that's just dumb!
But these days you can learn a lot about a niche in a very short time. There are plenty of resources online and you can obtain high quality training courses for a lot of different niches. You will need to put in some effort initially to get up to speed and you will want to get to the point where you know more about your niche than most people interested in it will know.
This does not have to take you a long time. Just immerse yourself into the niche for a few days and you will learn a great deal. What you are doing here is "faking it till you make it" which you might not feel that comfortable with right now, but after immersing yourself into your chosen niche for a while you will feel a whole lot better about everything.
The best way to establish yourself as an expert with your listeners is to provide them with valuable tips and advice in your podcasts. Even if you are not well known it will not take long for most of your listeners to warm to you and trust you as an authority. Once you have achieved this then you can start recommending related products and services.
So choose an in demand niche with good commercial opportunities and stick with it. Whatever you do don't go dancing around from one niche to another. You will lose your listeners very quickly if you do this.
How to choose the right Niche
The best way to start to identify your niche for podcasting is to write down a list of your interests and passions. Also include niches that you know a lot about even if you do not consider that you are passionate about this.
Have a look at different podcasting websites to see which niches are the most popular. Also you can use the Google Keyword Planner and see how many searches are happening each month for niche ideas that you have. If there are thousands then you are on the right track.
For each of your niche ideas use Google to see if there are products and services available that you can become an affiliate for and make money. Just search for "niche name" + affiliate programs. The more affiliate opportunities that you can find for a niche the better.
You can also head over to Clickbank.com and see if there are any digital products on offer there for your niche ideas. Clickbank is the world leader in digital products and they sell products in tons of different niches. You can also check out physical product opportunities on Amazon.com where you can become an affiliate and make money.
Eliminate any niche ideas that do not have the demand (tested with the Google Keyword Planner) or not enough commercial opportunities in the form of affiliate offers that you can promote. Once you have done that you can move on to the next step.
Other Details
- 10 Articles (TXT, DOC)
- 1 Ebook (PDF, DOC), 33 Pages
- 5 Graphics (PNG)
- 1 Salespage (HTML)
- 10 Ecovers
- 1 Promotional Ad Material (Emails, Banners)
- Resource Report, Cheat Sheet, Mindmap, Social Media Images, Legal Page, Sales Video, Email Swipes
- Year Released/Circulated: 2020
- File Size: 199,640 KB
License Details:
[YES] Can be sold
[YES] Can be used for personal use
[YES] Can be packaged with other products
[YES] Can modify/change the sales letter
[YES] Can be added into paid membership websites
[YES] Can put your name on the sales letter
[YES] Can be offered as a bonus
[YES] Can be used to build a list
[YES] Can print/publish offline
[YES] Can convey and sell Personal Use Rights
[YES] Can convey and sell Resale Rights
[YES] Can convey and sell Master Resale Rights
[NO] Can modify/change the main product
[NO] Can modify/change the graphics and ecover
[NO] Can be given away for free
[NO] Can be added to free membership websites
[NO] Can convey and sell Private Label Rights