Salespage Snapshot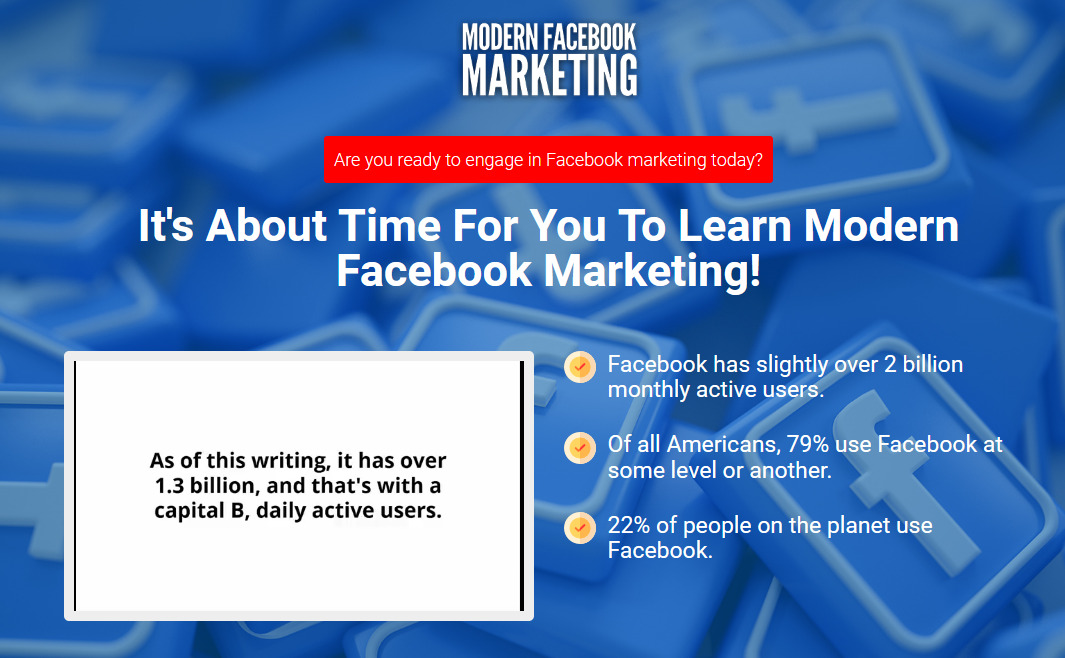 >> Click Here To View Sales Page...
Table of Contents
Table of Contents Introduction 04
Chapter 1: 10 Common Facebook Marketing Mistakes 07
Chapter 2: The 8 Most Effective Ways to Market on Facebook 16
Chapter 3: Facebook Page Marketing 25
Chapter 4: Facebook Group Marketing 36
Chapter 5: Influencer Page Outreach 42
Chapter 6: Paid Page Boost Campaign 49
Chapter 7: Paid Traffic Campaigns 55
Chapter 8: Paid Lead Generation Campaigns 64
Chapter 9: Facebook Pixel Retargeting Campaign 69
Chapter 10: How to Optimize Your Facebook Ad Campaigns 75
Conclusion 83
Sample Content Preview
One of the most obvious ways to market on Facebook is to set up a fan page for your business, your brand, or your cause. Facebook actively promotes this feature of its website.
What it doesn't tell you is the fact
that Facebook has been actively modifying its algorithm to the point that you're going to have to have very popular content for you to reach most of the people who have expressed interest in whatever it is you're promoting.
Put simply, not all the people who liked your page will get to see your updates. In fact, in most cases, only a small fraction of those people will get to see your updates.
Sadly, Facebook is actively working to limit the free traffic exposure you would get until you can prove to it that your content is really popular with your page's fans.
Here are the steps you should follow to market on Facebook:
Step #1: Find your competitors on Facebook
The first thing that you need to do is to avoid reinventing the wheel. You need to avoid trying to figure things out on a completely hit or miss basis.
Instead, reverse engineer your competitors. Let them do your homework for you. How?
Well, find them on Facebook and learn from what they are doing.
Step #2: Get the "industry standard" look and come up with your own take
Every niche has an industry standard in terms of social media profile, brand appearance, and content strategy. The sooner you understand this, the sooner you will be poised to achieve social media marketing success on Facebook. The longer it takes you to learn this, the longer you will struggle.
Understand that your niche audience has become familiar with how certain brands or websites are positioned on social media. If they can't make heads or tails of your social media brand, they probably would not like your page. It may seem weird to them because it seems so far off from the "industry standard."
Your job at this step is to figure out the industry standard look, content strategy and other elements and come up with your own take.
Step #3: Reverse engineer your competitors' content strategy and curate
Lots of business owners would post "hot content" on their social media accounts as well as their blogs.
Sadly, nine times out of ten, that content goes nowhere. People don't click on it, share it, comment, or otherwise engage.
What these publishers are doing is basically gambling their content would resonate with their audience.
Don't do that. Instead, pay attention to what your competitors are doing and look for patterns.
If you notice that your competitors keep sharing content regarding the same type of theme or topic, they may be on to something. They wouldn't waste all this time, effort and energy talking about the same stuff over and over unless, of course, it connects to their audience at some level or another and produced results.
Now, to verify this, look at how many times that piece of content got shared or liked. That should give you some sort of objective proof that this content actually resonates with your target audience members.
When you reverse engineer your competitors, you are essentially copying their strategy to reach the same eyeballs that you're trying to reach. This also applies to content curation where you take content that is published by other people, and you promote it on your social media platform.
This creates a win-win situation because you're not ripping off this content. You are copying the content's link, including a short commentary, and allowing people to click on the link.
This creates a win-win situation. The publishers of this content get traffic, you get to build credibility because you're sharing information that your target audience members would actually be interested in, and this leads to the possibility that they would like your page.
Once you have built up enough page likes, you can then start sharing your own content, which leads to direct traffic to your website.
Step #4: Pick the best performing or most popular type of content, and scale up
Post content for a few weeks. Keep publishing, and then look at the content that gets the most engagement. Which shared materials get the most likes? The most shares? The most comments?
At some point, you're going to
ignore other types of content and focus on the ones that perform the best.
For example, if you have a Facebook page on Chihuahuas and you notice that third party articles on Chihuahua houses get a lot of shares, likes and comments, you might want to eliminate most other types of content and focus on Chihuahua houses because those get the most love from your audience.
Step #5: Come up with your own version
Come up with your own version of winning content. For example, you know that Chihuahua houses get a lot of love and are very popular on your page. Come up with your own articles about that topic.
These articles, of course, drive traffic
directly to your blog or your online store. These have to be at the same level of quality as your third-party content or better.
Pay attention to how your curated popular content talks about the topic and adopt the same style but deliver something better.
Maybe you should offer longer information, more up to date information, or blog posts that have multimedia elements like videos and graphics. Whatever you need to do, come up with content that basically blows away all the other content that you feature on your page.
Other Details
- 20 Articles (TXT, DOC)
- 1 Ebook (PDF), 75 Pages
- 5 Graphics (PNG)
- 1 Salespage (HTML)
- 10 Ecovers (JPG)
- 2 Promotional Ad Materials (Emails, Banners)
- Resource Report, Cheat Sheet, Mindmap, Social Media Images, Legal Page, Sales Video
- Year Released/Circulated: 2018
- File Size: 71,919 KB
License Details:
[YES] Can be packaged
[YES] You Can Use This Product Yourself
[YES] Can be sold as it is not less than $7 price tag!
[YES] Can pass on the Resell Rights privilege to your customers.
[YES] Can Add This Product to a Membership Site or Bundled Within a Product Package as a Bonus.
[YES] Can be used to create audio/webinar/video products
[YES] Can Give Away The Product (NOT The Source Code Files) To Your Subscribers, Members or Customers as a Bonus or Gift.
[YES] Can change sales page and/or graphics
[YES] Can be added to paid membership sites
[YES] Can sell master resale rights
[NO] Add to a free membership sites
[NO] You can't just pass away the product to anyone
[NO] Contents of the product can be edited, modified or altered.