Salespage Snapshot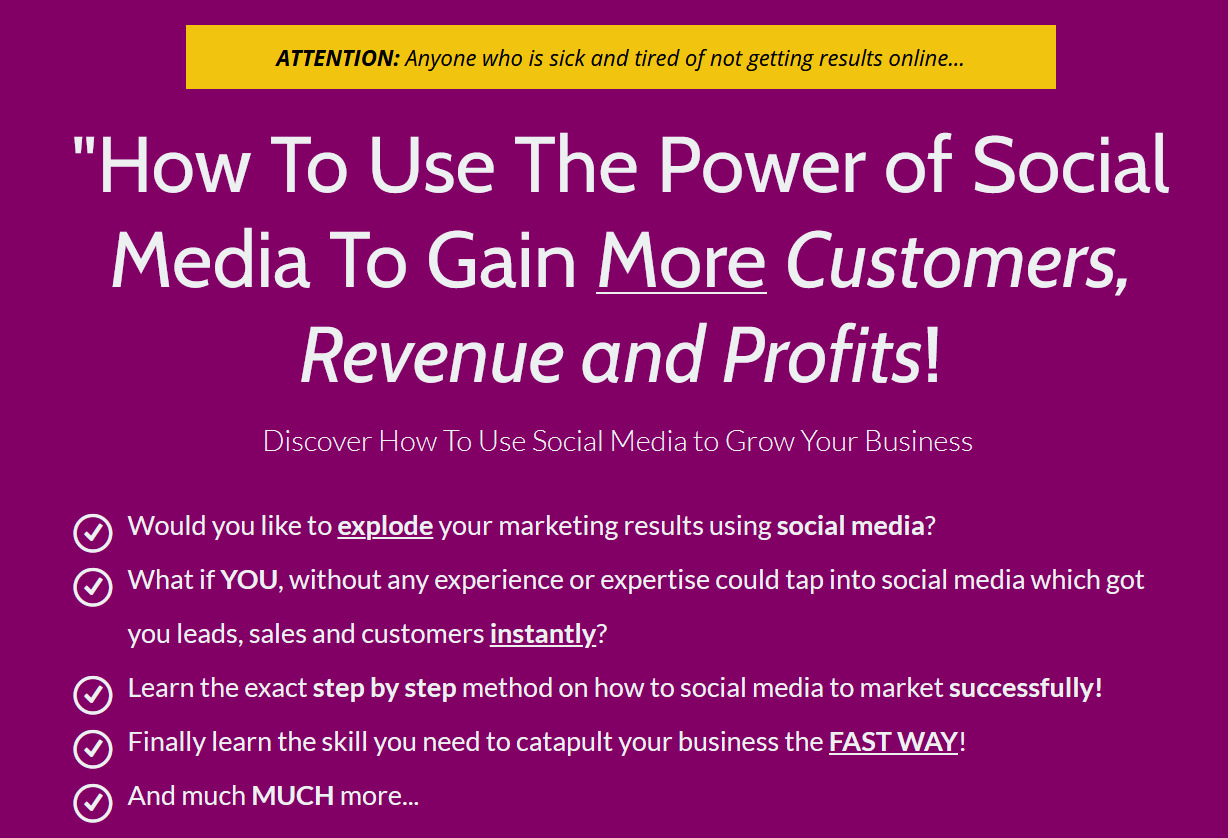 >> Click Here To View Sales Page...
Table of Contents
Social Marketing for Business.. 4
Chapter 1: Introduction……. 6
Chapter 2: What Is Social Media Marketing?.12
Chapter 3: How to Use Social Platforms to Grow Your Business………….19
Pick the Right Platform for Your Brand……19
Make a Plan for Your Audience….21
Chapter 4: Top Social Media Platforms for Small Businesses and Why You Should Be on
Them…… 27
Facebook……….28
Twitter…………. 30
LinkedIn…………32
Chapter 5: How to Generate Leads Using Social Media………… 35
Launch Good Lead Magnet Offers………….36
Don't Forget about Special Offers…………. 37
Don't Underestimate Clickbaits…38
Share Testimonials………39
Learn about Sequential Retargeting Ads…40
Chapter 6: Strategies to Promote Your Business Using Social Media….. 43
Create a Publishing Calendar…….43
Use the Right Hashtags.. 45
Share Video Content……45
Make Use of Cross-promotion Effectively. 47
Different Content for Different Platforms.48
Chapter 7: How to Create Engaging Social Content…..51
Ask a Question..51
Humanize Your Content.53
Monitor Audience Behavior………55
Be a Good Listener………56
Chapter 8: 10 Social Media Do's and Don'ts..58
Yes – No Shortcuts………58
Yes – Add Value59
Yes – Have Clear Goals.. 60
Yes – Stay Consistent……61
Yes – Take Advantage of Promoted Content Options………..62
No – Don't Overdo the Hashtags.62
No – Check Your Spellings and Grammar.. 63
No – Don't Spam Them..63
No – Don't Only Chase the Numbers………63
No – Voice of Authority, Yes but 'Know It All', No.. 64
Chapter 9: What Metrics to Track Using Social Media66
Engagement….. 67
Impressions and Reach.. 69
Referrals and Conversions……….. 70
Chapter 10: Conclusion……72
Sample Content Preview
With the accounts in place, you have the chance to sell yourself the way you want and on a budget. The more you interact, the easier it is for your audience to associate themselves with your message. This way, they know your brand and feel connected with it. And those who want to know about it have an easy way of finding you and browsing your products and services.
The more this happens, and it will over time, the more you learn about the kind of audience you are attracting and learn about their habits. It gives you the opportunity to tap into certain demographics and make a pitch. Then there is the big concern—budget. Make a strategy for your posts and you can increase the incoming traffic to your page rather easily.
Social media is one of the most inexpensive ways of marketing a product or a service. You don't need to work too hard once you know the message. And there are plenty of free tools at your disposal that can help you create quick and jazzy content. All you need to do is post consistently and you will build a loyal audience in no time. That is why many bloggers use it to reach their readers and viewers without spending a single penny.
So, whether you have a small budget or none at all, social media is a great place to start marketing your products and services without worrying about the costs. And if you are looking for someone to help create content or fill other positions, it is also a great place to advertise your requirements.
Of course, this is not to say you can get away with a bad product or service. But if you have a winner in your hands, you just need to learn a few tricks of the trade to sell it.
That starts with the creation of SEO content. This is done by using the right keywords and tags to help your content gain visibility. If you didn't know it already, SEO stands for search engine optimization. With the right words, your posts and page will get a better ranking from search engines like Google.
This means when a potential or existing buyer is looking for products or services like yours, your content is shown higher up in the search engine results page or SERP because of the right keywords and tags.
Social media is also a great way to stay in the minds of your customers. In marketing terms, this is often referred to as top-of-themind recall or top-of-the-mind awareness or TOMA. And it means just that. When a customer is thinking of the products or services that you offer, your brand is one of the things, if not the first one, they recall.
For example, oftentimes, Apple is for smartphones, Dominos is for pizza, Lay's for chips, Coke for soft drinks and so on. This is done by creating an image for your brand that is hard to forget.
Social media is an extremely useful tool when it comes to this. Over time, it converts individuals interested in your product or service into paying customers. And these customers can turn into loyalists and maybe even advocate your brand to their friends and family members. It's all about creating an unforgettable impression in the minds of the customer. This makes you everyone's first choice.
Platforms like Facebook, Instagram and Twitter are also a great way to keep an eye on the competition. These profiles are always public and accessible to everyone, right? Because it is about visibility. Now, if you understand the competition, you will be able to find ways to beat them too. Analyzing social media profiles is a great way to improve upon your own strategies.
In fact, you can even build on their ideas and beat them at their own game. The basic engagement metrics are available for everyone to see. You can keep tabs on their popularity to a certain extent while you are still working on your own. And you can do this even before you have a strategy or a profile of your own.
In fact, you can also see the kind of queries they are getting and identify gaps to fill them with your product or service. It is a pretty neat trick and it is all fair game.
Check their content, keep an eye on the comments and look at the features they are enabling to better serve their customers. Make yourselves aware of their strategy so that you can incorporate some of that into your own.
Chapter 2: What Is Social Media Marketing?
Using social media to your business' advantage is not just a perk but in this day and age, it is practically mandatory. But the idea itself evolved from publishing when businesses wanted to create interest in their product or service. Soon, social media platforms were being used for word-of-mouth reasons to boost sales.
Today, this realm of marketing involves so much more than just pushing content. It can be used to monitor conversations about the brand itself. Likes, shares, engagement with posts in general and tags are also extremely helpful indicators.
These platforms can also be used to understand better ways of serving the brand's customers—loyal and new ones—by using them as informal channels of customer service.
Businesses can also use this data to understand their appeal among different demographics and target new ones thanks to the wealth of data that is provided by the likes of Facebook, Twitter, Instagram, LinkedIn and YouTube.
Now, every business decides the kind of audience it wants to reach and creates ads on social media for those highly targeted groups of individuals. This is referred to as social media advertising and the entire process is called social media management or SMM. This includes creating posts in text, publishing pictures and videos and making content that, in general, creates a discussion among the audience about your products and servicing. This also includes paid advertising.
The first part of this is to make a plan that will help your business reach its goals. This takes some work because social media is quite fickle. There is no guarantee that what works today will continue to work three months later (or even three weeks!). So, here's how you start defining the goals for your business on social media.
Other Details
- 10 Articles (TXT)
- 1 Ebook (PDF), 74 Pages
- 1 Salespage (HTML)
- 6 Ecovers (PNG)
- Checklist, Resource, Mindmap, Optin Page, Social Media Images, Email Swipes
- Year Released/Circulated: 2021
- File Size: 54,425 KB
License Details:
You're granted master resell rights, resell rights or to resell with personal use rights.
You may add this product to your PAID membership site
You may giveaway the product as a bonus when people buy through your affiliate link
You may edit the included sales page and opt-in page
No, you may NOT edit the contents of the eBook(s) & videos
No, this product does NOT include private label rights. You are granted Master Resell Rights only
No, you may NOT giveaway the eBook(s) & videos for free.