Salespage Snapshot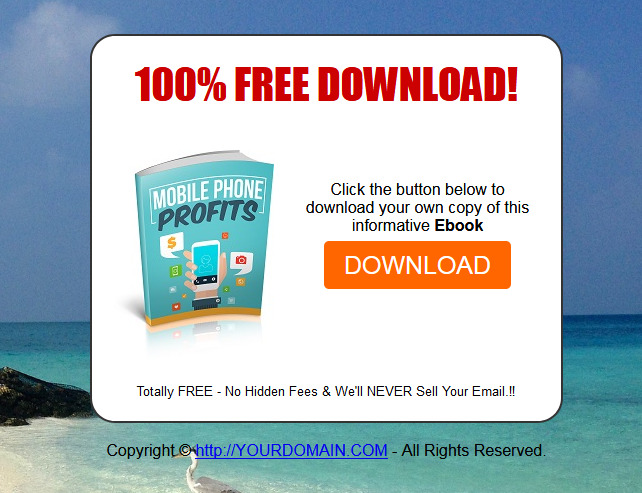 >> Click Here To View Sales Page...
Table of Contents
TABLE OF CONTENTS .. 2
INTRODUCTION …. 5
2 THE NEW GENERATION OF WIRELESS . 10
THE 3G NETWORK . 10
HOW IS A 3G NETWORK DIFFERNT? … 11
APPLE'S IPHONE … 12
SMARTPHONES ….. 13
THE PRIMARY TYPES OF 3G PHONE USERS ….. 14
CASUAL USERS 14
THE BUSINESS USER … 15
3 EFFECTIVE BUSINESS USERS AND THEIR WIRELESS DEVICES . 17
EMAIL . 17
WEB SURFING . 18
VIDEO CONFERENCING ….. 18
TEXT MESSAGING . 19
PHONE APPLICATIONS ….. 19
VOICE . 19
THE FACE OF TODAY'S EXECUTIVE 20
BARACK OBAMA – A CASE STUDY ON TODAY'S EXECUTIVE ….. 20
4 USE THE HOTTEST APPLIACTION TO YOUR ADVERTISING ADVANTAGE .. 24
YOUR WEBSITE ….. 25
ATTRACTING VISITORS TO YOUR SITE ….. 27
MAKE SURE YOU'RE SEARCH ENGINE OPTIMIZED 27
ADVERTISE A GADGET . 28
ACCEPT MOBILE PAYMENTS 28
TEXT MESSAGING .. 29
OTHER SUCCESS STORIES IN MOBILE ADVERTISING . 31
MJOY'S UNIQUE TEXT MESSAGING SERVICE . 31
BLYK'S SUCCESS STORY ….. 32
FREE 411 .. 33
5 THE WIRELESS ADVERTISING FUTURE: NEW APPLIACTIONS WITH POSSIBILITIES …. 35
WIRELESS CARRIERS .. 35
TWITTER … 37
SHOZU 38
MAPS AND GPS OPERATED DEVICES … 39
6 CREATING YOUR OWN APPLICATIONS 40
THE TECHNICALITIES . 41
WIRELESS APPLICATION PROTOCOL (WAP) .. 41
WIRELESS MARKUP LANGUAGE (WML) … 41
GETTING HELP 42
BASIC DECISIONS REGARDING YOUR APPLICATION .. 42
SOCIAL NETWORKING DEVICES 42
GAMES ….. 43
GALLERIES 43
TOOLS 43
BE CREATIVE … 44
CONCLUSION 45
Sample Content Preview
Hopefully, the statistics above have convinced you that advertising via cell phones is the wave of the future. It's doubtful that you can boast a 15% response rate to any ad you've placed in the yellow pages, on a billboard or via direct mail. But, you may not yet understand how to take on this advertising venue, or what methods and resources are actually out there.
It is the goal of this e-book to provide basic information about marketing to the cell phone user, taking advantage of the new features and functions of 3G technology. Hopefully, we're going to help you get creative about marketing your business to technologically savvy users.
In the pages ahead, we'll take a look at 3G itself, including what features 3G offers wireless users. We'll also look at how business users today are taking advantage of these features that 3G offers to make them more productive at work and at home.
This book will offer ideas and suggestions, as well as give you case studies about how these advertising methods have already been proven in the marketplace. You'll probably be surprised at how many companies are already catering to the wireless user, offering ads on frequently visited websites and sending coupons via text messaging.
We'll also offer you insight into the hottest applications available today and how they are being used or might be used to the advertiser's advantage.
There's a lot of food for thought in the coming pages. It's all designed to make you think about advertising your business in a very different way. It is our hope that these ideas and suggestions make your business successful and prepare it for the future of advertising in wireless technology.
1 HOW NEXT GENERATION PHONES ARE GREAT ADVERTISING VEHICLES
Many of today's business people may remember early cell phones. They were heavy, bulky devices that worked only in your car – and then only sporadically, since there were more holes in coverage than there was coverage itself. Boy, have we come a long way. Today's phones are lightweight, pocket sized, and calling them mere phones seems like an understatement of great proportions.
Today's cell phones provide us regular wireless phone service, allow us quick text messaging, display our emails, provide gaming and surf the internet. Many also offer push to talk capability to reduce our costs in talking to those whom we chat with frequently. All in all, our cell phones have become a business necessity – serving our needs far beyond verbal communication. Most of us take our wireless devices with us everywhere.
And, what's even more exciting about how the extent to which wireless phone capabilities have increased is the fact that the cost of purchasing a cell phone and of paying for service has not risen dramatically enough over the years to deter business people or consumers. Today, nearly everyone has a cell phone – even children. Industry experts estimate that cell phone penetration has reached nearly 100% in the United States.
Wireless companies have created packages aimed at businesses to ensure that a company is willing to pay for phones for nearly every employee. And, family plans have made equipping every member of the family, right down to the elementary age child, affordable. In fact, today many families have foregone the landline home phone entirely in favor of a cell phone for every family member with a rate plan that allows them unlimited calling to every member of the family. In addition, wireless carriers have made "unlimited texting" plans so affordable that these are purchased by most business and consumer users.
Finally, the newest generation of phones, "smart phones" are a revolution in themselves. These phones have richer displays and are designed with more of a browser in mind. They also can support many different applications. There are applications available today, and you can bet that many more are in development. So, if you haven't considered advertising your business via wireless devices, now's the time. In short, cell phones are the perfect new advertising vehicle because:
• Nearly everyone carries a cell phone
• Many users subscribe to text messaging and internet
• There are a wide variety of additional applications that can be used for advertisers
If you haven't yet thought about advertising your business via your customers' wireless devices, this book can help you get started. In the next chapters, we'll explore the possibilities of advertising on mobile phones more in depth. We'll examine the new face of the technologically savvy business user as well as look at companies that have already begun to use wireless advertising strategies to their advantage. You're sure to come away with many new ideas to help improve your connection with your customers.
2THE NEW GENERATION OF WIRELESS
Before we begin discussing the advertising capabilities available on today's wireless networks, it's important to have an understanding of the new wireless networks and devices that make all these great applications and features possible.
Other Details
- 25 Articles (TXT)
- 1 Ebook (PDF), 44 Pages
- 1 Squeeze Page (HTML)
- 2 Ecovers (PNG)
- Year Released/Circulated: 2018
- File Size: 1,765 KB
License Details:
[YES] Can sell and keep 100% of the sales.
[YES] Can edit the squeeze page.
[YES] Can be bundled into another paid package and sell at a higher price.
[YES] Can be used as a bonus to another product you are selling.
[YES] Can be sold in a Dime sale event.
[YES] Can be added into a paid membership site.
[YES] Can pass on the Master Resell Rights privilege to your customers.
[YES] Can be given away for free AGAINST an email address (lead generation)
[NO] Contents of the product can be edited, modified or altered.