Salespage Snapshot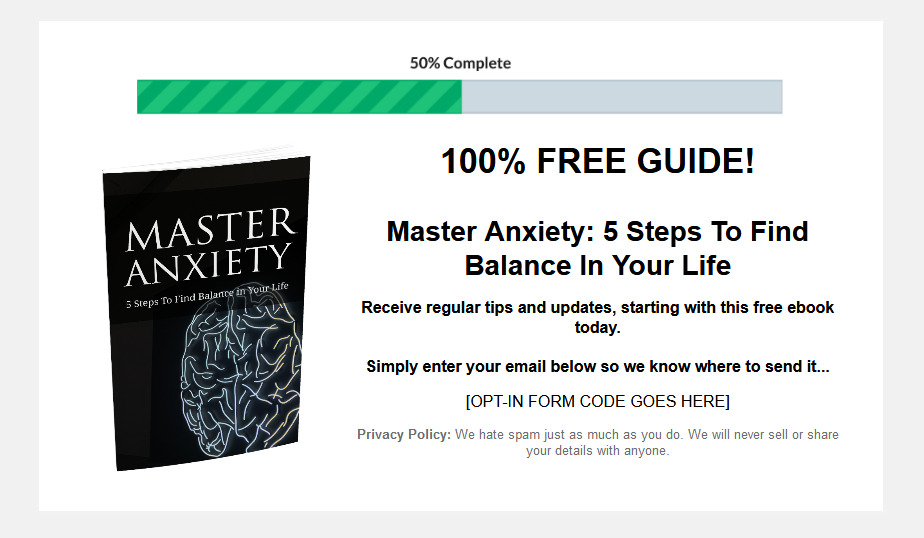 >> Click Here To View Sales Page...
Sample Content Preview
Go for a Walk in the Forest
If you have the opportunity to go for a walk in the woods, you should know that many studies show that walking in the woods has a positive effect on mood disorders. It not only reduces stress and anxiety but also reduces heart rate and systolic pressure. In short, effective anxiety treatment and very natural!
Open a Window
If you wake up feeling anxious, opening a window is your priority! Take the time to open a window as soon as you wake up (or better yet, go out into your garden) and breathe the fresh air, even in winter. Oxygen will help you dissipate your feeling of discomfort and make it easier to face the early morning.
Bring in Nature
Imagine a living environment where everything is "green, calm and pleasure," a cocoon where you can relax and feel at peace. Your home is the place where you recharge your batteries and prepare to face the outside world. Don't hesitate to have plants or a green wall that will remind you of nature.
Step 3: Learn to Let Go
Accept what you can't change. It's so important to let things go. To get rid of them, to be free of them. You have to close doors, not out of pride, or inability, but simply because the above no longer has a place in your life.
A physical way to let go is to do a deep cleaning of your home, shake the dust off, and rid yourself of what is no longer serving you for the greater good. Stop being what you were and become what you are.
Learning to manage your anxiety also means understanding that despite all your energy and good intentions. Know that you do not always control all the parameters of a situation. And that sometimes it is wiser to let go. That doesn't mean you stop fighting and let go. First, it means that you accept that not everything depends on you. You know that some things are really beyond your intention. You don't fight over a situation that you can't do anything about.
Sometimes it takes a journey to accept your failure. But acceptance is the first step that allows you to mobilize your energy, and to open the field of possibilities without bitterness.
Step 4: Re-Invent Your Lifestyle
When you think of your lifestyle, one of the first things to assess is your nutrition. Since the body's natural defenses are weakened by anxiety and stress, it is crucial to adopt a healthy diet that fortifies your body and mind.
A healthy and balanced diet is essential for optimal functioning of the body. To help boost your production of serotonin and endorphins, eat foods rich in magnesium. See in tryptophan, B-group vitamins, omega 3, and vitamin C.
Also, remember to prepare meals that are synonymous with pleasure and comfort. Enjoying a pastry or a hearty meal from time to time won't make you gain weight. It is systematically using food to calm anxiety, which can lead to weight gain or eating disorders. So, as is often the case, moderation is the key!
However, no miracle food will make anxiety and depression disappear. Dietary measures must be implemented in addition to other anti-stress methods. But one thing is for sure, treating anxiety by eating properly is possible!
How can you avoid putting on weight when you are anxious?
Some people have their appetite cut off by stress and anxiety, while others find comfort in food. However, overindulging in fatty and sweet foods and eating large quantities has a significant drawback: weight gain.
Besides, the cortisol produced during periods of prolonged stress and anxiety can alter the metabolism, causing it to build up reserves and "store" when you don't eat more than usual.
Here are some tips to avoid excess weight gain in times of stress:
• Get more exercise, and it will help you lower your cortisol levels, healthily relieve stress, and boost your basal metabolic rate.
• Establish a meal ritual that helps control food cravings. For example, prepare a nice plate and sit down at the table to eat or take a real balanced snack to work to avoid cracking on the chocolate bars in the vending machine.
• According to research, lack of sleep leads to poor food choices. It is, therefore, essential to get back to a good quality of sleep to manage better your mood, your dietary balance, and your emotions.
Step 5: Become Emotionally Aware
The "natural" way to free yourself from emotion is to express it fully, by welcoming it and by letting this energy discharge pass through you without holding on to the feeling. But you can only express something that you can recognize.
To succeed in being aware of our emotions, you will have to be mindful of what can prevent you from being connected to them. There are three techniques that we use more or less consciously so that we don't have to experience feelings.
Other Details
- 4 Articles (TXT)
- 1 Ebook (PDF, DOC), 8 Pages
- 1 Audio (MP3)
- 4 Graphics (PNG)
- 1 Squeeze Page (HTML)
- Year Released/Circulated: 2020
- File Size: 12,009 KB
License Details:
You're granted master resell rights, resell rights or to resell with personal use rights.
You may add this product to your PAID membership site
You may giveaway the product as a bonus when people buy through your affiliate link
You may edit the included opt-in / squeeze / landing page
You may giveaway the eBook for Lead Generation purpose
No, you may NOT edit the contents of the eBook
No, this product does NOT include private label rights. You are granted Master Resell Rights only