Salespage Snapshot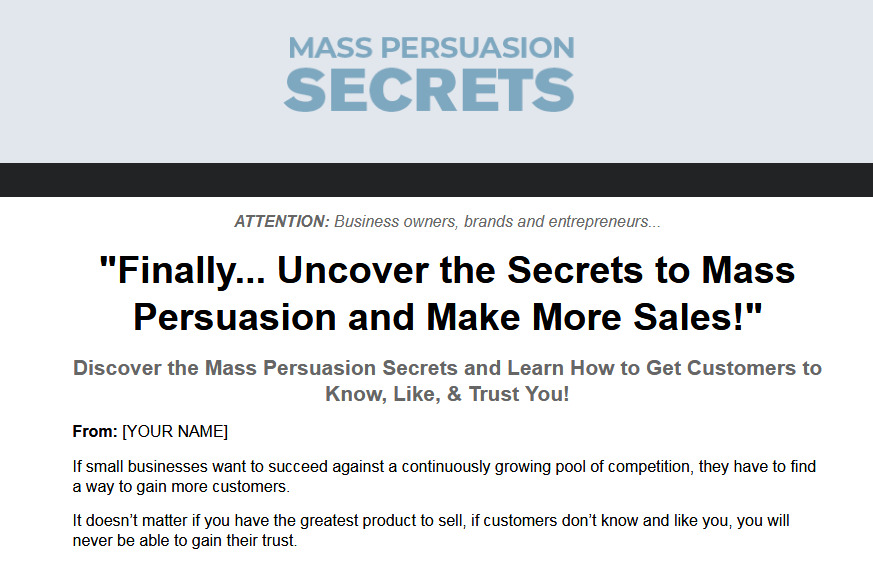 >> Click Here To View Sales Page...
Table of Contents
Introduction . 4
Chapter 1 – Six Powerful Sales Triggers for Persuading Customers to Buy . 7
Reciprocity . 8
Curiosity . 10
Handling Objections . 12
Credibility . 14
The Power of Fear . 14
Consistency . 16
Chapter 2 – Using Reverse Psychology to Persuade 18
Warn Them About the Competition 19
Consider What Sets You Apart 20
Offer Them Less 20
Give them an Out . 21
Disqualify the Customer . 22
Rate the Attitude 23
Chapter 3 – Using Social Proof to Persuade 24
Social Proof and Sales . 25
Types of Social Proof . 27
Using Social Proof Successfully . 28
Chapter 4 – Be an Authority in Your Industry . 32
Understanding Authority . 34
Benefits of Being an Authority 35
Trust is Crucial . 35
Grow Your Reach 36
Chapter 5 – Putting It All in Action 38
Mass Persuasion Through Video . 38
Persuasion Through Social Media . 39
Persuasion Through Email . 41
Conclusion 44
Sample Content Preview
Reciprocity
The first powerful sales trigger that you'll need to gain an understanding of is reciprocity. In business, reciprocity is the idea that if you provide consumers with something that they will feel obligated to give you something in return. This is why you may feel uncomfortable if you owe someone something.
This is also why most businesses will start the sales process off by offering you something to drink. In the right situations, this can be an extremely powerful tool. However, it is essential that you understand that it won't work on those who have an entitlement mentality.
Those who harbor an entitlement mentality naturally expect others to defer to their desires, making any hope of reciprocity a long shot.
Unfortunately, when it comes to your potential customers, you won't be able to tell which ones might have an entitlement mindset. This means that you will need to come up with something that costs you less than its perceived value because you will need to give it out to everyone from the start.
By doing this, you will, at the very least, develop a reputation of generosity in your chosen niche, which can often end up being far more valuable in the long run.
To understand the concept of reciprocity and why it can be so powerful for persuading customers to buy from you, consider the scenario where you and a friend go out to catch up and enjoy a nice dinner. When the bill arrives, you insist on paying, despite your friend's protests over the cost. Soon after, your friend calls you up and invites you out to a similarly expensive meal, their treat.
If they don't call and invite you out, odds are they may start to feel psychologically uneasy. This unease would continue to grow until they feel the need to return the favor. Often, this need to return a favor is nearly as strong in people who have just met as it is with those they've known for years, making the idea of reciprocity a potent sales tool.
Depending on your business, there are many ways that you can go about activating a reciprocity response in your potential customers. If you are selling a product that people try before they buy, consider throwing in something that is typically expensive when purchased as a single unit, but that is cheaper when purchased in bulk. Then, continue to lavish other small freebies on them throughout the sales process. If you are selling online, you can make a habit of creating quality content that provides value, without directly
selling anything in return, or offer a free eBook that you've written or lead magnet products for your specific niche.
When dealing with customers online, you will need to remind them of what you have recently given them to ensure that the reciprocity response is triggered when you need it. For example, after providing a free eBook, at the end of the email include a note thanking them for reading your free book and urge them to click the link to share it with their friends if they enjoyed it.
Curiosity
Curiosity can be a powerful sales motivator because it creates the type of mental itch that potential customers are eager to scratch.
The key becomes being able to connect the action that you want them to take with the mystery that you have created. In the late 80s and early 90s, BluBlocker sunglasses used curiosity to sell their product. Their style of advertising pioneered what is known today as the infomercial. They used real people, trying on their glasses in real time while discussing how impressive the sunglasses were.
While this formula is no longer as viable today, at the time, it served to dramatically increase interest and sales for what was ultimately a lower quality, polarized pair of sunglasses.
While the commercials could have shown how a polarized lens affects the camera, by removing this vital piece of information from the equation, it left viewers no choice but to order their own pair, which they did in upwards of five million pairs by the end of the second year.
Curiosity is a particularly powerful sales tool when it comes to online businesses. This starts with the ability to keep potential customers reading regardless if they are looking at a report, email, blog post, or sales letter.
You can build curiosity through an email and inject more information when you feel the content itself could use a little boost. Being able to build anticipation in the introduction is especially useful with reports, blog posts, and newsletters. You merely need to include a hint of what is going to be learned in the process and let their curiosity do the rest.
Another practical approach for using curiosity to persuade the masses is to start off by telling the first part of a compelling story before working the rest of it into the rest of your article. When you keep back parts of the story, it increases the reader's curiosity and increases the odds that they will at least read through the piece to find the rest of the story.
Other Details
- 20 Articles (TXT, DOC)
- 1 Ebook (PDF), 44 Pages
- 1 Graphic (PNG)
- 1 Salespage (HTML)
- 3 Keywords List (PDF, CSV)
- Checklist, Infographic, Optin Page, Lead Magnet, Social Media Messages, Email Swipes
- Year Released/Circulated: 2018
- File Size: 25,586 KB
License Details:
You're granted master resell rights, resell rights or to resell with personal use rights.
You may add this product to your PAID membership site
You may giveaway the product as a bonus when people buy through your affiliate link
You may edit the included sales page and opt-in page
No, you may NOT edit the contents of the eBook(s) & videos
No, this product does NOT include private label rights. You are granted Master Resell Rights only
No, you may NOT giveaway the eBook(s) & videos for free.