Salespage Snapshot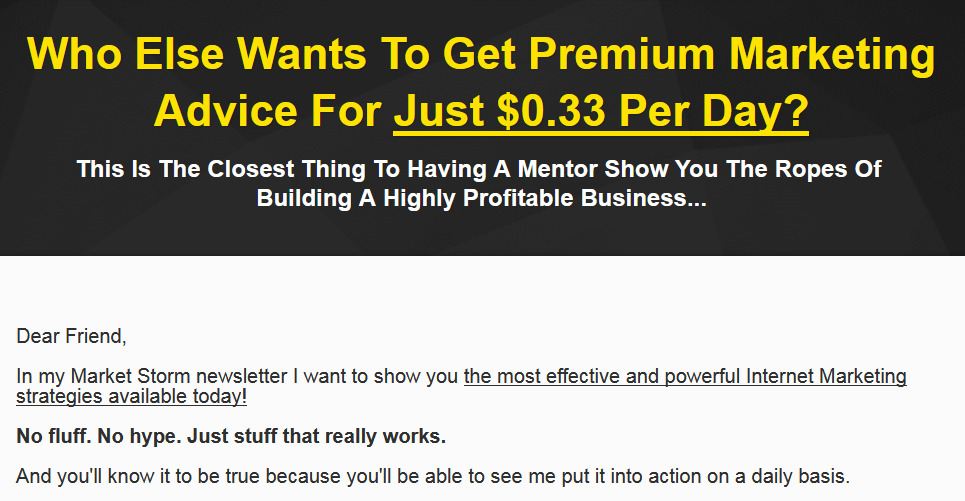 >> Click Here To View Sales Page...
Sample Content Preview
Article submission basically involves submitting articles related to your niche topic to high traffic article directories so that people searching for information will find your articles, which leads them to your website through an author"s resource box.
Search engine optimization is the art of getting your page to the top of Google or Yahoo"s search engine by targeting high search volume "keyword phrases".
Link exchanges is the exchanging of links between your site and other people"s websites so that visitors from the other site will visit yours and vice versa.
Ad swaps basically entails mutual promotion of 2 partners websites through email marketing or blog posts. When used correctly, can hugely benefit both parties.
Offline traffic methods deal with promoting one"s website through offline methods such as banners, flyers, direct response marketing and name cards.
Article marketing was one of the most widely used traffic generation methods in the past, and still is widely used today. #2 : Article Marketing
As mentioned earlier, it involves posting or submitting articles to article submission directories to draw traffic to your website.
Here are some commonly used article directories, which you can submit articles to:
-Ezine Articles (www.ezinearticles.com)
-Article City (www.articlecity.com)
-Article Alley (www.articlealley.com)
-GoArticles (www.goarticles.com)
Bear in mind, each of the directories has their own set of submission guidelines. So be sure to read and adhere to the guidelines of article writing if you don"t want your articles to be rejected.
Here"s how it works:
As a general rule of thumb, write an article ranging from 300-500 words (or more) which is unique, filled with keywords related to your topic.
Then, sign up for a free account at any of those article directories. Make sure you create a solid author"s resource box which talks a little about yourself and has backlinks (one or two max) to your website.
Whenever you post an article and it is approved, your article will appear on the website directory along with your author"s resource box.
People searching for relevant articles will read your article, and from there if they wish to find out more information, they will visit your website.
For this matter, it is important that your article titles are highly optimized for keywords so that they can be found and also must be catchy enough to stand out from the crowd.
Example: 8 Goal Setting Mistakes You Should Avoid.
This is good because it contains keywords and also is eye-catching enough for readers to want to click on your article to read it. #3 : SEO
Remember, content is key. You must have uniquely written content as plagiarized content are often penalized and frown upon. If your content is good, it will further entice the readers to find more information through the links to your website.
Here"s your job:
Consistently post 3-5 articles per week to multi article directories and soon you"ll start seeing a steady flow of traffic come into your website.
SEO stands for "Search Engine Optimization" which is basically the art of getting your website onto the first page of the search engines such as the big "G" (Google), Bing and Yahoo.
The SEO technicalities change from time to time, but there are still many basic SEO techniques for getting your website favored by Search Engines which I am about to reveal.
The first of all is in-site optimization.
Basically, it involves tweaking your website and blog posts in such a way that its easy for Google "Spiders" to crawl your website and index it so that people can find your website easily.
For example, you should always include keyword phrases into the titles of your blog posts as this will help you articles get found by people who search for these phrases in the search engines. However, exercise caution when using keywords as excessive keywords will come off as "spam" by Google spiders and your website will be published.
Also, it is helpful to include keyword phrases and keywords in the first sentence of the first paragraph and bold or italicize them. This is often favored as well.
The key is to find a good balance between SEO optimization and user readability. You don"t want to sound like a robot in all your blog posts as this will turn people off.
Next is backlinking. The more links your website gets from outside authority websites, the higher your page will rank in Google. As a general rule of thumb, it is better to get more quality backlinks (e.g more reputable websites of similar niches) than many links from smaller websites – A move that is often frowned upon as may come off as "link farming".
You can also link between blog posts within your website to boost SEO points but this does not contribute nearly as much as outsider links.
Recently, a new trend has emerged in SEO which is social interaction. Which means, people must actively interact on your website, whether if it"s through sharing, tweeting or commenting on your blog posts.
This is favored by search engines and will greatly boost page ranking for those that make their websites interaction friendly. How Outsourcing Can Help Your Business OUTSOURCINGa Perhaps the most important contributing factor would be one pertaining to cost.
There are a lot of merits to using the outsourcing style to keep the smooth running of any business mechanism and it is becoming more popular to seek this kind of help due to its positive contributions to the business as a whole.
The following are some of the reasons why outsourcing can benefit a business mechanism:
If a company had to explore the possibilities of setting up a separate department for a particular part of the overall work procedures needed for the project at hand, it ends up being a rather costly affair.
This is mainly due to several issues such as the hiring of new staff, the availability of space for the new workers and the project they take on, the resources and possible assisting tools that may be needed and many more other connective elements.
All this when measured against making the choice to use an outsourcing option will in most cases prove to be cost effective. What you have to be careful with while outsourcing
The company can then focus all its efforts in other areas, thus bringing the business to more competitive level in the market.
More time can be spent on making the product or business more visible and thus garnering more revenue to the company.
There is also no need to have to file documentations that would otherwise have to be done on behalf of the hiring of the new badge of workers to serve in the project. This is a disadvantage when the services of the workers are only for a short period of time which does not justify the efforts for the above mentioned documentation process.
Faster processes can be expected, with the use of the outsourcing option, as the expertise provided will be based on the outsourced capabilities and contributions.
One of the foremost concerns when choosing to use an outsourcing company is the almost immediate lost of complete control over the functions and management of the particular part that is being outsourced.
Other Details
- 1 Ebook (PDF), 36 Pages
- 3 Graphics (PSD, PNG)
- 1 Salespage (HTML)
- 12 Ecovers (PNG)
- Promotional Ad Material (Emails, Banners)
- Year Released/Circulated: 2018
- File Size: 112,921 KB
License Details:
[YES] Can be sold
[YES] Can be used for personal use
[YES] Can be packaged with other products
[YES] Can modify/change the sales letter
[YES] Can be added into paid membership websites
[YES] Can put your name on the sales letter
[YES] Can be offered as a bonus
[YES] Can be used to build a list
[YES] Can print/publish offline
[YES] Can convey and sell Personal Use Rights
[YES] Can convey and sell Resale Rights
[YES] Can convey and sell Master Resale Rights
[NO] Can modify/change the main product
[NO] Can modify/change the graphics and ecover
[NO] Can be given away for free
[NO] Can be added to free membership websites
[NO] Can convey and sell Private Label Rights