Salespage Snapshot: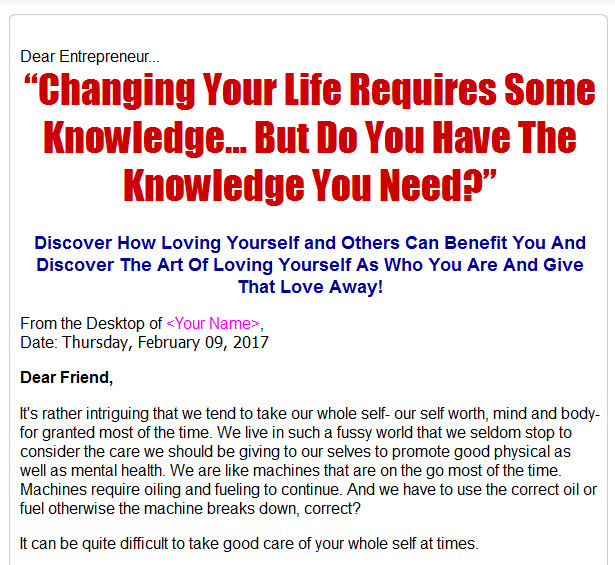 >>> Click Here To View Full Sales Page…
Table of Contents
Intro
Chapter 1:
Taking Care of Your "Whole Self"
Chapter 2:
Believe in Yourself
Chapter 3:
Consider What You Deserve
Chapter 4:
Find Out Who You Are
Chapter 5:
Encourage Yourself
Chapter 6:
Extend Yourself
Chapter 7:
Forgive Yourself
Chapter 8:
Value Yourself
Chapter 9:
The Truth Behind Love of Others
Chapter 10 :
Learning How to Love Others
Sample Content Preview
Synopsis
You must believe in yourself in order for anyone else to believe in you.
Self Love Requires Self Belief
Millions of individuals fail to live the life they've always wished to live. They neglect to realize their ambitions and give up on their big dreams as soon as they take on the first obstacle. Among the strongest reasons for this mental attitude is that these individuals don't believe in themselves.
Believing in yourself is being sure that you're going to do whatever you put your mind to, even if other people are against you. Generally, when you choose to take a big challenge or do something that they failed to do, you'll find that everybody is putting you down. Under the pressure of this criticism a few of us start to question our own abilities and sooner or later give up. The few that manage to believe in themselves and continue down the path they've selected will be the ones that enjoy the glory of success and learn to love themselves.
A few individuals think that unless everybody agrees with them then they're wrong. This is altogether untrue. No one ever succeeds without having individuals resisting his ideas at one point or another.
This rejection later became the grounds for people's success. If individuals think that you're incorrect, or that what you're doing will yield no result, just move forward by either convincing them of your viewpoint straight off or leaving them to be convinced by force when they see what you've accomplished.
If you challenge individuals once or twice and go against their impressions then succeeded, even if it's in a little or superficial task, you'll wind up building confidence in your powers and your ideas. Only then will their impression not affect you much because you have previous experience that proves that you can succeed.
Ask your higher power for guidance and help and you'll feel that you're supported by a power which is superior to anybody who rejects what you're doing and to the unforeseen difficulties you'll most probably face on your road to achieving your goal
If you don't believe in yourself you'll wind up discarding your ideas, and not accomplish self love.
On the other hand, if you believe in yourself and continue fighting for what you want and develop self love; individuals may reject your ideas to begin with but will be forced to believe in you in the long run after seeing you succeed.
Synopsis
Reflect about your likes, dislikes, what you want and don't want. You deserve to have the best relationships, career, and lifestyle.
Are You Getting All You Deserve?
A lot of folks battle with the idea of being deserving. They feel that there's something amiss about them. That's why they feel they don't deserve happiness, love, riches, you name it. Here are some things to avoid when trying to change your life and love yourself more. When you're trying to feel you do deserve all the best.
1. Stave off equating yourself with other people, particularly if they have more than you of whatever. You're unique and your situation doesn't match anybody else's. See yourself as an individual with your own exceptional range of influence, which you sincerely have.
2. Stave off equating your present life with your life as a youngster. You were fundamentally powerless as a youngster, as is every child. What was then, when you were a youngster, doesn't manipulate what can be when you're fully grown.
3. Stave off damaging thinking. It's said that individulas have between 50,000 and 60,000 thoughts per day – – most of them damaging. If most of your thoughts are damaging, and they'll be unless you make a concerted effort to alter them, just think how you're perpetuating negativity in your life.
So, there's another side to this coin of believing you deserve all the best. Here are some things to look for in your daily life – – leading to a better feeling about what you deserve and more self love.
1. Attempt to define yourself as who you truly are. One thought you need to distinctly consider is this: You are a child of the cosmos. Yes, if you will, you're divine. Consequently, you deserve all the best.
2. Try to know that what happened in the past, whatever is was, need not restrict you now. The past is at peace. As much as is conceivable, forget it. Live in this minute. Make the most of this minute.
3. Try to express yourself positively. You begin that by be conscious (cognizant) of your views when you take a minute, make a minute, to consider what you're thinking. Sounds curious, I know. But in order to arrest the negativity in your thoughts, you must become aware of those views. Then, when you find negativity, supersede it immediately with positivity.
Now, take these techniques to avoid and things to look for and apply them to life now. I believe you'll feel immediately more deserving.
Other Details
- 1 Article (DOC)
- 1 Ebook (DOCX, PDF), 44 Pages
- 1 Lead Magnet Report (DOC, PDF), 16 Pages
- 1 Autoresponder Email Messages (TXT)
- 1 Salespage (HTML)
- 1 Squeeze Page (HTML)
- Ecover (JPG)
- File Size: 10,305 KB