Salespage Snapshot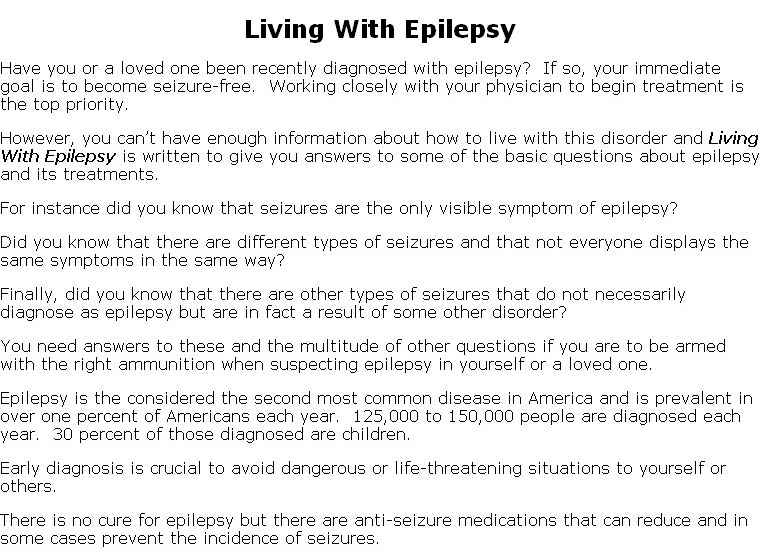 >> Click Here To View Sales Page...
Ebook Table Of Contents
The History of Epilepsy
What Is Epilepsy?
What Are Seizures?
Who Is At Risk For Epilepsy?
What Are the Causes?
Is Epilepsy Genetic?
Is Epilepsy Congenital – Will I have it Forever?
What Is SUDEP?
What Are the Different Types of Epilepsy and Seizures?
How Does Epilepsy Affect Thinking and Memory?
Epilepsy and Moods, Behavior and Sleep
How Is Epilepsy Diagnosed?
What Treatments Are Available for Epilepsy?
Epilepsy and Diet and Nutrition
Living With Epilepsy
PLR Ebook Sample Content Preview
The History of Epilepsy
Epilepsy is a serious disease that currently afflicts millions of people around the world. But did you know that epilepsy has already existed and puzzled our ancestors as far back as the start of human existence? In fact early medical writings as early as 3000 years ago, show that no disease has sparked so much interest and controversy among the early people than epilepsy.
However, our ancestors believed that epilepsy was an act of supernatural beings. The Babylonians, for one, believed that seizures were caused by demons attacking the person. The ancient Greeks on the other hand, believed that one will be afflicted with epilepsy by offending Selene, the goddess of the moon and in order to cure the disease, one has to eat mistletoe that has been picked without the aid of a blade during the time the moon is smallest in the sky. The ancient Romans did not only believe that the disease came from demons but that it was contagious as well.  To get rid of the disease, one was required to spit to expel the demons.
Other Details* Sales Page:
Included, HTML, MS Word Doc
* File Format:
MS Word Doc, PDF
* Number of Pages:
65
* Download File Size:
196 KB