Salespage Snapshot: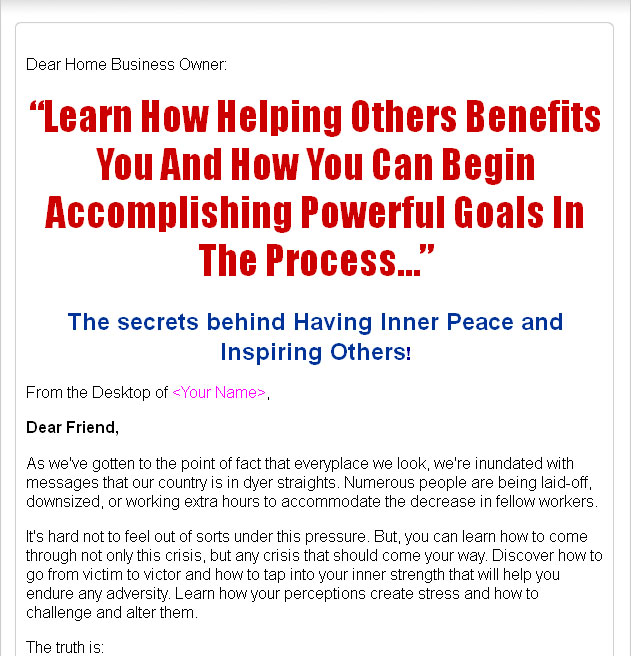 >>> Click Here To View Full Sales Page…
Table Of Contents
Chapter 1:
Living an Inspired Life
Chapter 2:
Qualities for Inspired Living
Chapter 3:
Gardener of the Mind
Chapter 4:
How to Inspire
Chapter 5:
Simple Ways to Re-Inspire You
Chapter 6:
Your Hidden Cheerleader
Chapter 7:
The Chain of Inspiration
Chapter 8:
Filling the Creative Well
Chapter 9:
Inspirational Speakers in Cyberspace
Chapter 10:
Inspiration for Creative Artists
Sample Content Preview
What does it take to live an inspired life?
Qualities of Inspired Living
"If you have built castles in the air, your work need not be lost; that is where they should be. Now put foundations under them."
– Henry David Thoreau, American author and philosopher
Many qualities are spoken of by the few people who live a truly inspired life. But what do these much bandied qualities actually mean in everyday life? Take a quick look at 5 prized qualities that are the hallmarks of inspired living and how they can be expressed in your actions:-
Honesty and Conviction – Be yourself and believe in yourself. Ask for what you want and express yourself clearly. See everything clearly for what it is. Seek and follow only the truth.
Love and Compassion – Care for the less fortunate and love your fellow human beings as much as you love yourself. Love your work passionately too or find your true vocation where love of work comes naturally.
Courage – Follow your deepest and highest dreams. Dare to jump out of the box of conventional thought. Clobber your bad habits. Defeat your deepest fears. Never say never to even the most impossible ideal. Persevere even in your darkest hours.
Efficiency – Optimize your work, but remember to also smell the flowers. Stop complaining and start working. Exploit every hour of the day. As the Romans say, 'Carpe Diem'! Seize the Day! Get rid of the weeds in your mind. Dream of the future, but live in the present
Inspiration and reflection- Mentor someone weaker than you. Utter an uplifting quote and smile all day. Appreciate the good around you. Meditate and explore the farthest corners of your heart and mind.
The opposites of these qualities are always lurking around to overpower the weak willed mind. But stick to it and make these sterling qualities your own. And you will have surely started laying the foundations under those dream castles that you have built!
Summary
The mind needs to feed on a few things. Unless there is good nourishment, there's no development.
Gardener of the Mind
"I have never had so many good ideas day after day as when I worked in the garden."
– John Erskine, American author
How do you prepare a garden for growing flowers and fruit trees? Do you just plant the seeds and water them straight away? After a while, the flowering plants and fruit trees will rise, no doubt, but in that pampered soil, the seeds of weeds also rise. Weeds are ruthless creatures and can eventually strangle the most beautiful and inspiring flowers.
So it is with the garden of your mind. If you set out to plant inspired ideas in your life, you first have to get rid of bad habits – the weeds of your mind. Not just remove them at the start, but continuously watch out for them. Even the most brilliant of inspired thoughts will die in a forest of vices. Even one bad apple can ruin the basket.
How do you keep weeds out of the Mind Garden? Focus hard on your dream. In an archery contest, Arjuna, one of the mythological Pandavas in the Hindu epic Mahabharata, is asked what he sees when he aims at the fish hanging from the ceiling. He answers – I see only the eye of the fish.
Thus you can cast aside vices that tempt you. Read great books, watch classic movies and listen to good music for inspiration. Vices creep in through the windows of your senses. So immerse all your senses only in brilliance and beauty. Your face will shine like an Enlightened One all day and your mind will have an invincible power. And only then will your inspired seeds bloom into achievements.
By the way, when was the last time you worked in a garden? Go out there today and put your fingers into the earth. Smell the soil and the roots of plants. Thou doth forget the earth and the life that it nourisheth and yet thou seeketh the seeds of inspiration!
Summary
Inspiring others is more challenging than getting inspired yourself.
How to Inspire
"If your actions inspire others to dream more, learn more, do more and become more, you are a leader."
– John Quincy Adams
A place that could do with loads of inspired behavior is your workplace. How do you inspire yourself and your colleagues into working better? Or in the words of a thesaurus, how do you animate, stimulate, invigorate, energize, galvanize and revolutionize them into action?
One truth stands out from among the thousands of corporate self-help lines tossed around nowadays – There is no leadership except leadership by example!
You must inspire your workforce by being a role model of dynamic, efficient and honest work. Modern gurus say – don't work hard, work smart. But to achieve that level of efficiency, one has to work hard indeed. Your perseverance and courage will empower your team to step out of their comfort zones and do better. When you exceed your own expectations, your staff will seek to do the same.
In these harsh recession days, employees are watching how much you make and how much the top guns reward you. If you flash past your workers in a Ferrari, that is not going to inspire them. But if you take part of your bonus and spend it on a workshop or creativity seminar for your staff, they will be moved and roused by your selfless action. Steer clear of backroom politics, your workers will respect you more if you skip the spin speak and nasty gossip.
You can hold your staff to high standards, but don't expect them to get there overnight. Don't give them that lecture of praise only on retirement day. Praise progress, it will give a lilt to their step and they will love you for it. Talk less and listen more. Empathize with everyone at a genuine level.
Your people have creative minds. Let their inspiration benefit you too. Invite new ideas, small ones and big ones and award the best ideas, however tiny they may be. Remember 'to inspire' means 'to take in breath' and also 'to give life to'. When every member of the firm gives and takes, breathes in and out, there will be growth in the company tree.
Other Details
- 1 Ebook (DOCX, PDF), 45 Pages
- 1 Salespage (HTML)
- Ecover (JPG)
- File Size: 631 KB