Salespage Snapshot: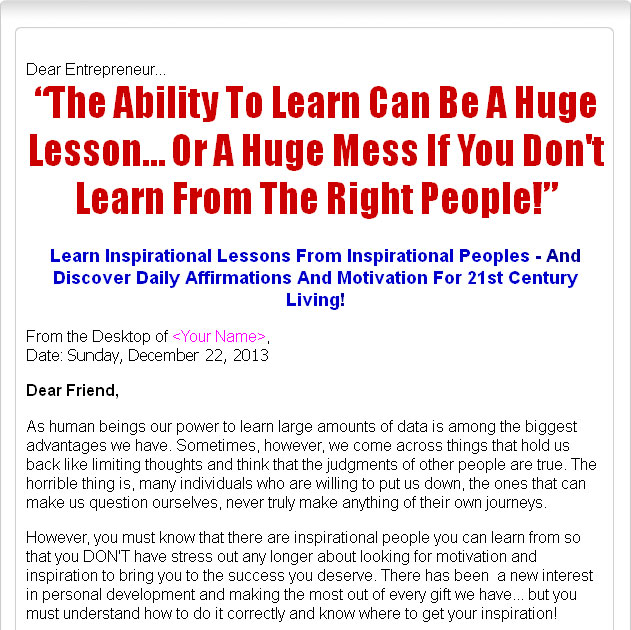 >>> Click Here To View Full Sales Page…
Table of Contents
Foreword
Chapter 1: Nelson Mandela and Courage
Chapter 2: Russell Simmons and Being A Visionary
Chapter 3: Warren Buffett and Growing For Success
Chapter 4: Princess Diana and Kindness
Chapter 5: Mahatma Ghandi and Following Through
Chapter 6: Mother Teresa and Humbleness
Chapter 7: Martin Luther King for the Good of Others
Chapter 8: Buddha and Inspiring People
Chapter 9: Winston Churchill and Enjoying Life
Chapter 10: Richard Branson and Reaching for Opportunity
Sample Content Preview
Synopsis
Doing the right thing benefits us all.
The "Right Thing" Benefits You As Well
Martin Luther King
Why is he inspiring? Martin Luther King is most significantly known for his "I have a dream" speech in which he stood for what he believes in. This speech contributed to public awareness of civil rights movements and also made him recognized as one of the greatest orators in history.
What can he teach? Do things for the greater good of mankind, instead of just focusing on your own constraints.
Quote: "An individual has not started living until he can rise above the narrow confines of his individualistic concerns to the broader concerns of all humanity."
The "Right Thing" Leads To Success
True success doesn't come from getting things at any and all cost, but from conducting yourself and in such a way as to benefit others and the greater good. Most successful people will tell you that an outward, ethical approach to life will pay off in a lot of ways.
Sincerity is specified as freedom from deceit, hypocrisy or fraudulence. There are many scammers out there that claim to have the next miracle. These people so prevalent that it seems like these dishonest ways must be the only way to be successful. Luckily, that's not the case. The people who perpetrate these scams tend to get tripped up. Dishonesty might work in the short run, but long-term success demands sincerity.
Personal integrity is vital. A dedication to openness, honesty, and high standards signifies a real leader. If the people in your life can't trust you, they won't help you. The truth is that success only comes with the assistance and support of others. Set expectations high, even for yourself, and handle every situation with the integrity you require from others.
Courtesy is displaying suitable social conduct and being respectful to other people. Successful people are careful not to burn too many bridges, and make sure to always be "on" publicly. Courtesy is critical and treating everybody with respect will pay off in spades. Don't presume that once you find success that it's acceptable to treat people badly.
Wisdom isn't just book smarts, but the ability to couple that knowledge with reasoned judgment. That is, wisdom lets you discern what is necessary from what isn't. Wisdom is what divides the experts from the merely schooled and generally bounds from the seasoning of experience, whether good or bad. Successful people learn from every decision they make, every obstacle they face, and every triumph they savor.
Charity is more than just giving to the greater good, but is as well a habit of giving the benefit of any doubt. People need to be responsible for making a difference in their community, country, and the world. As you earn success and wealth, repaying shouldn't be a question.
Daily Affirmation
Integrity, Integrity, Integrity – do the right thing, for the right reason, the right way.
Synopsis
You would be surprised what happens to you when you inspire others.
How To Inspire Others
Buddha
Why is he inspiring? Siddhattha Gotama was thought of as the 'enlightened one' and yet to this day inspires people with his messages of harmony, oneness and living in the moment.
What can he teach? Do not take anybody's messages as reality. Use what works for you and send away the rest.
Quote: "Only accept what passes the test by proving useful and beneficial in your life.
A Few Tips
Inspiring other people isn't simple. The success rate of those who try to inspire is unbelievably low when the measurement of success is based on the percentage inspired as opposed to the real number inspired. Huge motivational seminars with 1000s of attendees commonly make a very lasting impact in only a couple of people's lives. If you view those same odds for yourself, you may easily be deterred if you hope to inspire others by doing something you don't truly love to do.
If, however, you do love something a lot, you won't care how successful you are at inspiring other people and you'll continue to persevere regardless how many times you go wrong. When individuals doubt you, and when individuals poke fun at your failures, you'll continue to do what you love because you love it. So having that profoundness, that love and passion for something, will protect you from all potential failures.
Make the most of failures and continue to drive your passions. Inspire other people even when you don't succeed at first.
Share your themes with as many individuals as imaginable and allow them grow your influence beyond your initial ideas for inspiration.
Thinking large isn't only about inspiring more individuals, but also about the impact you have on each individual. Don't settle on making small changes in a person's life if they need a total rework. Rather, aim to change everything. Look to inspire in many areas rather than just one. Think big about the positive affect you may have and this will give you a much better chance of leaving some sort of impression.
Another valuable way to inspire other people is to support an established noble cause or practice, like saving the environment or feeding the poor. It's much easier to acquire attention, followers, and support for noble causes than it is for individual gain or what some may think are more selfish reasons.
You need to remain actively involved in the field in which you think to inspire other people. It's the age old saying of "practice what you preach," and it bears true for anybody attempting to inspire others. In the end, if you really want to inspire other people to do something then this 'something' should be a huge part of your life. You don't necessarily need to be an authority at it, but you do need to be passionately involved.
The dearest part of inspiring other people is to have interest in not only what you do, but to also acknowledge your followers and have an chance to see them grow and change also. Offer to share your personal tales, teach them things you've acquired along the way, discuss your failures and accomplishments, and ask them questions about their own advancement. Help them avoid the errors you've made in the past, and always maintain a positive outlook on their advancing progress.
Other Details
- 1 Article (DOC)
- 1 Ebook (DOCX, PDF), 49 Pages
- 1 Lead Magnet Report (DOC, PDF), 17 Pages
- 1 Autoresponder Email Messages (TXT)
- 1 Salespage (HTML)
- 1 Squeeze Page (HTML)
- Ecover (JPG)
- File Size: 9,156 KB