Salespage Snapshot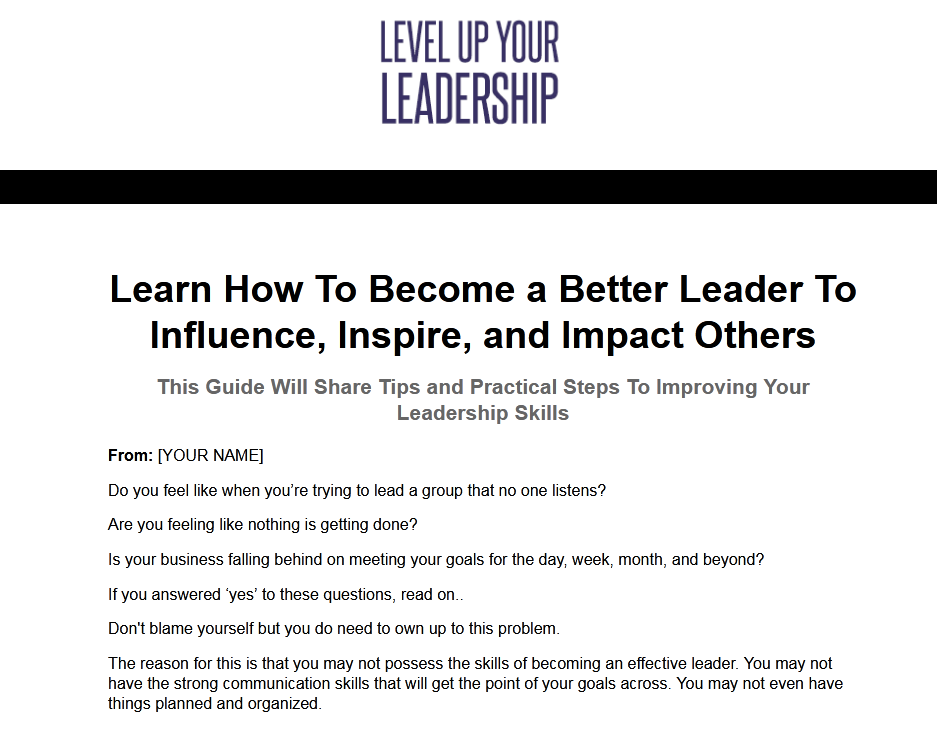 >> Click Here To View Sales Page...
Table of Contents
Introduction 7
What will be covered? 9
It's time to make a decisive move 11
Develop Yourself First 13
Develop the mindset of a leader 13
Facing challenges is normal 14
Have humility 14
You are decisive 15
Being resourceful 15
Thinking ahead of the future 15
Being open and honest 16
Recognizing other people's success 17
Accepting responsibility 17
What type of leader are you? 17
Autocratic 18
Democratic 18
Transformational 19
Diplomatic 19
Bureaucratic 19
Transactional 20
Goal Setting Like A Leader 22
Stage 1: Goal setting 22
Stage 2: Setting a strategy 24
Stage 3: Tracking progress 25
Step 4: Achieve and Repeat 26
Final Thoughts 27
The Essentials For Success: Planning And Organization 30
Why is planning so important? 30
The Eisenhower Matrix: Making Planning And Prioritizing A Lot Easier 31
Organization = Resourcefulness 33
Communicate at all times 33
Making It Happen Through Effective Execution 37
Get rid of fears and limiting beliefs 37
Go over your goals and plans with your team 38
Make your expectations clear 39
Create routines 39
Document and review any progress 39
Empower your team members 40
Final Thoughts 41
You're Only As Strong As Your Weakest Link 43
Every team member is as strong as its weakest member 43
Seeking out the weakest link and how to handle it 44
What if the weakest link is you? 46
Take better care of yourself 46
Kill your imposter syndrome 46
Eliminate your limiting beliefs and fears 47
Empowering Your Team 50
Encourage sharing ideas and insights 50
Provide positive feedback 51
Be a mentor for them 51
Build leaders 51
Enact an open door policy 52
Place trust in your team 53
Performing Performance Management 55
What is performance management? 55
Why should you do performance management? 56
Tips for effective performance management 56
Make them frequent 56
Give them a detailed report 57
Allow them the chance to comment 57
Formulate a plan 58
Cut out the consistent poor performance 58
Leadership Is A Never-Ending Job 61
Even on vacation, you still have decisions to make 61
Some of your leadership skills will apply in the real world outside your
office 62
You'll always be keeping track of progress 62
Conclusion 65
Sample Content Preview
This is the guide for you if you are serious about taking responsibility. In fact, you as a leader must have this skill already. It's up to you to make the move and improve yourself. This guide is also for those that may be struggling with communicating, goal-setting, making executive decisions, and so much more. By the time you finish reading this, your leadership skills will be improved. Those who are your subordinates may notice something different about you and the way you operate.
What will be covered?
This guide will cover eight different aspects of being a leader. Let's give you a brief synopsis of what each chapter will cover;
● Develop Yourself First: The first building block in becoming a great leader is to work on yourself. There is no other way.
In this chapter, we'll talk about tips on how you can improve yourself as a leader both inside and out. We'll talk about developing the mindset of being an effective leader. We'll also touch on the kind of leadership style that fits you best.
● Goal Setting Like a Leader: Setting goals is just a part of success. Conquering those goals will also be part of that process as well. In this chapter, we'll go deep into how you can set goals that you and your team can conquer every single time without issue. Sure, there will be challenges that will need to be addressed. But this process will make goalsetting simple and straightforward.
● The Essentials for Success: Planning and Organization: Planning for success and organizing the priority tasks will be essential for each leader. What gets done first? What will be taken care of by others on your team? We'll talk about the planning and organization process and how you as a leader must act on it.
● Making it Happen Through Effective Execution: Planning is one thing. But execution is another. No plans will come to fruition if you do nothing. This chapter will cover how you can execute and make the move without hesitation.
● You're Only as Strong as Your Weakest Link: We'll talk about the common strengths and weaknesses leaders face every day. If you have weaknesses of your own, this chapter will show you how to improve on them so they can become strengths themselves.
● Empowering Your Team: As a leader, you must motivate, inspire, and empower your team. Doing this will make the difference between one that is high in morale and productivity from one that may be dull and indifferent.
● Performing Performance Management: This will help you evaluate your team. Who is productive and pulling their weight and who isn't? You'll learn exercises that will help you encourage team members that may need to improve or face the consequences.
● Leadership Is A Never-Ending Job: As a leadership, your job keeps going. Whether you're at the office or at home, you have a responsibility to put your leadership abilities to the test. We'll talk about how it can apply outside of your professional life.
It's time to make a decisive move Next may be your greatest challenge yet. You have two options to decide from:
● Either you put this guide away and never read it again. And your leadership abilities will stay the same. No effective communication, no ability to take decisive action, or be able to get your team to rally behind you.
OR
● Keep reading and improve your leadership abilities so you can face the challenges head on. Set goals, plan and prioritize, empower your team, and have them follow you through every straight and turn.
The second decision should be a no-brainer. If you chose that option, continue on to the next chapter.
Develop Yourself First
The first thing you want to do as a leader is develop yourself.
This chapter will cover how to adopt the mindset of a leader.
We'll also talk about the type of leadership styles that will fit you best based on a personal assessment of your personal beliefs and values.
It will take time to develop yourself into a leader. The timetable will vary from person to person. Some will develop quickly while others will need a bit more time to fine-tune their abilities.
Furthermore, even if you develop the basic frameworks of being a leader, you will still need to improve over time. This will be evident in the final chapter that covers leadership being a neverending job. With that said, let's dive right in to help you develop yourself into the leader you want to become.
Develop the mindset of a leader
The kind of mindset a leader must have should be one that involves growth. Not only that, they believe it should also acquire a certain kind of belief system, attitude, and what they should expect. Without the right mindset, being an effective leader might not be possible.
Other Details
- 1 Ebook (PDF), 66 Pages
- 2 Graphics (JPG, GIF, PNG)
- 1 Salespage (HTML)
- Checklist, Resource Cheat Sheet, Mindmap, Optin Page, Social Media Images, Email Swipes
- Year Released/Circulated: 2022
- File Size: 37,761 KB
License Details:
[YES] Can be sold
[YES] Can be used for personal use
[YES] Can be packaged with other products
[YES] Can modify/change the sales letter
[YES] Can be added into paid membership websites
[YES] Can put your name on the sales letter
[YES] Can be offered as a bonus
[YES] Can be used to build a list
[YES] Can print/publish offline
[YES] Can convey and sell Personal Use Rights
[YES] Can convey and sell Resale Rights
[YES] Can convey and sell Master Resale Rights
[NO] Can modify/change the main product
[NO] Can modify/change the graphics and ecover
[NO] Can be given away for free
[NO] Can be added to free membership websites
[NO] Can convey and sell Private Label Rights