Salespage Snapshot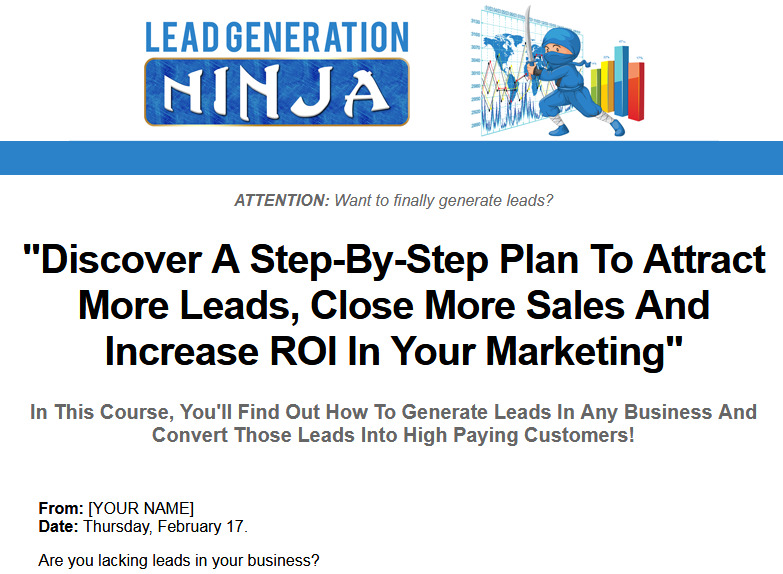 >> Click Here To View Sales Page...
Table of Contents
Introduction. 5
Chapter 1: The Types of Leads and What They Mean……………….. 8
The Life Cycle of a Lead……..8
Cold Leads……….. 9
Warm Leads…..10
Qualified Leads………………. 10
Lead Scoring and Categorization……11
Chapter 2: Playing the Long Game – Create Leads, Not Customers……. 13
Branding and Leads…………… 17
Chapter 3: How to Create Interest and Sell the Dream…………….21
The Buyer Persona……………..22
The Value Proposition………. 24
Chapter 4: How to Build Trust and Influence………….. 27
What is Content Marketing?……………… 28
Chapter 5: Building a List Through a Squeeze Page………………..31
Design….32
Using Incentives.. 34
An Example of the Copy…..35
Chapter 6: A Guide to Writing Persuasive Copy……. 37
Good Copywriting…………………39
Chapter 7: Creating Leads Face-to-Face and Through Other Means…….41
Chapter 8: How to Convert – Turning a Lead Into a Buyer……. 44
Introducing AIDA.45
Minimizing Risk…. 46
Urgency and Scarcity…………47
Sales Funnels……..49
Chapter 9: Lead Management Software Explained..51
Choosing an Autoresponder…………….. 53
MailChimp:…….. 53
AWeber:……………53
GetResponse:.54
Chapter 10: The Best Lead Generation Methods…… 54
Finding Cold Leads……………..55
Making Warm Leads…………..56
Getting Qualified Leads…….56
Converting Leads………………… 57
Conclusion and Summary……….. 58
Sample Content Preview
Chapter 2: Playing the Long Game – Create Leads, Not Customers
In the introduction, we looked in some detail at the importance of creating leads versus customers and we discussed why leads were on the whole more valuable. A good lead is much more likely to have a higher customer lifetime value versus someone that you persuade to buy out of the blue. Moreover, it is much easier to build a large number of leads than it is to create a large number of customers.
But we also mentioned how leads could impact on your business strategy and actually help you to alter your approach to business such that you would have a better brand and be able to offer more value to your visitors and to your customers.
Perhaps a good way to look at this would be to illustrate the point using an example. Let's imagine two websites – one that focusses on sales and one that focusses on leads.
The website that focusses on sales would most likely have a 'Buy Now' button front and center, right on the home page. The text would be focused on making a sale and it would continuously reiterate how great the product was and why people should make a purchase there and then while 'stocks last'. The social media channels would likely take a similar tact and would be full of promotional posts, along the lines of:
'Find out why our tills are second to none!'
'Want to serve customers faster and keep your costs down? Our till system is better than all the rest!'
'Buy now and save $50! Hurry while the offer lasts!'
All this might work to some extent. If someone is in the market for that specific product – a till in this case – then they might see the offer and buy.
The same could be true for a supplement company. Let's say you're selling a protein shake and you make your home page a single 'sales page' telling people to buy your protein shake, raving about the flavour and listing all the powerful ingredients. Your social media might read:
'Get buff with Super Shake Plus!'
'50% Offer – Get Muscles for Less!'
And once again, this might help you to convert some sales if people come across your site.
But ultimately, the vast majority of people are going to see these adverts and they're going to want to leave. This includes people who run high street stores and people who want to build muscle. Unless they're in the market for your specific product right at the point that they discover your page, they'll probably just be annoyed by your flagrant attempts to sell to them, they'll leave and they won't come back. You can expect to make a 5% conversion rate at the very best and your customer lifetime value will depend purely on the quality of your product.
The problem is that you're now trying to take your cold leads and turn them into buyers. You're doing nothing to 'warm them up' first and you've not demonstrated any value or given them any reason to trust your brand.
Essentially, this is the equivalent of cold calling.
To put this in dating terms, it's like seeing someone in a bar that you like the looks, walking over to them and asking if they'll come back to your place. You might find that this works once in every one thousand attempts but it's going to tarnish your reputation and it certainly won't maximize the quality or quantity of positive responses!
The Lead-Centric Approach
Now let's take a look at the lead-centric approach. Now your aim is not to try and get someone to buy from you but rather to get them to be interested in your business. You want to take them from a cold lead to a warm lead by getting them to see the value in your business, In dating terms, this means your aim is now to try and get a phone number rather than to take people home with you – which in the long run is more likely to mean people end up going home with you.
Moreover, you're not going to ask for that number right away but instead demonstrate value first by showing how witty and nice you are to spend time with!
So when it comes to lead generation, this means that your website might provide lots of information for small businesses or for people trying to get into shape. The website will have a strong brand and will present itself as a 'movement' or a lifestyle. People will want to get involved and they'll see that exciting things are going on here. Your Facebook posts won't all be about making sales – you'll share interesting facts, post inspiring pictures and link to articles that people might find interesting. You're now giving them a reason to check back.
This then means that you'll not only capture the people who are directly looking to buy your product but rather you get the attention of everyone who is interested in your niche/industry. That means any small business owner or any person interested in fitness might follow you on Facebook or subscribe to your mailing list. They are now warm leads.
This then means you have the option to repeatedly contact them and to spend a long time gradually trying to turn them into qualified leads. You'll do this by continually providing great quality content so that they stay subscribed and keep coming back but at the same time, you'll also let them know that you have these exciting products or you're working on something new. Now at any point where they need a new till, or a new protein shake, they might think to look into what you're offering further.
They know you're able to offer good value, they already trust and recognize your brand and the option is constantly being offered to them. You've drastically increased that customer lifetime value because at any point, they can make the option to click buy.
What's more, is that their brand loyalty means they're more likely to be impressed with your product and they're more likely to order again and again.
If you're currently just tweeting about how good your business is and wondering why no one is following you, it's because you're essentially cold calling or spamming. You're not providing any value and you're not warming anyone up. Stop thinking short term and start thinking about the long game!
Other Details
- 10 Articles (TXT)
- 1 Ebook (PDF), 60 Pages
- 6 Graphics (PNG)
- 1 Salespage (HTML)
- Checklist, Resource Cheat Sheet, Mindmap, Optin Page, Social Media Images, Email Swipes
- Year Released/Circulated: 2021
- File Size: 18,235 KB
License Details:
You're granted master resell rights, resell rights or to resell with personal use rights. Price for resell is strictly $7.00 minimum
You may add this product to your PAID membership site
You may giveaway the product as a bonus when people buy through your affiliate link
You may edit the included sales page and opt-in page
No, you may NOT edit the contents of the eBook(s) & videos
No, this product does NOT include private label rights. You are granted Master Resell Rights only
No, you may NOT giveaway the eBook(s) & videos for free. Must be sold for at least $7.00 (videos $17)