Salespage Snapshot: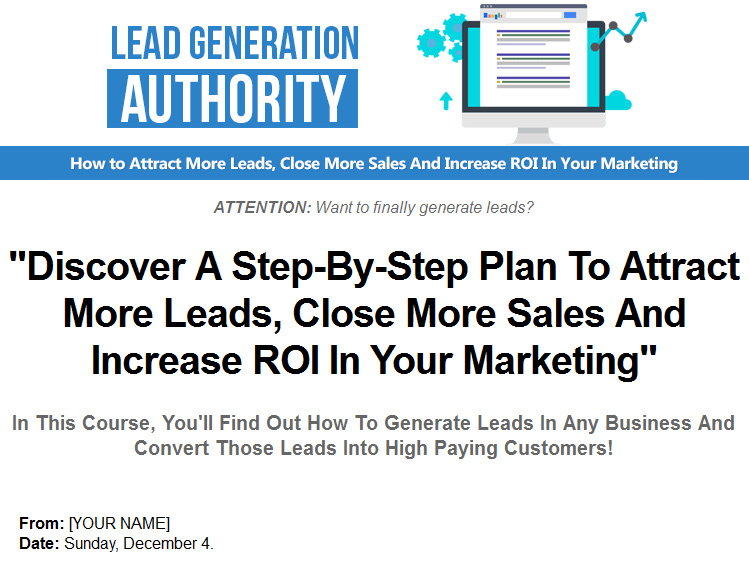 >>> Click Here To View Full Sales Page…
Table of Contents
Introduction . 5
Chapter 1: The Types of Leads and What They Mean 8
The Life Cycle of a Lead .. 8
Cold Leads 9
Warm Leads .. 10
Qualified Leads …. 10
Lead Scoring and Categorization ….. 11
Chapter 2: Playing the Long Game – Create Leads, Not Customers …. 13
Branding and Leads . 17
Chapter 3: How to Create Interest and Sell the Dream .. 21
The Buyer Persona .. 22
The Value Proposition …. 24
Chapter 4: How to Build Trust and Influence 27
What is Content Marketing? . 28
Chapter 5: Building a List Through a Squeeze Page ….. 31
Design …. 32
Using Incentives . 34
An Example of the Copy 35
Chapter 6: A Guide to Writing Persuasive Copy 37
Good Copywriting …. 39
Chapter 7: Creating Leads Face-to-Face and Through Other Means … 41
Chapter 8: How to Convert – Turning a Lead Into a Buyer .. 44
Introducing AIDA 45
Minimizing Risk .. 46
Urgency and Scarcity ….. 47
Sales Funnels …. 49
Chapter 9: Lead Management Software Explained .. 51
Choosing an Autoresponder. 53
MailChimp: ….. 53
AWeber:… 53
GetResponse: 54
Chapter 10: The Best Lead Generation Methods 54
Finding Cold Leads .. 55
Making Warm Leads 56
Getting Qualified Leads .. 56
Converting Leads ….. 57
Conclusion and Summary 58
Sample Content Preview
Cold Leads
First we have the cold lead. The cold lead is the lead that you have only just acquired that knows nothing about your business and that, as yet, has no interest in your product or service. They are a lead though because you have their details/contact with them and because they fit into your target demographic and your buyer persona.
You know all those calls that you get from companies trying to sell you insurance, PPI and other services you don't want? They are calling you because you are a cold lead. In other words, they bought your details (most likely) from another company because they know you fit their demographic. Now they know who you are, they have the means to contact you and you are someone who is likely to want to buy from them.
Their mistake is trying to go straight in for the sale – cold leads haven't given permission or shown any interest and so they're not likely to buy right away. If you try and make a sale from a cold lead, it will likely lead to a backlash.
If you are an internet marketer, then hopefully you aren't buying mailing lists or followers – these are marketing methods that are generally doomed to failure. Our equivalent of this then is a visitor to our website – someone who we now have access to but who may well have just landed their by accident.
Warm Leads
However you got your cold lead, your next step is to convert them into a warm lead. Better yet, there are ways of ensuring that your leads are warm when they first reach you, which can save you a lot of trouble and effort.
The warm lead has everything that the cold lead does – they fit your target demographic, you have the means to market to them and they are statistically likely to buy from you. Their big difference is that they have shown some actual interest in your brand (if not your product) and hopefully even given you permission to contact them.
This might mean they have followed you on social media, it might mean they've joined your mailing list, or it might mean that they have sent you an email praising your site and all your hard work. These people haven't necessarily indicated that they want to buy from you but they have demonstrated some kind of liking for your brand and your ethos. These people are thereby much more likely to buy in future when compared to people that you've never had any contact with.
Qualified Leads
A qualified lead is then a lead that has taken the next step and gone from being interested in your brand to being interested in your product. That means they have somehow shown interest in buying from you – perhaps they have asked for more information about a specific product for example, or perhaps they have added your product to their cart or to some kind of wish list. Maybe they backed your product on Kickstarter even. They might have asked for a quote, or they might literally have told you they want your product.
Either way, the qualified lead is now someone who wants to buy and who just needs that tiny push in order to actually take the plunge.
You can also categorize leads as sales qualified leads (SQL) and marketing qualified leads (MQL). This is a term that is generally used in businesses with separate sales and marketing departments. It depends on which team qualified the lead and very often an MQL will be passed immediately onto the sales team to become an SQL. Sometimes you will also see the term 'IQL' or internet qualified leads. This is what this book will largely be dealing with.
Lead Scoring and Categorization
There are more ways to think about your leads and to categorize them. Some companies for instance will actually 'score' their leads and use this as a measure of how likely they are to buy from you. Only once the lead has reached a certain level do you then go on to actually try and sell to them by sending a special offer by email, or by getting a member of the sales team to give them a call.
How do you score leads as an internet marketer? That's up to you – but ultimately the more data you can collect the better. You might for instance score your customer in terms of engagement with your brand (How often do they visit the site? How many of your emails do they open? Do they comment on your posts?) and in terms of the interest they've shown in buying from you. So for example, a lead with a good score will be someone
who has done Google searches for your specific product, who has spent time looking at the item on your ecommerce store and perhaps who has actually made a purchase in the past.
Finally, you should also categorize your leads based on their demographics. That means thinking about their age, sex, income, location and more. This is important because a lead that has more money is more likely to spend more money with you and a lead that meets certain criteria will be more likely to buy specific products that fall into categories they're likely to be interested in.
Chapter 2: Playing the Long Game – Create Leads, Not Customers
In the introduction, we looked in some detail at the importance of creating leads versus customers and we discussed why leads were on the whole more valuable. A good lead is much more likely to have a higher customer lifetime value versus someone that you persuade to buy out of the blue. Moreover, it is much easier to build a large number of leads than it is to create a large number of customers. But we also mentioned how leads could impact on your business strategy and actually help you to alter your approach to business such that you would have a better brand and be able to offer more value to your visitors and to your customers.
Perhaps a good way to look at this would be to illustrate the point using an example. Let's imagine two websites – one that focusses on sales and one that focusses on leads.
The website that focusses on sales would most likely have a 'Buy Now' button front and center, right on the home page. The text would be focused on making a sale and it would continuously reiterate how great the product was and why people should make a purchase there and then while 'stocks last'. The social media channels would likely take a similar tact and would be full of promotional posts, along the lines of:
Other Details
- 10 Articles (TXT, DOC)
- 1 Ebook (PDF), 59 Pages
- 2 Graphics (JPG, GIF, PNG)
- 1 Salespage (HTML)
- Social Media Images, Email Swipes, Optin Page, Mindmap, Resource Cheat Sheet, Checklist,
- Year Released/Circulated: 2016
- File Size: 14,694 KB
License Details:
1. You're granted master resell rights, resell rights or to resell with personal use rights.
2. You may add this product to your PAID membership site.
3. You may giveaway the product as a bonus when people buy through your affiliate link.
4. You may edit the included sales page and opt-in page.
5. No, you may NOT edit the contents of the eBook(s).
6. No, this product does NOT include private label rights. You are granted Master Resell Rights only.
7. No, you may NOT giveaway the main eBook for free.