Salespage Snapshot: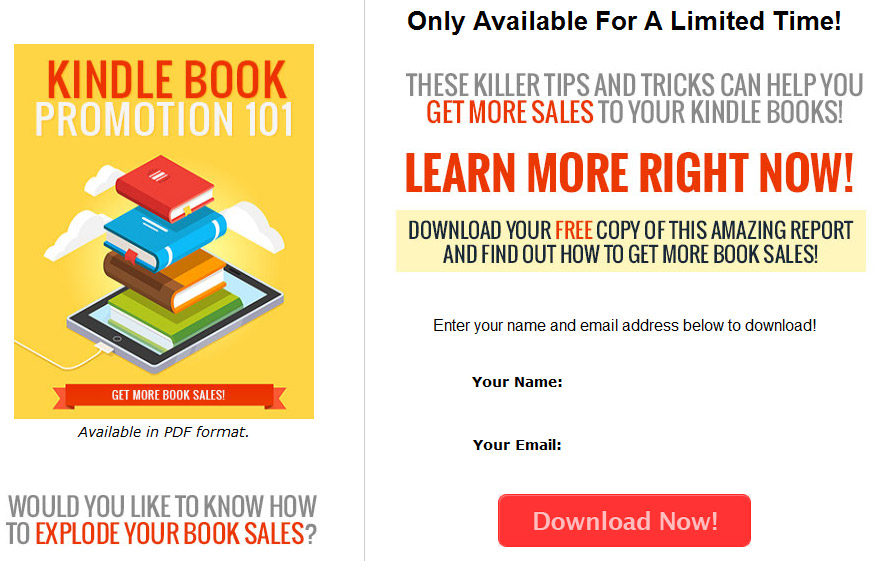 >>> Click Here To View Full Sales Page…
Sample Content Preview
KDP Select
The whole world of self-publishing has been abuzz about the KDP Select program since it was first introduced, but never more so than since they introduced Kindle Unlimited.
Originally, the KDP Select program only had a couple of benefits. It allowed you to run up to 5 days of free promotions or discount prices per 90-day period, and it allowed you to get paid some money whenever an Amazon Prime member borrowed your book with their one free book credit each month. This didn't translate to a lot of revenue, and you could run a free promotion by simply pricing the book free at another store (such as Barnes & Noble or Kobo) and asking Amazon to price match.
The only real drawback was the fact that you had to be exclusive to Amazon for 90-day periods (you could withdraw your book at the end of the 90-day term if you chose to do so). This meant you couldn't put your book onto any of the other online stores, but since Amazon was, by far, the most popular eBook store, it was worth it to some.
In the summer of 2014, Amazon introduced Kindle Unlimited. For a price of about $10 per month, readers could borrow up to 10 titles at once, and an unlimited number total in a month. Authors were paid a percentage of the base fund. As long as the borrower read at least 10% of the book, the author would get paid for that borrow. The amount the borrow was worth varied based on the total number of books borrowed that month, and each borrow was worth a percentage of the total fund Amazon allocated for borrows that month.
Readers jumped on board in droves, and authors quickly discovered they could make a lot of money from those borrows. Authors were getting paid as much as nearly $2 per borrow in the beginning, a percentage of the total fund based on the number of times their book was borrowed versus other books in the program. This number dropped over the course of a year, and eventually borrowed were less than $1.40. Still, it was good money for most.
Then, in the summer of 2015, just a year after the program was introduced, major changes came. Many called this KU2, for "Kindle Unlimited 2". Instead of paying a set amount when a reader got to 10% of the book, they started paying for the number of pages read. That number started out at around $0.0057 per page read and began to drop steadily.
This might have been a blessing to those who had very long books that got read all the way through, but it meant a huge drop in income for a large number of authors.
So is KDP Select still worth it?
Long story short, yes.
KDP Select is still very important from a promotional standpoint. A borrow, even if the borrower never even opens the book, counts as a sale with regards to making bestseller lists. The moment someone borrows a book via their Kindle Unlimited subscription, it gives that book a boost in the bestseller rankings. This may change in the future, but at the moment of this writing, this gives books in the KDP Select program a big boost that other books just can't get.
The free days are another bonus. You have the potential of getting your book noticed by running a free promotion (or a timed discount) for a few days without having to make the book permanently free. This is especially good if you have a series of books, because you can use your free days to get one book downloaded and then promote the other books in the one you've made free.
Ultimately, the decision to enroll in KDP Select is a personal one. Are you willing to sacrifice potential sales at other sites? Remember, you only have to be exclusive for 90 days. Then you have the potential to remove your book from the KDP Select program and upload it elsewhere.
For most people, enrolling in KDP Select is still worth it. Even though you might not make as much money from borrows, the promotional aspect is worth it for most people.
But if you have a big fan base that makes you good money at other stores, it might be a tougher decision.
Reviews
Before we discuss reviews, you should realize that Amazon strictly forbids any form of bribery, and any form of requesting specifically positive reviews. This can have devastating effects, potentially costing you your entire KDP account. Don't do it!
Now that we've got that out of the way, we can discuss reviews in earnest.
Amazon doesn't count offering a free copy of your book in exchange for a review as bribery, unless you ask the reader to leave a positive review. You must make it clear that you're offering a free copy of your book in exchange for an honest review.
If you're offering a copy of your book before it is published, it's called an ARC.
This stands for Advance Review Copy. It's standard procedure to offer ARCs before publication in order to give people time to read the book before it is published so you can have reviews the day the book is released.
If you're offering a copy of your book for review after it's been published, it's known only as a Review Copy.
One good reason to offer ARCs before publication, other than the fact that you get reviews on launch day, which helps boost sales, is that you won't risk upsetting Amazon by offering copies of your book somewhere other than Amazon.
Remember: if you're in KDP Select, your book MUST be exclusive to Amazon, and YES, they do count review copies in that. (Sounds crazy, but it's true.) So you need to offer free copies BEFORE publication if you intend to be in KDP Select.
If you want to offer review copies AFTER publication, you can offer to purchase a copy for the reviewer on Amazon. Just buy the book as a gift and enter the reader's email at purchase. This will send the book to the reader.
Alternately, you can use your 5 free days, and then let people know they can get your book free, and the only thing you ask is that they leave an honest review. Be sure to thank them for their time!
So where can you find reviewers to distribute copies to? The best places are Facebook and GoodReads. We will take an in-depth look at both of these places in later sections.
Book bloggers, people who have entire blogs devoted to reviewing books, are another good source of reviews. Not only can they send you great traffic from their blogs, many of them will also copy their reviews onto Amazon and other sites.
Facebook Groups
Facebook Groups are different than fan pages.
Fan Pages basically allow only the admin to post major messages. When a fan posts a message, it shows up in a small area on the side of the page – an area that very few people actually look at. Groups are different. In groups, members can make posts just like the page admins, and those posts show up on members' new feeds.
The important thing to realize about Facebook groups is you can NOT expect to do drive-by-posting and get away with it. While there are some groups that exist solely for promoting books, most groups have rules for posting.
Other Details
- 1 Ebook (PDF, DOC), 18 Pages
- 7 Part Autoresponder Email Messages (TXT)
- 1 Squeeze Page (HTML, PSD)
- File Size: 3,328 KB