Salespage Snapshot: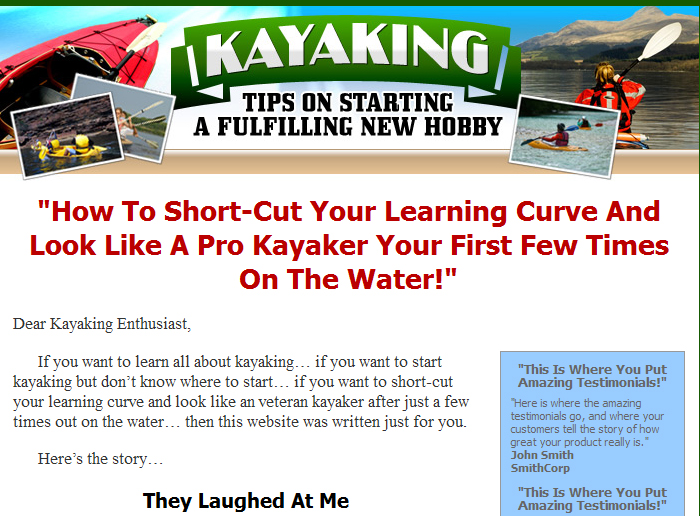 >>> Click Here To View Full Sales Page…
Table of Contents
1. INTRODUCTION
2. HISTORY OF KAYAKING
3. DESIGNS OF CONTEMPORARY KAYAKS
4. LENGTH OF THE KAYAK
5. ROCKER
6. THE V BOTTOM
7. DESIGN OF THE COCKPIT
8. CONSTRUCTION OF THE KAYAK
9. MATERIALS USED FOR KAYAKS
10. MODERN KAYAKS
11. SEA KAYAKS
• ORIGIN OF SEA KAYAKING
• DESIGN OF THE SEA KAYAK
• DECK, STEM AND BOW DESIGNS
• PADDLES FOR SEA KAYAKS
• SIZE OF THE SEA KAYAK
12. SAFE KAYAKING
13. WHITE WATR KAYAKS
14. SUBCATEGORIES OF WHITE WATER KAYAKING
• CREEKING
• PLAYBOATING
• SQUIRTBOATING
• BOOFING
15. SURF KAYAKS
16. SURF SKI
17. DESIGN, STYLE AND CONSTRUCTION OF SURF SKIS
18. WOODEN KAYAKS
19. SKIN ON FRAME KAYAKS
20. FOLDING KAYAKS
21. MILITARY KAYAKS
22. RECREATIONAL KAYAKS
23. FLATWATER RACING KAYAKS
24. SLALOM KAYAK
25. INFLATABLE KAYAKS
26. PEDAL KAYAKS
27. MULTIHULL OUTRIGGER KAYAKS
28. FISHING KAYAKS
29. WAVEWALKING OR STANDING KAYAKS
30. DIFFERENCE BETWEEN MODERN AND TRADITIONAL KAYAK
31. KAYAK FISHING AS AN ENTERTAINING HOBBY
32. WHAT IS A FLYAK
33. A ROYAK IS…..
34. HOW TO CHOOSE YOUR KAYAK?
35. TECHNIQUES FOR KAYAKING
• KAYAKING FOR BEGINNERS
• KAYAKING FOR INTERMEDIATES
• KAYAKING TECHNIQUE 1- FORWARD SWEEP STROKE
• PADDER'S BOX
• HOW TO ROTATE THE PADDLER'S BOX
• EXECUTING THE SWEEP STROKE
• KAYAKING TECHNIQUE – KEEP THE BRACES LOW
36. COMMON PADDLING MISTAKES
37. USING THE FORWARD PADDLE STROKE TO PROPEL KAYAK
38. HOLDING THE KAYAK PADDLE
39. JOIN A BOATING CLUB
40. KAYAKING SKILLS FOR CLASS II
41. KAYAKING IN CLASS II GROUP
42. PROTECTING YOUR SKIN
43. KAYAK FITNESS
• SHOULDERS/TORSO 1
• SHOULDERS/TORSO 2
• TORSO STRETCH WITH PADDLE LEVERAGE 1
• TORSO STRETCH WITH PADDLE LEVERAGE 2
• THE STRETCHING REGIME GOES LIKE THIS….
44. SYNOPSIS
Sample Content Preview
INTRODUCTION
Kayaks can be defined as a boat which can be paddled from a seated position with two paddles. It is a decked boat in contrast to the canoe which is a non decked boat and has to be paddle from a kneeling position with a single paddle.
Being human powered, the Kayak is covered by a spray deck. The paddles are double bladed. Kayaking is using the Kayak to move on the water. The difference between the Kayak and the Canoe is the cockpit. While the kayak has a closed cockpit, the canoe has an open one.
There is a seat at the bottom of the boat where the kayakers sit with their legs stretched out in front. On a canoe, there is a bench which is slightly raised where the canoeist has to kneel down.
Kayaking as a hobby is gaining tremendously in popularity. With lifestyle becoming more and more stressful, a lot of people are taking to kayaking on weekends which is a wonderful way to enjoy with family and friends.
This book gives you detailed information about the various types of kayaks, techniques to use them, tips on purchasing a kayak, etc. If kayaking is already your hobby or you are planning to take it up as a hobby then go on….happy reading and happy kayaking!!!
Other Details
- 30 Articles (TXT)
- 2 Ebook (PDF, RTF), 57 Pages
- 7 Part Autoresponder Email Messages (TXT)
- 1 Salespage (HTML, RTF)
- 3 Ecovers (JPG)
- File Size: 7,591 KB