Salespage Snapshot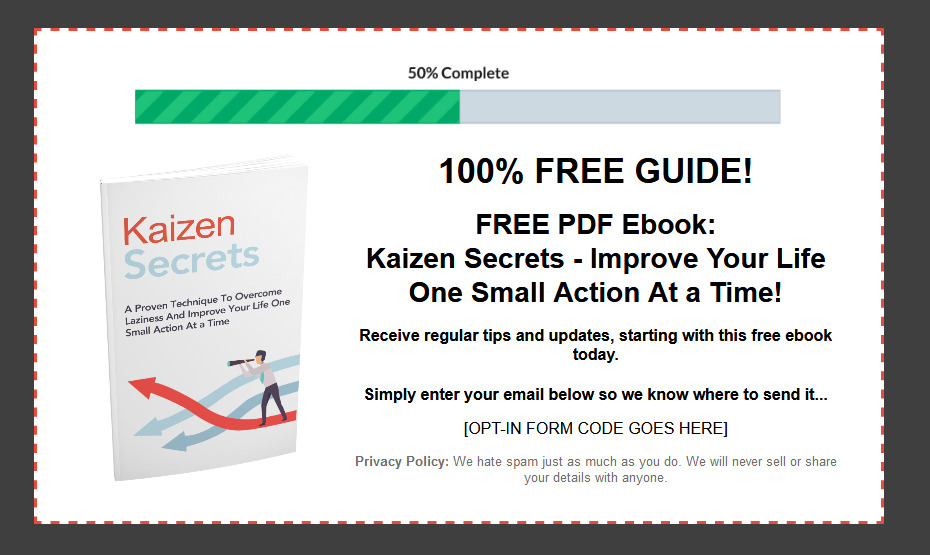 >> Click Here To View Sales Page...
Sample Content Preview
The old way of doing things was to say: I want to get into shape, and so I'm going to start going to the gym four times a week.
Seems reasonable enough, right? Until you realise that those four hour workouts are also surrounded by half hour car journeys to and from the gym. 15 minutes of getting dressed and undressed and a 10 minute shower. You also need to prep your clothes for the next day and wash the smelly ones. That's now 8 hours of new activities, at a time when you previously (apparently) didn't have time or energy. This rarely works.
And yet we continue to make this approach when it comes to our training for a few obvious reasons. One is that it is much "sexier" to start a program that promises to help you look amazing in a month. Another is because that's precisely what the media and most companies want us to do. Gyms would not sell many memberships by telling people to start from home and take it slow!
The new way of doing things is to take a long hard look at your current situation. To assume that your schedule is full, or that your energy (which is a finite resource) is at least partly used.
Kaizen then means looking at this routine, and looking for the small changes you can make to it to make you more productive and more efficient. In other words, before you add 8 hours of training to your routine, you first need to get 8 hours back into your life. And you do that by making small incremental changes.
Stop washing the dishes (get a washing machine). Create a more efficient system for keeping your home tidy. Ditch your daily commute by discussing with your boss working from home.
In short, make your life more efficient to create the time you need and the energy you need to do the things you want to do (in this case that mean working out).
How to Build a Better Training Program
What's more, is that you can start with a much smaller training program. And you can start by making smaller fixes to the rest of your routine to become healthier.
You can even try incorporating "micro workouts" which are ten-minute workouts designed to get your blood pumping. Maybe you are going to cycle to and from work to improve your physique. Then maybe in terms of strength exercise you'll start with just 20 press ups a day, done at a time that you can afford to fit them in.
Do all this, and you'll start to see improvements in your physique over time, even if they don't come quite as quickly. But you'll be FAR more likely to stick with them, because those changes will be small things that fit around your routine.
More Small Changes
Once you realize the power of making small changes in your life, you'll realize that there are countless other tiny changes you can make that will make you more productive, wealthier, more confident, fitter, etc.
Here are some examples of very small changes you can make right now, that will help you to become a better version of yourself. These are small things, but they add up to a lot over time.
Talk to One Stranger a Day
Take one minute out of your routine to strike up a conversation with a stranger. This is a small thing, but it not only means you meet new and interesting people, but also helps you to develop your social skills and become more confident and charismatic. This is game changing in the long term.
Make Your Bed
Another very small and simple act. Just making your bed every day will mean starting your day in the right productive mindset. Moreover, it will mean creating a tidier and cleaner environment that is more conducive to productivity.
Write Down Three Things You're Grateful For
This will help you to appreciate what you already have, which will make you that much happier. You will find that as you practice this one, you eventually learn to focus on the positive naturally and become a happier person!
Stretch for 5 Minutes
Five minutes of stretching can improve your sleep, your posture, your mobility, and more. You'll be pain free and far more energetic than many of your contemporaries!
Drink a Veggie Smoothie
A veggie smoothie doesn't take long to make if you have a blender, but the health benefits can be huge. That's especially true for veggie smoothies because they don't carry the same high sugar content as fruit smoothies.
Other Details
- 10 Articles (TXT, DOC)
- 1 Ebook (PDF, DOC), 12 Pages
- 1 Audio (MP3)
- 4 Graphics (PNG)
- 1 Squeeze Page (HTML)
- Year Released/Circulated: 2020
- File Size: 7,082 KB
License Details:
You're granted master resell rights, resell rights or to resell with personal use rights.
You may add this product to your PAID membership site
You may giveaway the product as a bonus when people buy through your affiliate link
You may edit the included opt-in / squeeze / landing page
You may giveaway the eBook for Lead Generation purpose
No, you may NOT edit the contents of the eBook
No, this product does NOT include private label rights. You are granted Master Resell Rights only