Salespage Snapshot: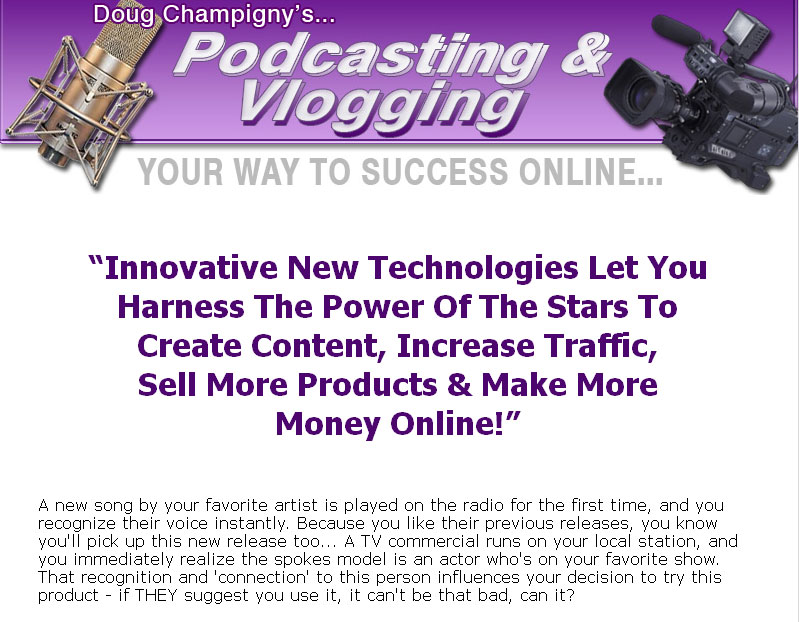 >>> Click Here To View Full Sales Page…
Table Of Contents
Part I: Basic Information
Page 3…..Video Blogging and Podcasting – What's It All About?
Page 5…..The Difference between Video Blogging and Podcasting
Page 6…..Understanding RSS
Page 8…..The Purpose of Podcasting or Video Blogging
Page 10…..Part I Action List
Part II: Podcasting
Page 11…..Podcasting Tools You Need
Page 13…..Writing and Planning Your Podcast Content
Page 16…..Recording Your Podcast
Page 19…..Editing Your Podcast
Page 21…..Using ID3 Tags for Your Podcast
Page 22…..Hosting Your Podcast
Page 24…..Uploading Your Podcast
Page 25…..Podcast Promotion
Page 28…..Part II Action List
Part III: Video Blogging
Page 29…..Video Tools You Need
Page 31…..Selecting Your Blog Host and Domain
Page 32…..Planning Your Video
Page 34…..Shooting Your Video
Page 36…..Editing Your Video
Page 38…..File Format Selection and Uploading
Page 40…..Promoting Your Video Blog
Page 43…..Part III Action List
Page 44…..Conclusion
Page 46…..More Resources From Doug Champigny
Sample Content Preview
Part I: Basic Information
Video Blogging and Podcasting – What's It All About?
Today, we live in a Web 2.0 world. While the promotional methods that once worked still work, for the most part, there are new promotional methods that Web 2.0 has brought to the Internet Marketing playing field. Two of those methods are podcasting and video blogging.
Podcasting and video blogging are essential elements in Web 2.0. If you aren't clear about what Web 2.0 is, don't worry, most people aren't, as there are actually several different definitions, and three people have a hard time agreeing on what Web 2.0 covers. What you can be sure of is that it is not a certain type of software. It isn't tangible at all. It is merely a concept that has certain elements to it.
Those elements allow people who are online to interact with other people more closely. Prime examples of a Web 2.0 environment are MySpace and YouTube. MySpace is a virtual social networking community, where members can set up profile pages and communicate with each other.
The profile pages can be very elaborate, or very simple, and other members of the site can interact with a member through their profile page. Profile pages can include podcasts and video blogs as well. Everybody who has access to an Internet connection can open an account and set up a profile page at a site like MySpace free of charge.
YouTube is a bit different, in that it is a place where anybody who has an Internet connection can go to upload and download videos. The videos are created by regular people – just like you and me. Anybody can be a star at a site like YouTube. Users can also rate videos and view profiles at YouTube as well. Opening a YouTube account and uploading and downloading videos is free.
Along with these valuable and successful Web 2.0 elements, podcasting and video blogging have emerged. There are numerous places where anybody can set up a video blog, and distribute podcasts.
So, essentially, Web 2.0 is anything that allows people to interact with other people, or even with a website, more closely than they have ever been able to before. Again, video blogging and podcasting have become a very big part of the Web 2.0 revolution, and as a marketer, it is essential that you start using these two Web 2.0 elements to their highest advantage.
You may think that other people wouldn't be interested in your video blogs or podcasts, but you would be absolutely wrong. The key to success is choosing a niche, where there are a group of people that are highly interested in that specific topic. If you do that, and you promote your podcast and/or video blog correctly, you simply cannot lose.
Video blogging and podcasting allow you to reach your existing customers, as well as potential customers in ways that were once only achieved with radio and television. These two Web 2.0 elements are actually today's version of television and radio. Video blogs are similar to television shows, and podcasts can be compared to radio shows.
You do not need an existing customer base to benefit from video blogging and podcasting. Again, you can actually build a potential customer base with these two valuable marketing tools.
Video blogging works well because you can use visual aids, and also because it turns you into a real live human being to those who are watching. Studies have shown that video is incredibly more effective than text. People don't feel like they have to read what you've written, but somehow, when presented with a video, they feel compelled to listen and watch.
Other Details
- Ebook (PDF), 46 Pages
- Salespage (HTML)
- Ecover (JPG)
- Year Released/Circulated: 2008
- File Size: 665 KB
License Details:
• You have full MASTER RESELL RIGHTS to this product.
• You MAY resell this product and give resell rights to your customers.
• You MAY include this product on a PAID membership site.
• You CANNOT give this product away for free.
• You CANNOT offer this product as a bonus to another product.
• You CANNOT include this product in a free membership site.
• You CANNOT sell or give away this product on auction sites, including, but not limited to, eBay.
• You CANNOT change any of the content.