Salespage Snapshot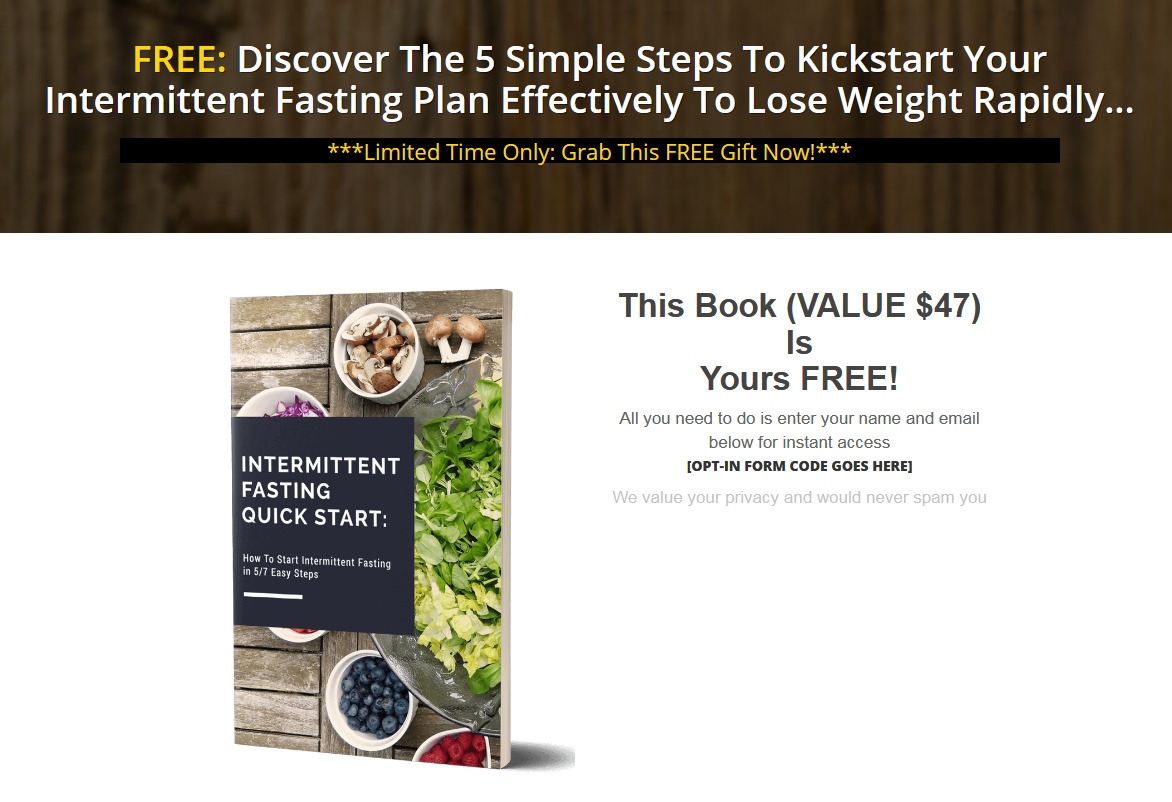 >> Click Here To View Sales Page...
Sample Content Preview
Chapter 2: The Five Simple Steps
So, are you ready to quick-start your intermittent fasting program? All it requires is five simple steps.
Intermittent fasting requires no complicated preparations and it is practically cost-free (unless you choose to invest in supplements or special foods). All you need to do is quick-start your intermittent fasting routine with these five basic steps.
Step 1: Define your Goal
Some people incorrectly assume that the goal of intermittent fasting is to lose weight. But this is by no means the only goal. The first step is to define your personal health goal based on the following categories:
Weight Loss
If your primary goal is to shed those extra pounds, then you will have to watch what you eat more carefully than someone who's not looking to lose weight.
You need to keep a closer eye on your food intake – not necessarily restrict calories, but just consume less calorie-rich foods, avoid snacking between meals and perhaps cut out rich deserts. This will optimize your fasting and help you reach your weight loss goal much faster.
You may also consider adding a workout routine on non-fast days to tone your body as the pounds come off.
Improved Mental Health And Spirituality
Some people fast to improve their mental strength and promote spiritual traits like gratitude, humility, compassion, and learning to accept the simple things in life. In this case, you would want to eat more "brain foods" to improve your mental focus and cognitive function. To promote spiritual traits, you would perhaps prefer to focus on simple but nutritious meals and incorporate meditation into your fasting plan.
Overall Health And Wellbeing
Some people fast simply to reap all the benefits and to feel healthier and more energized. Fasting, in general, is a great detoxifier of the body and just leaves you looking better and feeling better. Some of the first benefits you will notice is improved complexion, healthier hair and nails, and calmer and more balanced digestion. In this case, you can be more flexible with what you eat as long as you are focusing on good nutrition. You can also engage in a light outdoor exercise like walking or cycling or incorporate some other healthy exercise program into your lifestyle.
Step 2: Choose A Fasting Plan
There are a number of intermittent fasting plans and variations of them but the following three are the most popular and most commonly practiced:
• The 16/8 method
With this plan, you fast for a full 16 hours with an eating window of 8 hours every day. Veteran fasters recommend that you start your fast after dinner, around 8 0r 9 pm, and break your fast the next day around noon or 1 pm.
You can see why this makes the best sense. You will be less likely to get hungry after a good diner, while 7 or 8 hours will be taken up by sleep. Breaking your fast by noon or 1 pm the next day will feel like you are having a late breakfast or brunch. You also have room for a light meal or snack in the late afternoon, end your fasting window with a nutritious dinner and repeat the process.
It's recommended that you practice this method by alternating two fasting days in succession with two days where you eat normally. This means that at the end of the second day after dinner, you are free to eat normally for the next 48 hours. More experienced fasters sometimes alternate three fasting days with three normal eating days.
Fluids like water, unsweetened coffee, tea or herbal tea are allowed during fasting hours and in fact, are highly recommended to keep your body hydrated.
If you're a beginner, this plan may seem overwhelming. If you do choose it, however, you can start with a shorter fasting window of 10 or 12 hours and slowly build up to the full 16 hours.
You can also consider playing around with the times that suit your lifestyle best. For example, if you are an early riser, you can plan to break your fast at 10 am. In this case, your eating window would be until 6 pm. It's just a matter of experimenting a bit and finding the hours you are most comfortable with.
• The 5:2 plan
This plan is the closest to a traditional diet but very different at the same time.
The method requires you to eat normally for five days of the week then limit your calorie intake to 600 – 800 calories on the remaining two days.
You are not technically fasting on those two days but dividing 600 – 800 calories over three meals will mean you are drastically limiting your food intake.
Again, no super-restrictive calorie counting is required. Anyone can stay within the required range by using a simple calorie counting app, as well as focusing on low-calorie veggies and fruits on the two "fasting" days.
Again, which days you fast are totally up to you. Some people prefer to have their fast days back to back, for example, Saturday and Sunday. Others prefer to space them out over the week, such as Monday and Thursday. There's no fixed rule here. You decide what works best for your lifestyle and schedule.
Other Details
- 1 Ebook (PDF), 30 Pages
- 1 Salespage (HTML)
- 4 Ecovers (PNG)
- Year Released/Circulated: 2020
- File Size: 2,988 KB
License Details:
[YES] Can be packaged
[YES] You Can Use This Product Yourself
[YES] Can be sold as it is
[YES] Can pass on the Resell Rights privilege to your customers
[YES] Can Add This Product to a Membership Site or Bundled Within a Product Package as a Bonus
[YES] Can be used to create audio/webinar/video products
[YES] Can Give Away The Product (NOT Source Code Files) To Your Subscribers, Members or Customers as a Bonus or Gift
[YES] Can change sales page and/or graphics
[YES] Can be added to paid memberships
[YES] Can sell master resale rights
[NO] Add to a free membership sites
[NO] You can't just pass away the product to anyone
[NO] Contents of the product can be edited, modified or altered