Salespage Snapshot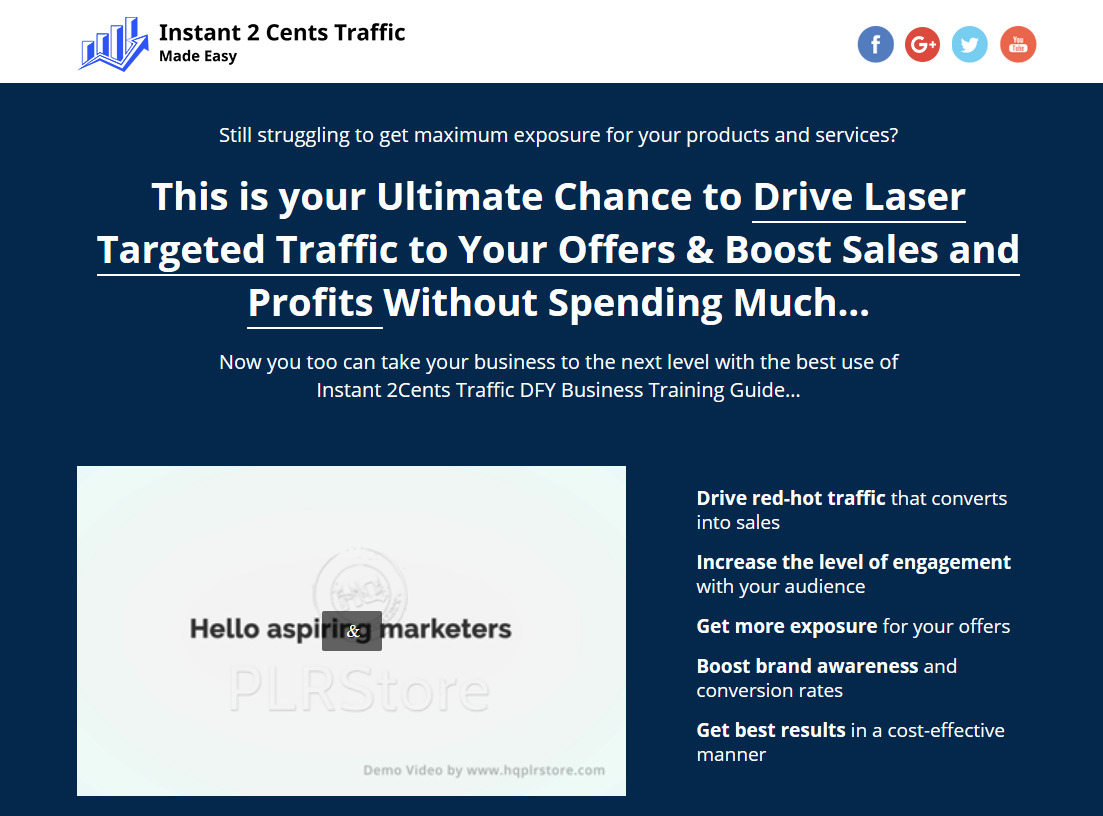 >> Click Here To View Sales Page...
Table of Contents
Introduction 05
Chapter 1: What Is Instant 2Cents Traffic all about? 07
Chapter 2: Researching Instant 2Cents Traffic Keywords To Target In Your Niche 10
Chapter 3: Generating Instant 2Cents Traffic With A Reach Campaign On Facebook 14
Chapter 4: Generating Instant 2Cents Traffic With A Reach Campaign On Google 19
Chapter 5: Generating Instant 2Cents Traffic With A Reach Campaign On YouTube 23
Chapter 6: Driving Instant 2Cents Targeted Visitors To Your Site With A Facebook Ad 27
Chapter 7: Targeting Gmail Users With Instant 2Cents Traffic Display Ads 30
Chapter 8: Generating Instant 2Cents Targeted Traffic From Facebook Messenger 34
Chapter 9: Retargeting Your Instant 2Cents Site Visitors With Facebook Remarketing 38
Chapter 10: Generating Instant 2Cents Traffic From Instagram With A Promoted Post 42
Chapter 11: Generating Instant 2Cents Traffic From WhatsApp With A Promoted Message 45
Chapter 12: Powerful Strategies To Narrow Your Audience For Even Lower Cost Traffic 48
Chapter 13: Other Instant 2Cents Traffic Sources You Can Try 52
Chapter 14: Extra Tips And Tricks To Lower Your Ad Spend Without Sacrificing Quality 57
Chapter 15: The Best Alternative Methods To Generate More 61
Chapter 16: Crazy-Effective Strategies To Increase FREE Instant Traffic 65
Chapter 17: Instant 2Cents Traffic Do's And Don'ts 70
Chapter 18: Instant 2Cents Traffic Premium Tools And Services To Consider 74
Chapter 19: Instant 2Cents Traffic Success Stories 79
Chapter 20: Instant 2Cents Traffic Frequently Asked Questions 86
Conclusion 90
Top Resources 91
Special Offer 92
Sample Content Preview
Chapter 2: Researching "Instant 2Cents Traffic" Keywords To Target In Your Niche
Hello there everyone! We're as eager as you are to start off this awesome journey, so let's kickstart this training with lesson one.
Before you even consider launching a cost-effective online ad campaign to generate instant low-cost traffic, it is important that you know the audience that you want to target. And part of knowing that audience is knowing what keywords they are using to find content in your industry or niche.
So in this lesson we are going to show you the smartest and quickest way to find these keywords, using tools that you already have.
Getting Started
You have to start your keyword research with the Google Keyword Planner. The Keyword Planner is an online tool that allows you to find keywords and search terms based on a single niche keyword. With this tool, you'll be able to find the lowest-cost keywords that generate instant traffic.
To access the keyword planner, go to the https://ads.google.com/intl/en/home/tools/keyword-planner/ URL in your browser while logged in to your Google account. Once on the Keyword Planner page, click on the "sign in" button.
Finding Your 2Cents Keywords
Next, click on "discover new keywords". There are two ways to discover new keywords on this page. If you select to "start with keywords", you have to enter a keyword or search term into the text field.
If you select "start with a website", you'll have to enter a website or page into the "domain or page" field. This can be a great method if you already have a content-optimized blog that the tool can use to scan for keywords.
For this example, we are going to click on the "start with keywords" tab to use a niche keyword to find our "2Cents" keywords.
When selecting this method, enter your base keyword into the keyword field. To get the lowest-cost keyword recommendations, we recommend that you enter a search term instead of a plain keyword. That way you'll find long-tail keywords that are associated with your content in search queries. Here you can add more than one keyword or search term.
Additionally, you can enter your website's URL address or a competitors website URL address into the URL field below to use that website as a filter for those keywords. You can do this if you want to get very narrow keyword
recommendations, but getting broader recommendations can help you find cheaper keywords. Now that you've entered your keyword search criteria, click on the "get results" button.
Let's now look at the results under the "keyword ideas" column. Here's how you will identify "2Cents" keywords, or keywords that'll help you generate relevant traffic instantly, at the lowest cost possible.
First, look under the "average monthly searches" column. Identify keywords that get between "1K to 10K" and "10K to 100K" searches a month. This is the type of traffic that you need to generate!
Alright, next, look at these same keywords under the "competition" column and identify which ones have "low" competition. These are the keywords that are not being targeted as much by advertisers, so their bids are low cost.
Lastly, look under the "top of the page bid (low range)" and find out which of the high traffic, low competition keywords you already identified attract "top of the page bids" that are under $0.80. This is the lowest cost you'll pay for instant traffic that drives action!
Saving Your 2Cents Keywords
Now it is time to save these keywords into a Spreadsheet document. This is the smartest way to have them handy whenever you need to set up a campaign.
Get an "Excel" document or another type of "XML" document ready. Name it "2Cents Instant Traffic Keywords", and add a "keyword" column", a "monthly searches" column, and a "top of the page bid" column to this document.
Now add, one by one, the keywords that you identified in the previous step. First by adding the keyword into the "keyword" column, then by adding its average monthly searches to the "monthly searches" column, and then by adding its respective "top of the page bid" to the "top of the page" column.
You can now use this document to know which keywords you can target on a campaign, and how much you'll spend according to the objective you set. You can also use these keywords to find out which websites and other online places your audience visits, by doing a quick Google search.
And this is it for now my friends! Next up we'll be showing you how to set up search campaigns on top advertising platforms, at the lowest cost possible, the right way. See you in the next lesson!
Chapter 3: Generating Instant 2Cents Traffic With A Reach Campaign On Facebook
Hey there everyone! Facebook is, as of now, the most popular and cost-effective advertising platform on the internet. With millions of active users and hyper-targeting features, it lets you generate tons of instant traffic at a very, very low cost.
In this lesson, we are going to show you how to set up an ad campaign that reaches thousands of people and that will help you send lots of instant traffic to all your sites and pages, at the lowest cost possible, step by step.
Creating A Reach Campaign
You can create Facebook ad campaigns through the ads manager. To access the ads manager, go to the https://www.facebook.com/adsmanager/creation URL in your browser while logged in to your Facebook account.
That URL will take you directly to the campaign creation page. Once there, click on "reach" under the "marketing objective" column. This objective will allow you to show your ad to as many users as possible, for a low cost.
Select this objective and then enter the name of your new ad campaign into the "campaign name" field. Next, click on the "set up add account" button.
On the following page, enter your "account country", your "currency", and your "time zone". Then click on "continue" to move to the next step.
Setting Up The Campaign's Ad Set
Next up you have to set up your ad set for this campaign. Start by entering the name of your new ad set into the "ad set name" field. Now click on the "Facebook page" menu to select the page you want to promote in your ad.
Let's now go to the "audience" section. Here you will have to set up the audience that you are going to target. It is key that you target the correct audience to get the most traffic out of your total ad spend.
First, click on the "edit" button in "locations" to select your target locations. Here you can type the name of your target location in the text field above the map and click on it to select it. You can select more than one target location.
Other Details
- 1 Ebook (PDF), 93 Pages
- Top Resource Report, Cheat Sheet, Mindmap, Special Report
- Year Released/Circulated: 2020
- File Size: 5,867 KB
License Details:
[YES] Can use
[NO] RESELL OR GIVEAWAY