Salespage Snapshot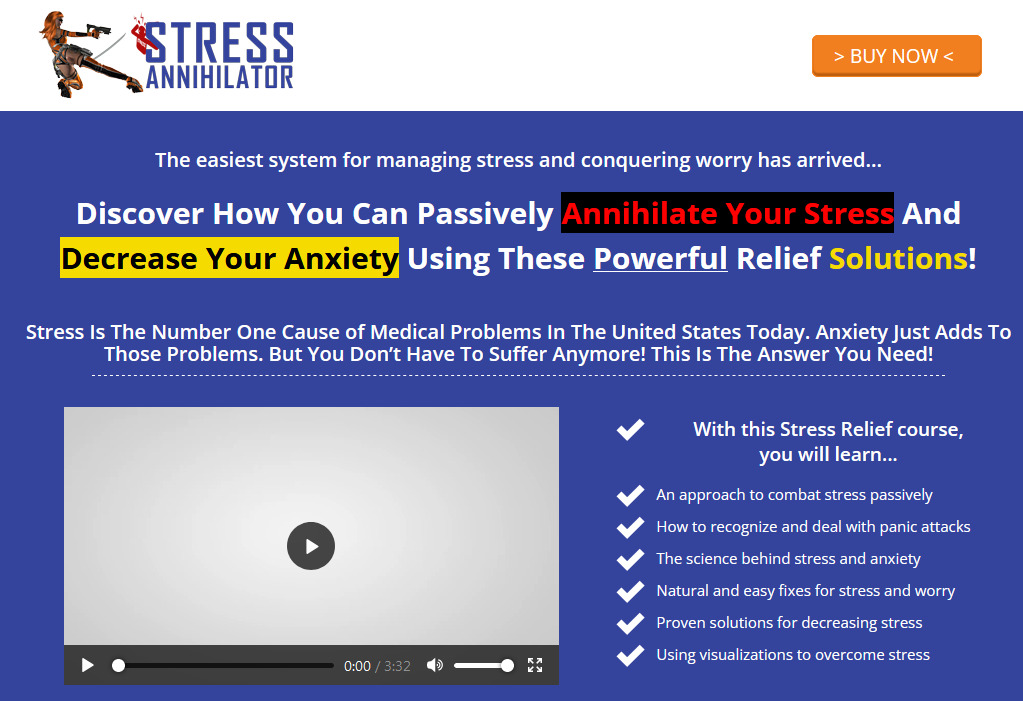 >> Click Here To View Sales Page...
Table of Contents
Introduction: Annihilator Stress Course……… 4
Chapter 1: What's The Cause For All This Stress?……………..7
Chapter 2: Avoiding Behaviors That Fuel Stress…………….. 11
What Can You Do To Counteract These?. 12
Chapter 3: Stress vs Anxiety?.. 14
Physical Symptoms of Anxiety………………16
Chapter 4: Self-Analysis Time..19
Chapter 5: The Science Behind Panic Attacks………………… 24
Signs of An Oncoming Panic Attack……….24
Chapter 6: Coping With Panic Attacks………. 29
How Do You Combat Panic Attacks?…….. 30
Chapter 7: Using Visualization To Calm Yourself……………. 34
Chapter 8: Stress Relief Through Music…….. 39
General Guidelines For Music De-Stressing………………. 40
Chapter 9: Self-Hypnosis for Stress……………43
Relaxation….. 44
Deepening Procedures……. 45
Suggestion Application in Self-Hypnosis.. 47
Termination.. 48
Chapter 10: Stress Management 101……….. 51
The Three Major Stress Management Approaches……..51
Stress Reduction Techniques………………..53
Chapter 11: Even More Stress Management56
Chapter 12: More Methods For Relieving Stress……………. 61
Chapter 13: Learning To Just Say "No!"…….. 65
Avoid Being A People Pleaser………………. 66
Breaking Out Of This Cycle. 67
Chapter 14: Embracing The Concept of Break Time……….. 70
Making The Decision………..71
Chapter 15: Relaxing at Work. 74
Conclusion: Extinguishing Your Stress Effectively……………77
Sample Content Preview
Chapter 1: What's The Cause For All This Stress?
We're living in very trying and difficult times and things don't seem to be getting any easier.
Sometimes life can seem terribly painful and unfair, yet somehow we manage to struggle on, day after day, hoping and praying that things will soon get better.
But day by day the world is becoming a crazier and more uncertain place to live in, not to mention stressful. Nothing seems safe anymore. Millions of people are in record levels of debt.
Many are losing their jobs, their homes, their health and sometimes even their sanity. Worry, depression and anxiety seem to have become a way of life for way too many people.
We seem to have entered the Age of Anxiety. In fact, in 2002, the cover of Time magazine proclaimed this loud and clear on one of their covers as the featured story in that issue. The constant stress and uncertainties of living in the 21st century have certainly taken their toll, and as a result many of us seem to live a life of constant fear and worry.
When the terrorist attacks happened on September 11, this constant stress and worry seemed to just be magnified. In fact, many people even now four years later report they are still scared that something of that magnitude could happen again – perhaps closer to them.
Turn on the news or open up a newspaper and we are bombarded with disturbing images and stories. We begin to wonder if we are safe anywhere. In this, the information age, never before have we had so much access to so much data.
The economy is another stressor. Our country is in debt and so are many Americans. Soaring gas prices, outrageous housing costs, even the cost of food has sent many Americans to work in jobs that are unsatisfying and tedious. They work these jobs because they need a paycheck.
Today, it's more important to bring home the bacon rather than work in a dream career.
Having more women in the workplace adds to the stress. So many women feel the need to be everything to everyone and that includes a paycheck earner, house keeper, mom, wife, daughter, and sibling. The only problem with that is some women just don't make any time for themselves thus contributing to their stress levels being at an all-time high.
Even children can feel the pressure of stress and anxiety. Teenagers who want to go to college find themselves pushing themselves during their studies to try and obtain scholarships so they can attend schools that have ever increasing tuition costs.
They find themselves having to hold down part-time jobs on top of all that to earn money for extras that their parents can no longer afford. Add peer pressure into the mix and you have a veritable pressure cooker!
Cell phones, internet, palm pilots, blackberries, i-pods – we are always on the go and always reachable. We don't make time to relax and enjoy life any more. Why not? We certainly should! We feel pressure to do these things because we think we HAVE to, not because we WANT to.
All too often, it's difficult for people to just say "No". Not saying that one little word piles up unneeded expectations and obligations that make us feel anxious.
All of us will experience situations that may cause us to become stressed or feel anxious. The reasons are too many to note but can include, buying a property, having guests stay over (inlaws!), being bullied, exams, looking after children, managing finances, relationship issues, traveling etc.
Stress is a 'normal' function of everyday life. Only when it appears to take over our lives does it then become a problem.
Everyone will have different reasons why a situation causes them pressure. As a rule it's usually when we don't feel in control of a situation, then we feel its grip tightening around us causing us to feel worried or 'stressed'.
If stress is caused by us not feeling in control of a situation, the answer is to try and reverse this, and regain that control. The good news is: YOU CAN!
You have everything inside you that you need to overcome your stress and the accompanying anxiety. The problem is, often we don't realize that we are in control because we feel so out of control at time. But the tools are there, you just have to use them.
Let's first look at the barriers we put up that are preventing us from becoming healthy and getting rid of our anxiety and stress.
Chapter 2: Avoiding Behaviors That Fuel Stress
There are three obsessive behaviors that you are likely to be engaging in that impeded your healing process and stop you from enjoying a stress-free life. Recognizing these barriers can be a great first step toward getting rid of the problems that go with being too stressed.
The first is obsessive negativity. When you are obsessively negative, it means that you have a tendency toward being "negative" about people, places, situations, and things in your life.
Perhaps you find yourself saying things like "I can't do this!" or "No one understands!" or "Nothing ever works!", for example. You may be doing this unconsciously, but essentially you have what's known as a "sour grapes" attitude, and it holds you back from knowing what it's like to view life from a positive lens and enjoy the beauty in yourself and people around you!
There's a whole world out there for you…with happiness and positive thinking.
Then you have obsessive perfectionism. When you engage in obsessive perfectionism, you are centered on trying to do everything "just so" to the point of driving yourself into an anxious state of being. You may find yourself making statements such as, "I have to do this right, or I'll be a failure!" or "If I am not precise, people will be mad at me!" Again, this behavior may be totally under the threshold of your awareness, but it interferes greatly with your ability to enjoy things without feeling "uptight" and "stressed."
Finally there is obsessive analysis. When you are obsessed about analyzing things, you find yourself wanting to re-hash a task or an issue over and over again. For instance, you might find yourself making statements such as, "I need to look this over, study it, and know it inside and out…or else I can't relax!" or "If I relax and let things go without looking them over repeatedly, things go wrong!"
While analytical thinking is an excellent trait, if it's done in excess you never get to stop and smell the roses because you're too busy trying to analyze everything and everyone around you.
Gaining insight into this type of behavior is one of the most important keys to letting go of stress, and getting complete power over your anxiety.
Other Details
- 1 Ebook (PDF), 78 Pages
- 1 Salespage (HTML)
- Resource Report, Hybrid Cheatsheet, Mindmap, Legal Page, Sales Video, Email Swipes, Thank You Page, Do's And Do Not's Table
- Year Released/Circulated: 2021
- File Size: 42,401 KB
License Details:
1. You CANNOT put your name or pen name on the product as the creator.
2. You CANNOT edit the contents of the product in any way
3. You CANNOT change the title and sub-title of the product.
4. You can sell the product (E-Book) in PDF format. The recommended selling price is $7.00 to $47.00.
5. You are granted the master resell rights, resell rights or to resell with personal use rights. Nothing else.
6. You CANNOT offer private label rights to this product. You are granted only the Master Resell Rights.
7. You can add the product into a membership site (paid only).
8. You can add the product into your product bundle or package and sell for a higher face value.
9. You can offer the Basic Resell Rights to the PDF E-Book. The recommended selling price is $47.00 - $67.00.
10. You can produce audio and/or video content from the materials found in this product.
11. You CANNOT give the product away for FREE, under any circumstances or situations at all. Must be SOLD.
12. You CAN offer the product as a bonus to another product you are selling. Or as a bonus when people purchase through your affiliate link.
13. You CANNOT sell the product on auction sites such as eBay.com.
14. You CANNOT use sell product in a dime sale event, under any circumstances or situations at all.
15. You CANNOT sell this product as a WSO, under any circumstances or situations at all.