Salespage Snapshot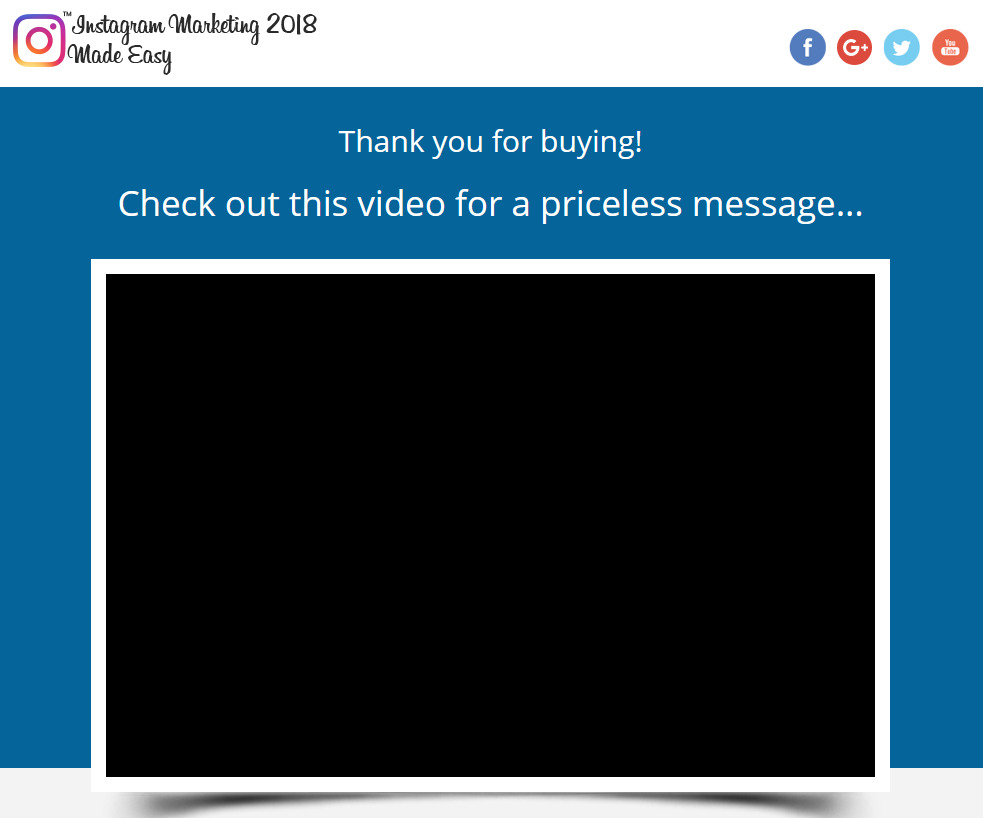 >> Click Here To View Sales Page...
Table of Contents
Introduction 04
Chapter 1: What Is Instagram Marketing All About? 06
Chapter 2: Setting Up A Branded Instagram Account 10
Chapter 3: Researching Profit-Generating Hashtags on Instagram 15
Chapter 4: How To Create Posts That Get Lots of Views, Likes, Comments, and Shares 20
Chapter 5: Boosting Your Best Performing Posts With A Business Account 25
Chapter 6: Sending People To Your Sales Pages With Instagram Stories 34
Chapter 7: Increasing Brand Awareness With Video Posts 37
Chapter 8: Promoting Affiliate Offers With Instagram Live 42
Chapter 9: Promoting A New Product Line With Carousel Posts 47
Chapter 10: Hosting An Instagram Contest To Boost Engagement 51
Chapter 11: Converting Instagram Followers Into Email Subscribers 55
Chapter 12: How To Increase Online Sales With Instagram Shopping 60
Chapter 13: How To Increase Profits With A Micro-Influencer Campaign 64
Chapter 14: Instagram Marketing Tricks To Try In 2018 69
Chapter 15: Instagram Marketing Best Practices For Businesses 74
Chapter 16: How To Monetize Instagram In 2018 79
Chapter 17: Do's and Don'ts 83
Chapter 18: Premium tools and Services to consider 88
Chapter 19: Shocking Case Studies 93
Chapter 20: Frequently Asked Questions 101
Conclusion 107
Top Resources 108
Special Offer 109
Sample Content Preview
Chapter 2: Setting Up A Branded Instagram Account
Hey there everyone! It is about time that we get started with our training, and we're going to start by showing you how to create and customize an Instagram account for your brand the right way. So grab your favorite mobile device and follow the next steps!
Signing Up
Start by downloading, installing, and opening the Instagram app on the tablet or phone that you'll use to manage your branded Instagram account and then tap on "sign up". Next up you'll have to select whether to sign up with your phone number or your email address. In our case, we are going to sign up using an email address, so we'll simply tap on the "email" option. Then we're going to enter our email address in the "email" field, and then we'll tap on "next".
Next up you have to enter your full name and your new password. Here you have to enter the name of your brand or business in the "full name" field and then your password in the "password" field. You can then tap on "next" to continue signing up.
Your "full name" will be taken as your username, and you can tap on the "change username" option on the following screen to change your username before you start using Instagram. In our case, we'll simply tap on "next" to continue.
Customizing and Branding Your Instagram Account
Awesome! Now that your account has been registered, it is time to start customizing it with your brand's image. Start by adding your brand's logo by tapping on the "add a profile photo" button. You can either set a profile photo by taking or uploading a new profile photo, by importing it from Facebook, or by importing it from Twitter.
In our case, we're going to tap on the "new profile photo" option to look for our logo in our media library. We tap on our image logo and then we tap on "next" to continue.
Once you select your image logo you can use filters to customize it, and you can also adjust the brightness, contrast, structure, warmth, saturation, color, and other settings. We recommend you to memorize your image filter and settings, as it is recommended to use the same ones for all your future images, for branding purposes. Once you are ready to add your logo to your account you'll simply have to tap on "next".
Great! Now it is time to personalize the rest of your account with your brand. Tap on the profile icon located on the lower right-corner of your device's screen to access and edit your profile.
Start by tapping on the "edit profile" button. There are three brand customization options that you can edit in this section: "Username", "Website", and "Bio".
Let's start by tapping on the "username" option. Here you can edit your Instagram username to more closely resemble your brand's name in case that you used your own name when you signed up.
Next up we'll tap on "website". Here you can include a link to your website, which everyone that visits your profile will be able to click through.
Keep in mind that this is basically the only place on Instagram outside some shopping and advertising features where you'll be able to insert a direct link to an external site, so we recommend you to use this space to insert a link to a landing page where customers can take action, as you'll be able to include your homepage's URL as a text-only URL in the "bio" or "description" field.
Lastly, let's edit the "bio". The "bio" space should include information about your brand that is easy to recognize at first glance. Now, unlike "description" fields on many other platforms, the "bio" field should be used to include your target niche keywords and hashtags, as well as a text-only URL.
So in our example case, we're going to type a long tail niche keyword, which is also the name of our business, then we're going to tap the "space" key to enter a targeted hashtag. As you can see, you'll get hashtag recommendations based on the initial keywords that you enter for your hashtags.
To increase your reach, we recommend you to add the hashtags with the highest engagement rates to your bio by tapping on them.
Lastly, you'll be able to enter your website's URL as a text-only URL at the end of your bio. While it won't allow profile visitors to click through it, it will help you to increase brand awareness and recall.
Once you have customized your bio you can tap on the "done" icon. Awesome! As you can see, branding your account will allow you to increase your exposure and to engage visitors right from your profile!
Other Details
- 1 Ebook (PDF), 104 Pages
- 1 Salespage (HTML)
- Top Resource Report, Cheat Sheet, Mindmap, Special Report
- Year Released/Circulated: 2018
- File Size: 6,903 KB
License Details:
[YES] Can use
[NO] RESELL OR GIVEAWAY