Salespage Snapshot: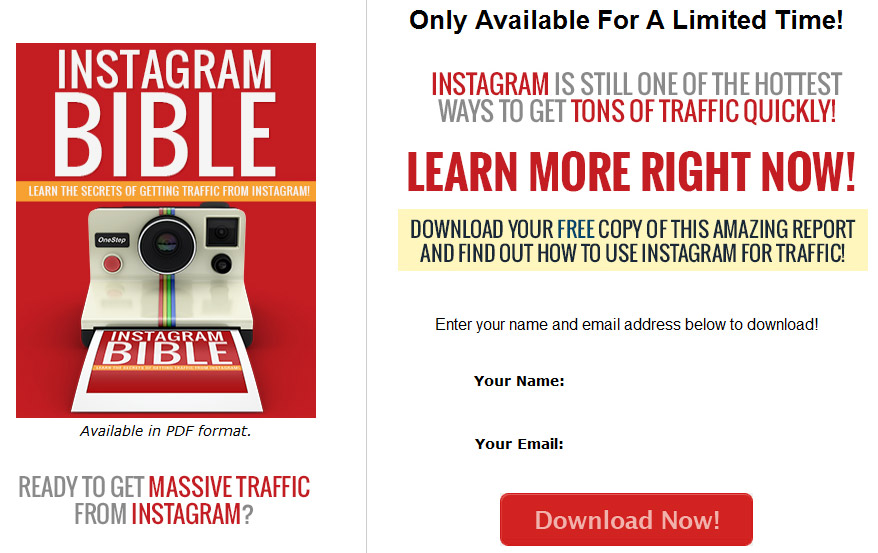 >>> Click Here To View Full Sales Page…
Table of Contents
Table of Contents 3
Introduction 5
Why Instagram? 6
What's Your Purpose? 7
Taking Better Photos & Videos 8
Gaining Followers 10
Getting Traffic 12
Services 14
Conclusion 16
Resources 17
Sample Content Preview
Why Instagram?
The first thing most business owners ask when someone suggests they market their business on Instagram is, "Why Instagram?"
Sure, celebrities like Kim Kardashian have made big names for themselves on the site, but there are so many applications above and beyond posting endless selfies or pictures of what you had for lunch.
People are promoting everything from books to information products to clothing lines and everything in between.
Still not convinced? How about a few statistics?
• Instagram has over 500 million monthly active users
• Nearly 300 million of those users are active daily
• Instagram delivers 58 times more engagement than Facebook
• Instagram delivers over 120 times more engagement than Twitter
• A whopping 20% of internet users are on Instagram
• Instagram users are divided approximately 50/50 male/female
These statistics are enough to make any marketer salivate all over their keyboard. No matter what type of market you're targeting, what type of product or service you're selling, or what type of demographics you're targeting, chances are, you can find your audience on Instagram.
Any questions?
What's Your Purpose?
The first thing you need to do is figure out exactly what your purpose is for using the site. Do you just want to improve your traffic, or do you have specific goals in mind? Because the way you use the site will be determined by your purpose.
If you simply want to get traffic to your site, posting all sorts of content related to your niche will make sense. But if you are specifically seeking leads or sales, you'll want to focus more on posting pictures of your products, as well as photos that illustrate the various benefits of your products.
In either case, you will still probably want to post things you think your followers will find interesting, but be sure you're sticking mostly to items that relate to your industry. I say "mostly" because you can feel free to post personal items on occasion that don't relate to your industry in order to inject some personality into your profile. Just be sure to avoid posting anything divisive such as religious or political content. (Unless, of course, you are specifically targeting folks who have a particular belief.)
Too many people think they can just post a bunch of random photos of their lives and get traffic, but unless you're a celebrity or you have an extremely interesting life, such tactics would probably be highly ineffective.
Taking Better Photos & Videos
Because Instagram is a platform based off of photos and videos, it's important to be sure you're taking the best quality captures you possibly can.
There are three main elements to shooting a great photo or video:
• The subject
• The setup
• The lighting
The quality of your camera is also a factor, but as long as you have the three main elements in order, using a slightly lower quality camera won't matter as much. Still, you should use the best quality camera you can manage.
Your subject should be something interesting, and ideally related to your genre. Food bloggers should mostly post pictures and videos of food. Fitness bloggers will probably post mostly healthy food and exercise related material. You get the idea.
The setup is also vital, because a photo can look drastically different if taken in a different environment or shot from a different angle. If you're having trouble figuring out how to properly stage a shot, take a look at some pictures and videos posted by other Instagram members in your niche. Look for those that catch your eye and try to do something similar. Don't copy, of course. Just try to emulate elements.
Finally, the lighting of your shot is critical. Poor lighting can ruin an otherwise perfect photo or video.
Try to take your photos and videos in natural light whenever possible. Natural sunlight is almost always the best light source for any shot, unless you're going for some sort of mood lighting. For example, you might want to use a lower light setting for a romantic dinner date or a Christmas Eve shot.
Photos taken outdoors at noon or by a very sunny window will almost always turn out beautifully. Just be sure to keep the sun from casting harsh shadows by positioning your subject appropriately. Again, take a look at some of your industry's best photos and videos for ideas if you need help with lighting.
Don't forget to include video on your Instagram account. One study showed video to be about 71% more effective at generating traffic than photos, so use video whenever you can!
Also, be sure to use Instagram's built-in filters. Instagram users actually respond better to photos taken with a phone camera and using built-in filters than they do professional photographs taken in a studio and Photoshopped to look like stock photography. So snap a picture, apply a nice looking filter, and post! It's that simple.
Gaining Followers
An Instagram account will do very little for you without followers, so it's important to do everything you can to gain as many followers as possible. But remember, it's also important to be sure you're gaining targeted followers, as those followers won't do you any good if they're not actually interested in what you're offering.
The best way to get targeted followers is by simply posting great content and using appropriate hash tags. Sounds too simple to work, doesn't it? But as long as you're posting really high quality photos and videos and you're using hash tags that accurately represent your content (and that actually get traffic) you will naturally begin gaining more followers.
I've seen profiles with as few as 10 posts get 300+ followers organically in just a few days, with more trickling in over the next few weeks. The more you post, the more followers you'll gain.
You can also gain followers by following other users, especially those users who are most popular (i.e. have the most followers) in your target market. People who follow those profiles may see you as a follower and decide to follow you.
Another easy way to gain more followers is to like other people's content. Simply search for the same hash tags you might use for your own content and start liking photos and videos you find interesting. One individual remarked that for every 100 photos they liked, they got another 6 followers, on average.
You can also comment on those same posts you're liking to let the author know you enjoyed the post. Some of them might follow you based on the fact that you commented, and some people who see your comment might also decide to follow you.
Other Details
- 1 Ebook (PDF, DOC), 17 Pages
- 7 Part Autoresponder Email Messages (TXT)
- 1 Squeeze Page (HTML, PSD)
- File Size: 10,805 KB