Salespage Snapshot: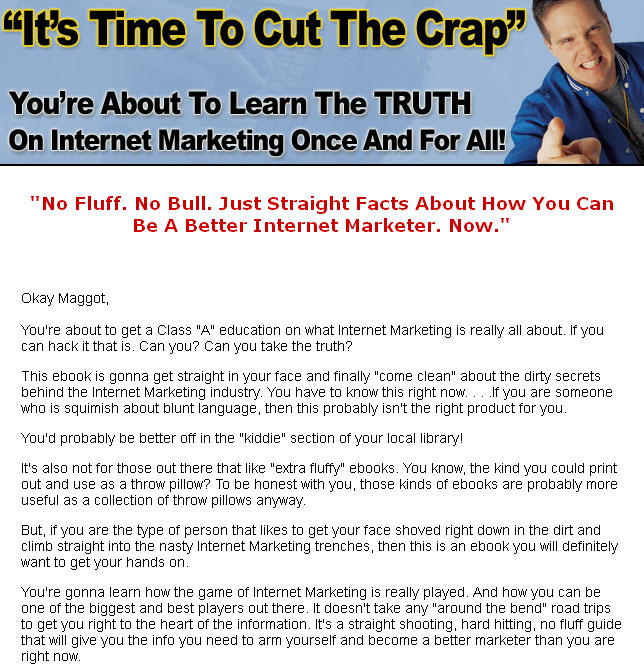 >>> Click Here To View Full Sales Page…
Sample Content Preview
1. Don't Believe Everything You Read.
You're about to learn why this little tid bit of information tops my list of "Don'ts". The internet is a vast, and I do mean vast, source of information plastered all over the place. And the Internet Marketing field is no different. You're likely to see 2,000 products all on the same subject. Each one of the authors claiming that THEIR product is better than all the rest because of X-Y-Z reasons.
Let me explain something to you right now before I continue on. . . .
Internet Marketing is just like a magic trick. Every Internet Marketer that's worth their weight in hundred dollar bills knows that it's all in the presentation. Just like a magician. I mean, if you could sneak backstage and see how the magic is performed, you'd lose interest in the actual trick.
My point is this. . . .
If you knew what these top Internet Marketing pros did to create the "smoke-and-mirror" effects, then the product they were advertising would seem less than amazing.
Now, for your REAL education. Here's some of those "smoke-and-mirror" effects so that you can learn to see past them and use the tricks yourself:
– Expiring Offers. Sometimes it's real, sometimes it's bogus. More often than not though, it's bogus. This excludes those offers deemed as firesales. Those really DO have an expiry. Still, it is a sales gimmick to get you to buy now.
– Limited Introductory Offer. Usually this is simply a trick to get you motivated to purchase a vendor's product. On occassion, a vendor will raise their prices, but not normally.
– A Compelling Life Story. Internet Marketers use this trick to connect to the emotional part of their customers. Most purchases, whether you are aware of it or not are made due to an emotional response triggered by the advertisement presented. Take the subject of money for example. Who doesn't want more of it? Some marketers will lead you to believe that they are living "high on the hog" and have been made multi -millionaires through their efforts of creating and selling information products online. And they are willing to "share these secrets of wealth" with you, for a price. Of course, those searching for easy ways to make more money, or become millionaires themselves will more than happily plop down the bucks.
– Facts and Figures. Yes, some sales materials will contain what you are lead to believe are real examples of income earned through the particular program they are trying to peddle. But, with image editing programs such as Adobe Photoshop, anyone can "doctor" up an image that reflects so called "real earnings". Again, some are real, and others are made up to get you hooked enough to close the sale. Notice too that any sales page that contains "actual" facts or earning income figures will also carry disclaimers that "the results represented here are not typical", or some other type of legal material to keep the seller out of "hot water" with people who expect the "moon".
Other Details
- 2 Ebooks (PDF, DOC), 16 Pages
- 1 Salespage (HTML)
- Year Released/Circulated: 2008
- File Size: 1,662 KB
License Details:
[YES] Include Professional Sales Letter.
[YES] Can edit the sales letter and graphics.
[YES] Can sell Master Resale Rights.
[YES] Includes Professional Graphics.
[YES] Can Put Your Name As The Author.
[YES] Can Be Edited.
[YES] Can Be Used As Web or e-zine content
[YES] Can be added into a paid membership sites.
[YES] Can Be Broken Down Into Articles.
[YES] Can Sell Private Label Rights.
[NO] Can be offered as a bonus.
[NO] Can be given away for free.
[NO] Can be offered through on any auction sites.
[NO] Can be added to a free membership.