Salespage Snapshot: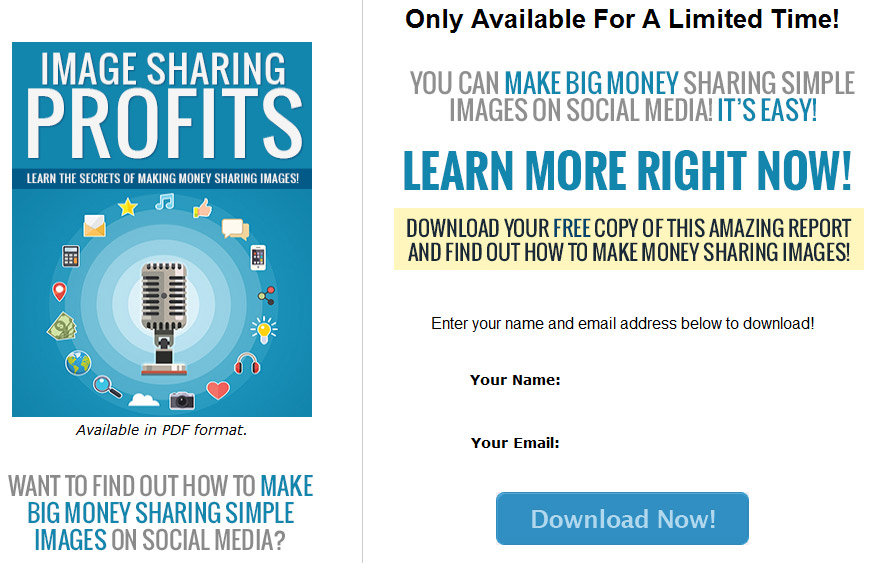 >>> Click Here To View Full Sales Page…
Table of Contents
Table of Contents 3
Introduction 5
Profit from Social Media 6
Growing Your Following 11
Increase Engagement 15
Conclusion 17
Resources 18
Sample Content Preview
Affiliate Marketing
One of the easiest ways to make money with your social media presence is through the marketing of affiliate products. You can earn a great commission from various products that fit with your branding, but be sure you're only promoting the best quality products. If you promote an inferior product, you risk alienating your followers and harming future promotions.
There are affiliate products available for almost any type of branding you can imagine. You can promote information products through Clickbank or JV Zoo, or you can promote membership sites, or physical products through sites like Amazon.
Amazon is especially good, because they have millions of products you can promote, so it's almost certain you'll be able to find something your followers will respond to.
Sponsored Posts
If you grow your social media to a large enough following and you keep a good rate of engagement, you'll be able to have brands pay you to post on their behalf.
Social media influencers are often paid thousands of dollars to make a single post. For example, someone who has a large following of video gamers might be paid to post about a hot new mobile game. Or a beauty blogger might be paid to post about a new skin care product.
If you're interested in offering sponsored posts, you might want to hire an agency to represent you. (Note, they'll want to see quite a large number of followers and a good rate of engagement before they'll consider you.) But if you're ready to take your social media to the next level, an agency can help you.
Here are a few places to start looking:
>> http://www.interactivesponsor.com/
>> http://viralnation.com/influencer-talent-agency/
>> http://cycle.media/
>> http://www.socialyte.co/#discover-influential-storytellers
Your Own Products
Having your own products to promote can be the most profitable way to make money, because you get all the revenue, not just a portion of it.
You might think it's too expensive to create your own products, but the truth is you can make your own stuff pretty cheaply using solutions like CafePress, Zazzle, or TeeSpring.
These sites will let you make products like t-shirts, sweatshirts, and even posters, coffee mugs, phone cases, and more that are perfectly suited for your followers!
Here are a few of the most popular sites you can use to make your own products:
>> http://www.cafepress.com
>> http://www.zazzle.com
>> http://www.teespring.com
>> http://www.teechip.com
You can also sell information products through sites like ClickBank and JVZoo.
>> http://www.clickbank.com
>> http://www.jvzoo.com
Image Sharing Sites
Image sharing sites make it easy to make money with your social media accounts by paying you for every view of your content. Most sites pay between $5 and $9 per 1000 views. You won't get wealthy using this method, but it's a great way to bring in some extra income.
One thing to be aware of is that these sites often have a lot of popups and other annoying ads that may upset your followers, so research them carefully before using one.
Here are a few of the most popular image sharing sites that pay for views:
>> http://www.101img.com
>> http://www.imgrock.net
>> http://www.uplimg.com
>> http://www.imgmaze.com
>> http://www.imagescash.com
Monthly Support
Did you know you can actually get people to pay you a monthly payment to continue sharing your content?
Keep in mind that you'll need to post really outstanding content that is truly unique in order to get people to want to contribute to you on a regular basis.
You could have your own membership site, but the easiest way to set up a recurring sponsorship is through Patreon.
>> https://www.patreon.com/
Patreon is for people like artists, photographers, musicians, writers, etc. You can allow people to support your art (whatever it may be) with monthly contributions.
Growing Your Following
The most important element of this process is growing your following on social media to the highest number you can manage while making sure those followers are "real" followers and carefully cultivating a specific image.
Having a million followers isn't going to do you much good if those people don't engage with your posts—liking, sharing, and, most importantly, taking action.
As you grow your following, you want to make sure you're doing so organically rather than simply paying for followers. Sure, paid followers can, on occasion, be productive. For example, Facebook ads can be a great way to get real followers who are interested in what you have to offer. But generally it's not advisable to pay for followers, because they are often just bot accounts set up strictly for the purpose of following other accounts for money.
You'll also want to ensure you're branding yourself to some specific type of niche to make sure you get followers who are interested in something specific. Not sure what I mean by "branding" yourself?
Let's take a look at some popular people in social media to see what we can learn from the way they've structured their profiles—their personal branding.
Kim Kardashian
Love her or hate her, Kim Kardashian has become one of the shining examples of what is possible through social media. She typically posts selfies, along with information about fashion and cosmetics, and pictures of her famous family. She has well over 100 million followers between her major social accounts, and she's reportedly paid as much as $200,000 for a single tweet!
She's done a great job branding herself in the fashion and cosmetics industries, and she has a very strong engagement from her followers.
The other Kardashian sisters also have very strong social media presences, and they also command extremely high fees for mentions on their social media accounts.
George Takei
George Takei made a name for himself as Hikaru Sulu on Star Trek in the 1960s, and has since become a gay icon.
He posts regularly on Facebook (where he has nearly 10 million followers) and other social media about such topics as marriage equality, his time in an internment camp during WWII, and he posts a variety of witty memes that keep his followers highly engaged.
He's shown that posting funny memes can actually build you enough of a following to get important messages out there and have them actually get attention, too!
PewDiePie
If you're into video gaming, and maybe even if you're not, you've probably heard of PewDiePie (pronounced pew-dee-pie).
He's made a massive following for himself on YouTube by posting videos of himself playing various games and including witty and snarky commentary. He has nearly 40 million subscribers to his channel, over 9 billion total views of his content, and was reported to have made over $12 million in 2015!
Other Details
- 1 Ebook (PDF, DOC), 19 Pages
- 7 Part Autoresponder Email Messages (TXT)
- 1 Squeeze Page (HTML, PSD)
- File Size: 4,745 KB