Salespage Snapshot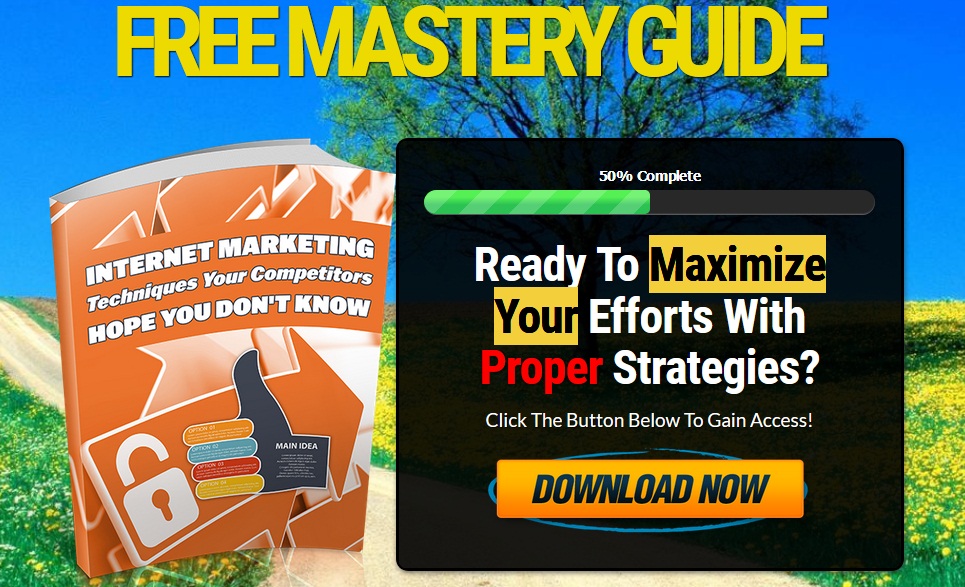 >> Click Here To View Sales Page...
Sample Content Preview
GOOGLE ADWORDS KEYWORD TOOL
In addition to WebCeo, there is the Google Adwords Keyword tool. However, this one doesn't analyze your competition, it gives you some idea of which keywords are profitable and which are being searched more actively. So, it really works best when you already have some keywords in mind that you want to evaluate further. That's why this tool can be used in combination with WebCeo to not only get the same keywords that make your competitors traffic and money, but also to surpass their strategy which may be either dated or missing something.
The way the Google keyword tool works is that you plug in a keyword or keyword phrase and then it will pull up other keyword phrases that are being searched that also may be relevant to your own. Thus, the Google Keyword tool lets you identify associated keyword phrases that may not show up on your competitors site, and also gives you an idea if the keyword is being searched heavily. That's because it automatically gives you the monthly search volume for each associated keyword that it pulls up. You can even go a step further and find out what advertisers are paying in a cost-per-click (CPC) model to their publishers for these words. There is a drop-down list entitled "Show/hide columns" and there you can choose the option to show the estimated CPC. The higher the dollar value the more likelihood that publishers are competing for that keyword by publishing it on their site, although that's not always the case. Sometimes you find a keyword with a high payout and very low competition. If the search volume is high enough to make money on it, then go for it! And, that's another great tidbit on this valuable tool. It also tells you how vast or small the competition is for various keyword phrases.
And, finally, if you happen to locate some keyword phrases that didn't show up on your competitors site, take them from the keyword tool results page and plug them back into it as a search parameter. You will get a whole new set of results that can lead you into areas you didn't think of before as potential topics, profitable keyword phrases, or audiences that were hidden to you before. The Google keyword tool is located here: https://ads.google.com/home/tools/keyword-planner/
FIND OUT WHO LINKS TO YOUR COMPETITORS
In order to get traffic on the Internet, you have to raise your Google ranking so that you come up near the top of Google's search results page for some keyword or phrase. In order to establish your rank, Google follows an algorithm that determines what keywords should be associated to your website and also the "neighborhood" your site resides within.
The neighborhood of any site is determined by the neighbors, or actually, the people who are linking into your site. These are called backlinks and they can quickly lift an anonymous site from the junk heap towards the top of Google ranking, simply by associating with richer neighbors. In this case, your neighbors with higher Google page ranking than you.
Once you get others to link into your site, it does two things: 1. It generates more traffic from search engines, due to better ranking, and 2. It gives you a traffic feed from another site. So, backlinks will raise your traffic level and more traffic, typically, means more sales opportunities. But, you also don't want just any traffic. You want traffic interested in your market niche and willing to spend money for your products and services. Thankfully, your competitors probably already know who those people are online. All you need to do is either poach them or join the party.
A quick way to find out the backlinks that your competitors have is to go to another search engine called Backlinkwatch.com. Here, at http://www.backlinkwatch.com, you can find out who is linking into your competitor, simply by typing in their URL to the search engine. It will even show you the page rank associated with the backlink so you don't waste your time chasing links that are lower in page rank than your own site.
If you don't know what page rank your site is, then you need to download the Google Toolbar and install it into your browser. It will tell you the page rank of any site that you visit. It is located here:
Now, the smart way to use Backlinkwatch.com is to not only pay attention to who is linking into your competitor, but also to see what words are being used in association with that link. If your competitor is Internet savvy, it should have numerous juicy keywords that you can also use to describe your business when you ask their backlink targets to trade links with you too. If they don't do this, be sure to use your WebCeo keywords in conjunction with the information you garner from Backlinkwatch. Then, you may find that to get a backlink all you have to do is leave a comment on someone else's site. In that case, be sure to set the anchor tag to use the keywords you found are searched more online to describe your link back to your site. It should provide you with even more traffic. WHAT PRODUCTS ARE YOUR COMPETITORS PROMOTING?
Rather than analyzing every page in your competitors site to try to keep up with what they are doing, there are a few sneakier, but more effective, ways to get this information. One of the easiest ways is to pretend to be a customer or an affiliate partner who wants to cooperate with their business. In that case, they are more than willing to give you whatever information you need to keep up-to-date on their latest sales promotions.
FAKE CUSTOMER, FRIEND, OR AFFILIATE PARTNER PROFILES
This is easy to do online because they can't verify your identity. Just be sure you are not using an email address from a known competitor, or they will know who you are and probably deny you entrance to the affiliate program. Once you do establish an online identity as a customer or affiliate partner, you will have access to newsletters, reports, and affiliate program promotions simply by signing up for them. Now, all you have to do is read them and copy the promotions and products they are promoting to increase your chances of making a profit on your site. You can even try to undercut them, if that's your style. In today's economy, everyone is looking for a deal, so whatever you do that makes you stand out from your competitors is going to help your business.
Other Details
- 1 Ebook (PDF), 12 Pages
- 1 Squeeze Page (HTML)
- 2 Ecovers (PNG)
- Year Released/Circulated: 2019
- File Size: 2,364 KB
License Details:
[YES] Can sell and keep 100% of the sales.
[YES] Can edit the squeeze page.
[YES] Can be bundled into another paid package and sell at a higher price.
[YES] Can be used as a bonus to another product you are selling.
[YES] Can be sold in a Dime sale event.
[YES] Can be added into a paid membership site.
[YES] Can pass on the Master Resell Rights privilege to your customers.
[YES] Can be given away for free AGAINST an email address (lead generation)
[NO] Contents of the product can be edited, modified or altered.