Salespage Snapshot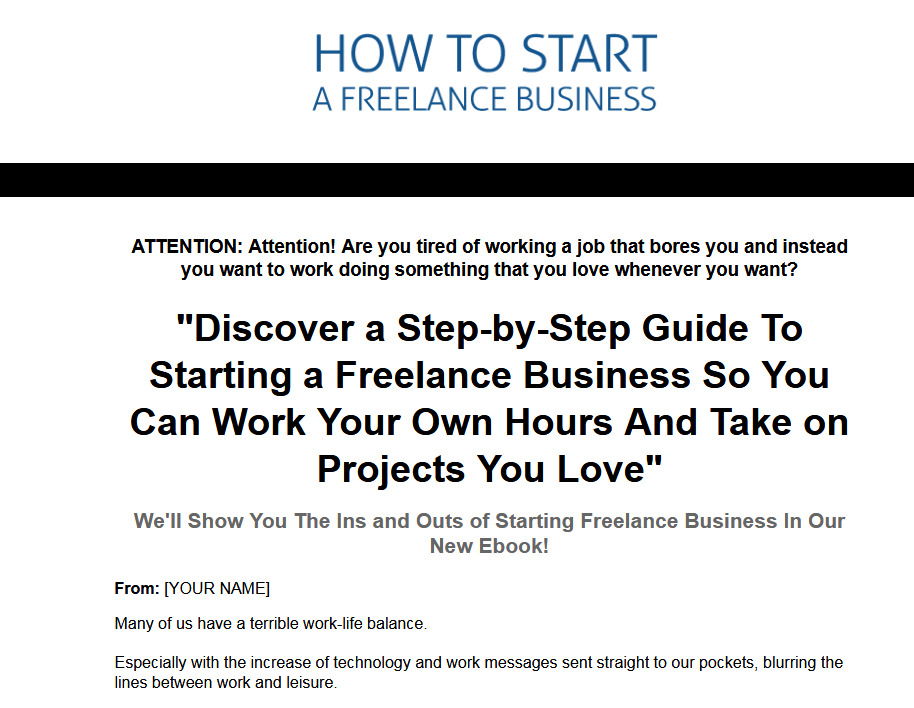 >> Click Here To View Sales Page...
Table of Contents
Introduction …….. 7
1. The Basics To Being A Freelancer ……… 10
Is a freelance career right for you? .. 11
What skills do you have? …… 11
What interests you? … 11
Most importantly, what kind of work makes you happy? … 12
What will your service be? …. 12
Freelance work ideas . 12
Who are your clients? 13
Hidden costs … 14
Motivation …….. 14
2. Creating A Business Plan And Choosing Your Goals ………. 16
Things to consider before starting …. 17
Cost of living …. 18
Research ……… 18
Creating your brand … 19
Where to find clients … 19
Once you have a business plan, what should you do with it? …… 20
3. The Legal Stuff; Taxes, Ethics, And Contracts 21
Legalities ……… 22
Business ethics ………. 23
Contracts ……… 23
4. How To Start Working With Little Experience .. 25
Gaining experience first …….. 26
Working for free ………. 26
Work for less … 27
Gaining clients . 28
Cold contacting and pitching . 28
Be confident …. 29
5. Best Places To Find Freelance Work ….. 30
Profiles . 31
Upwork . 31
Freelancer ……. 32
Fiverr …. 33
Guru ….. 33
Toptal … 33
iFreelance ……. 34
LinkedIn 34
Pitching 35
6. How To Advertise Yourself: Creating A Portfolio ……. 36
First, what is a portfolio? ……. 37
Building a portfolio …… 37
What should you put in a portfolio? .. 38
Profiles on websites … 38
Website 38
Social media …. 39
7. The Importance of Valuing Your Work And Your Time ……… 40
Choosing a niche ……. 41
Time management ….. 42
Value your time ………. 43
8. The Next Adventure: Scaling Your Business … 44
Full-time freelance …… 45
Hiring a team … 45
Subcontract ….. 45
Niche …. 46
Building a brand ……… 46
New services … 46
Increase prices 47
Conclusion ……. 48
Sample Content Preview
A business plan is essential for any business, freelance ventures included. You do not have to have a complex fifty-page document, full of tables, charts, and calculations (unless you want one and will find that helpful for yourself). Instead, you can come up with a short collection of goals that you can refer back to.
When you search for a "business plan," templates appear that are full of sections with complicated things that need to be determined—not all of these are applicable to freelancers. Instead, think about the main goals that you have for your business, and your life; and center your plan around these. Your business plan and goals should be adjusted as your business changes and grows. Set aside time periodically to review and update your goals.
Things to consider before starting
Before creating a business plan, you need to think about what your goals are for your business. Take the time to be introspective and really consider why you want to start a freelance business. Doing so will help you maximize your abilities and prospects.
Do you just want to freelance on the side? Or will you aim to expand it into a full-time career?
Why do you want to be freelance? Is it to get rid of the commute? Is it to be your own boss? To supplement your other income? For a better work/life balance?
You need to get to the bottom of what is your motivation is for going freelance, and transform it into goals.
Basically, what do you want to get out of being a freelancer? Write down anything and everything that comes to mind and find ways to integrate it into your planning.
Cost of living
First, you need to figure out how much money you will need to make to survive. This is, naturally, often based on your income from any other work you have done.
Some people find themselves taking a pay cut when transitioning into becoming a freelancer, you need to make sure that you can withstand this and plan for it in advance.
Once you have figured out what your ideal level of income is, you can start to determine prices for your products and services. Your cost of living, and desired income level will impact the hours you will be working and how many projects you will be taking on.
It is also important to remember that adapting from receiving a regular pay check to being a freelancer and getting paid intermittently (and, worst of all, having to regularly chase up clients who refuse to pay) can be difficult. Outlining what your desired wage will be in your business plan is something that you can return to every so often to check that you are on progress. Or, if you are not meeting it, you can try to understand why and readjust your goals.
Research
You need to research your industry and your competition. You cannot just start up and expect success—there are a lot of other freelancers out there, and you need to set yourself apart from them. The best way to do this is to understand them.
You should research your competition; see to see what they are doing, where they exist online and what mistakes they are making. You can emulate the positive aspects of their marketing and branding for your own freelance business and improve upon any mistakes you see them making.
Additionally, you need to do this research on a periodic basis. You do not want your services to become out of date or redundant. Every so often, set aside some time to check in on your competition and see how their business is progressing—make sure that yours is, too.
Creating your brand
At some point in the development of your freelance business, you will need to determine a personal brand. Your brand is how your target clientele will view your business; it makes you seem professional and authoritative. A good brand is an indication of business success.
An element of your brand is how it appears visually. This will include things like your business name (it can just be your name), your logo, aesthetic design elements and how your website or portfolio is stylized.
The overall goals and missions of your business can be defined and outlined in your branding.
Where to find clients
You need to learn about and understand your target market. Once you have determined what you want your business to be, you need to determine whether there are enough clients out there to sustain it. While there usually is a market for pretty much everything, it is still a good idea to make sure that there are enough clients who will be interested in your services.
You should work out demographically who your target market is, and then try to understand their behavior. At the very least, you need to figure out where they would look for you. What is their internet use like? Where would they look for a freelancer? This is key. Without customers, your business will not succeed. You should endeavor to understand your audience precisely— this way you can target your services to them in a way that they will specifically enjoy and utilize.
Other Details
- 1 Ebook (PDF), 49 Pages
- 2 Graphics (JPG, GIF, PNG)
- 1 Salespage
- Checklist, Resource Cheat Sheet, Mindmap, Optin Page, Social Media Images, Email Swipes
- Year Released/Circulated: 2020
- File Size: 78,544 KB
License Details:
[YES] Can be sold
[YES] Can be used for personal use
[YES] Can be packaged with other products
[YES] Can modify/change the sales letter
[YES] Can be added into paid membership websites
[YES] Can put your name on the sales letter
[YES] Can be offered as a bonus
[YES] Can be used to build a list
[YES] Can print/publish offline
[YES] Can convey and sell Personal Use Rights
[YES] Can convey and sell Resale Rights
[YES] Can convey and sell Master Resale Rights
[NO] Can modify/change the main product
[NO] Can modify/change the graphics and ecover
[NO] Can be given away for free
[NO] Can be added to free membership websites
[NO] Can convey and sell Private Label Rights