Salespage Snapshot: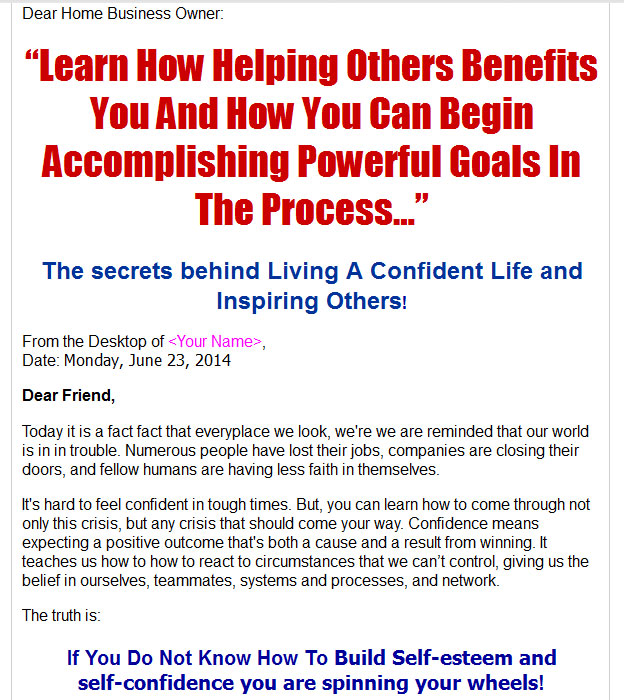 >>> Click Here To View Full Sales Page…
Table Of Contents
Chapter 1: The 7 Basic Requirements to Sell Anything to Anyone
Chapter 2:
The First Requirement – Sell Yourself, Use a Great Story
Chapter 3:
The Second Requirement – Creating the Undeniable Need
Chapter 4:
The Third Requirement – Stamping Your Authority
Chapter 5:
The Fourth Requirement – Creating the Sense of Urgency
Chapter 6:
The Fifth Requirement – Making Them Accountable with Free Gifts
Chapter 7:
The Sixth Requirement – Making a Commitment
Chapter 8:
The Seventh Requirement – Keeping the Interest Factor Alive
Chapter 9:
What You Can Sell and What You Cannot – Some Taboos
Chapter 10:
Quest to Become Perfect in the Art of Salesmanship
Sample Content Preview
The Second Requirement – 'Creating the Undeniable Need'
People don't purchase things on a whim in today's world. Everyone has become quite conscious about money, especially because of the recent economic problems that the world has seen. But it is still a good time to start business. People have money, but they are only more cautious about spending it. The frivolous spending habits of people that we saw about three years ago have toned down miserably. But people are people, they will start spending frivolously again, but until then you have to make them see why they should buy something from you.
You can do this by making people understand why they should buy your product, and that becomes your second requirement of making successful sales.
Whatever your sales pitch is – the sales page, a television commercial, a magazine or a newspaper advertisement – the focus should be on what the product can do for the people. You have to tell them what benefits they can get out of them and the more succinct you are about them, the better it will be. Let people know what their money will give them.
When people are convinced that they are spending their money on something useful, they won't mind spending the money. It should be something that spells real utility to them.
You must know that people don't see things that you don't tell them. Now, you might be selling a steam iron, but until and unless you actually outline the advantages of getting a steam iron, people won't think of buying. People won't buy it just because it exists. However, if you could make a bulleted list of its benefits and advertise that on your sales page or even in the mall where it is sold, you will find people buying it. You can actually hear people saying things like, "Dolores, this seems to be a good thing. See, I won't have to bend when I iron clothes at home." "Yes, Martha, and it doesn't require much power too."
See what I mean? People talk themselves into buying things when the benefits of it are outlined. They almost convince themselves to make the purchase.
Summary
You have to make people realize that you are the person to buy from.
The Third Requirement – 'Stamping Your Authority'
This is actually where your actual sales expertise comes into play. Making a list of the benefits is actually one of the most common things to do. Everyone who makes a sales pitch for their product will do that. But what you have to see is how you can make it special so that your people can't resist purchasing it.
One of the best ways to do that is to focus on how you and your product are better than the competition.
In a way, you have started on this already, right in the first requirement when you wrote the story. You are stamping your specialness at that point itself. But now you have to put that more in your readers' faces. Make them see what's so special about you. Speak of your special expertise in the area. Speak why you are better than the others – maybe it is the creativeness of your product or an added feature that makes it unique or maybe even your better support system.
Be as transparent to your public as you can be. In the baby boomer generation, it was all right if companies kept everything about themselves secret. People still bought and, in fact, in those days, the more enigmatic a product was, the better it was – this was the general feeling among the public. But today, with the great concept of Web 2.0 looming right in front of us, we need to be much clearer about what we are selling.
Use forums and blogs to sell yourself. If you don't have a blog yet, make one using Blogger or WordPress. People can then interact with you. They understand you are for real and that you have answers to their apprehensions. They get more convinced about you as a person. They don't mind buying from you.
The best thing is that this helps you to come above your competition. In today's day and age, this is the most important thing you can do to enhance your products' selling prospects.
Summary
People buy more when an apocalyptic scenario is created!
The Fourth Requirement – 'Creating a Sense of Urgency'
If you have seen any sales pitches lately – any at all – you will have come across this doomsday mentality that they create. A great ad for a great product for a great price will end with "This offer is only for 3 days. Rush!" The smiling blonde on Home TV will demonstrate a product that you absolutely want for your house and then say, "These prices are only till the next full moon" or something like that. Even the nerdy geek who puts his picture on the sales page creates an Armageddon scenario by stating that his prices have been dropped from $127 to $27 only for the next 24 hours. The truth is probably that his product was never anywhere above $27.
But when you tell people that they are getting a bargain, they are always interested, even if the price after the bargain is more than the original price of the product elsewhere. Humans are sticklers for bagging steals and it panders our ego to understand that we have got a bargain.
What really improves a bargain situation is the sense of urgency. The feeling of get-your-credit-card-right-out-of-your-wallet-and-buy-this-schmuck is what gets them every time. Of course, when you know there's just 36 minutes to buy something at half price, you will probably buy it. Even if that thing isn't useful to you right now, you will justify yourself by saying, "If I have to buy this tomorrow, I will have to pay a lot more." Chances are that you will buy that thing and it will keep gathering dust till the real Doomsday happens!
Other Details
- 1 Ebook (DOCX, PDF), 45 Pages
- 1 Salespage (HTML)
- Ecover (JPG)
- File Size: 666 KB