Salespage Snapshot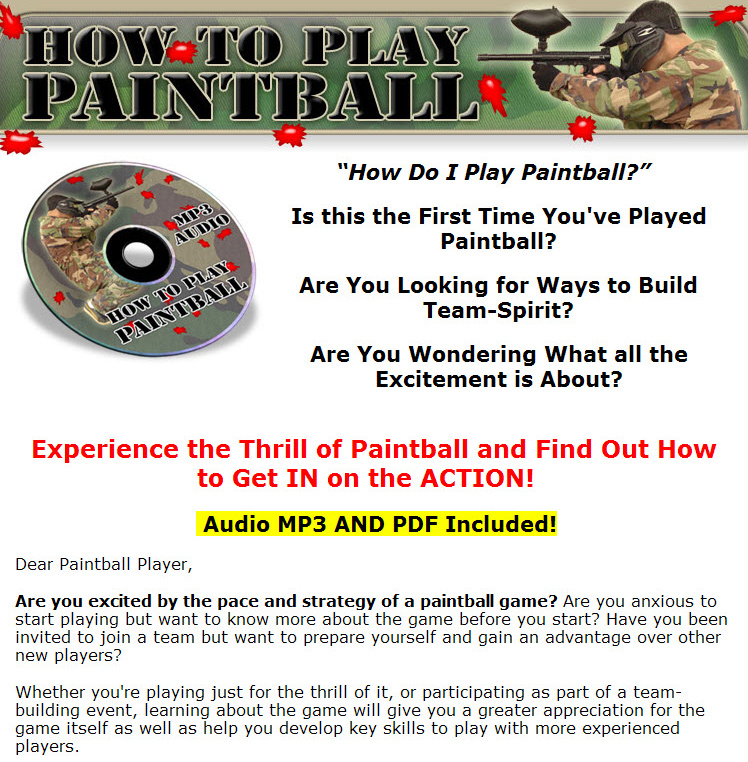 >> Click Here To View Sales Page...
Ebook Table Of Contents
The Philosophy Behind the Game of Paintball    4
Rules of the Game    6
The Skills You Need for a Game of Paintball    8
Basic Protective Paintball Gear    10
Basic Paintball Games to Play    12
Tips for Warming Up Before the Game    14
Common Mistakes New Players Make    16
Paintball Rules of Safety    18
Learning About the Guns of Paintball    20
How to Improve Your Game with Drills    22
Great Tactic Building Drills to Try    24
Defense Tactics for Paintball    26
Tips for Building Teamwork    28
Playing a Game of Indoor Paintball    30
Playing a Game of Outdoor Paintball    32
PLR Ebook With Audio Sample Content Preview
The Philosophy Behind the Game of Paintball
There's no doubt about it, the game of paintball is increasing in popularity. While it was first invented to demonstrate the thrill of hunting while remaining in a safe environment, it has been found by many to be a game that challenges the wits.
To play most sports competitively, the player needs to be young, strong, fit and agile. To play paintball well, physical strength is often secondary to mental alertness and skill, which gives older players a chance to defeat someone who may be younger and stronger. Women can play against men; age can play against youth and the not so fit can play against those in the prime of fitness and still have a good chance of winning.
This is opposite to the world of sports like tennis, soccer and football and other athletic pursuits that are seen in the Olympic Games, where only the youngest and fittest are likely to win.
Paintball helps to develop teamwork, since the game is played most often by teams. While the skill levels of individuals are appreciated, this is not of prime importance in the game. Organization and communication between team members are paramount and can see a team less experienced win over one that has played more often. If team members retain their presence of mind, they may yet win the day against a superior team who can be brought into disarray.
Survival and good hunting skills, coupled with patience and determination are what makes a paintball player – or team – more likely to win. With its need for strategic thinking and patience, paintball has been likened to a game of chess. However, those who prefer a more active game than chess can be given the chance to hone their skills by playing paintball.
It may also be the ideal game for those to whom hunting and killing animals does not appeal, but who would still like to indulge in hunting type activities. It would certainly ensure the survival of some animals that are on the verge of becoming extinct due to constant hunting. And since there are indoor areas to play paintball, one can do so without being at the mercy of inclement weather.
Playing paintball is also considered by some to be a good way to de-stress, while other proponents of the game believe that it fosters a team spirit within the company to which the team belongs, thus creating or facilitating a better work environment…
Other Details* Sales Page:
Included, HTML
* File Format:
MS Word Doc, PDF
* Number of Pages:
33
* Included Graphics:
Ecovers, PSD, JPG
* Download File Size:
37,740 KB