Salespage Snapshot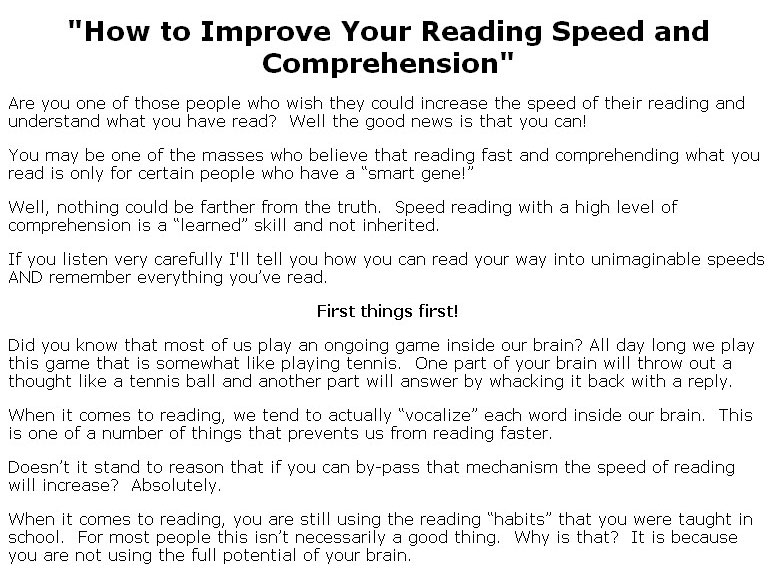 >> Click Here To View Sales Page...
Ebook Table Of Contents
What is Speed Reading?
How we learned to read slowly.
Who needs Speed Reading?
Is speed reading a genetic ability or a learned skill?
How you can test your own reading speed.
How to test and time yourself.
Test yourself to determine your retention.
It is important to track your progress.
About "speed reading" books and classes.
What happens to your eyes while you are reading?
What role do your hands play in reading?
Fiction vs. non-fiction – is there a difference?
Speed reading and how we vocalize.
How to increase your reading speed.
How to increase your comprehension
PLR Ebook Sample Content Preview
What is Speed Reading?
Speed Reading Explained
Speed reading or rapid reading is basically a process that allows a person to read a text at an increased speed. This can be done by skimming or selectively reading certain words or phrases that are relevant to the text.
The average reading comprehension rate of an individual is around 75%. However, some methods individuals employ to achieve speed reading significantly cuts into this figure, as much as less than 50%. When this happens a reader's comprehension level is compromised. Under this condition it would be very difficult for a person to learn or study new materials.
Many, many books have been devoted to the topic of speed reading. Individuals who want to increase their reading speed have also invested a lot of money on courses that teach speed reading techniques.
Other Details* Sales Page:
Included, HTML, MS Word Doc
* File Format:
MS Word Doc, PDF
* Number of Pages:
69
* Download File Size:
195 KB